When we interview marketers at Redgate, we're often asked So, how many people work in marketing? What's the size of the team?
Redgate is getting on for 400 total employees now, and when I reply that Around 40 work in marketing, I get a pretty uniform response – That's a lot! Often people coming from similar orgs will be in marketing teams of 6 or 7 people – what do all those people do at Redgate and why so many? There's a simple answer to that question:
Marketing excellence.
Running a world-class marketing function is a key differentiator for Redgate – and underpins the business's success. You only do that by recruiting the best people, focusing on high-quality marketing work, and pretty much running the whole function in-house. It's a more difficult path – finding great people isn't easy – but it means that, across all areas of marketing, we're aspiring to work at the peak of our profession.
Of course, there's always so much more to learn – Learning and Development are at the heart of our values – but we strive to be a world-class department, second to none. I'm enormously proud of the work we do, and feel honored to work with such a great team.
But what are the different areas of marketing that we run? What are the principles that they follow? I wanted to break this down a little further here. We're currently looking for more people to add to the team – Product Marketing Managers and Account Based Marketing Managers. Please get in touch through the job ads to find out more, we'd love to speak to you.
Customers are at the heart of everything we do at Redgate, and in marketing we've organized our department around the customer journey. We have four functions:
Brand, who help the millions of people in our market to find out about Redgate in the first place,
Portfolio Marketing, who take that initial interest and turn it in to a limited number of high quality leads, working closely with sales,
Customer Engagement, who look after customers after they've purchased.
We also have a Marketing Operations function to back up this great work with real numbers and process.
There's heavy overlap between these groups (we know the customer journey is infinitely convoluted), but I'll work through the responsibilities for each of these areas, and how we strive to make these great.
Brand
Here's the reality of the customer buying journey, taken from Challenger, one of the partners we work with: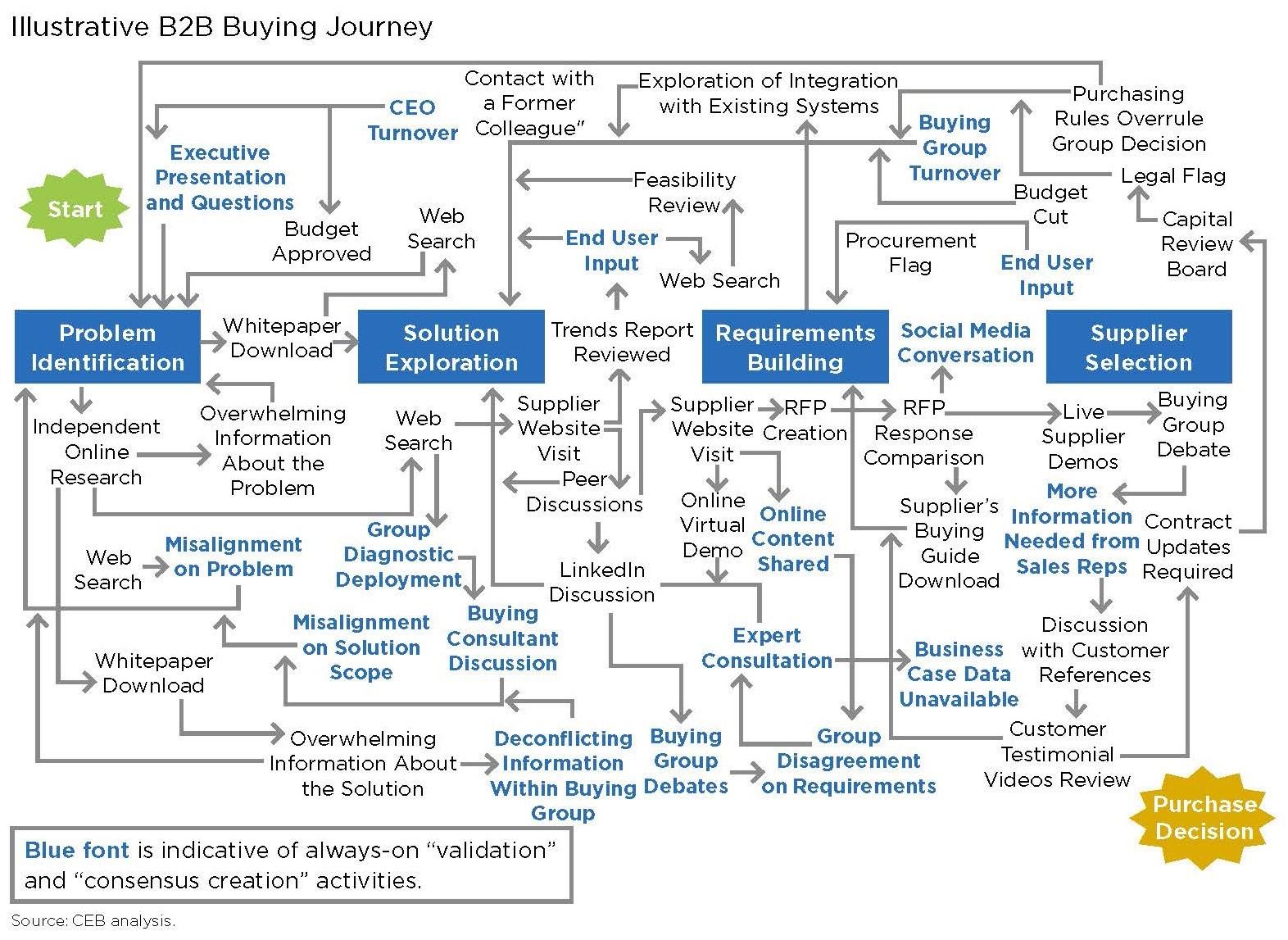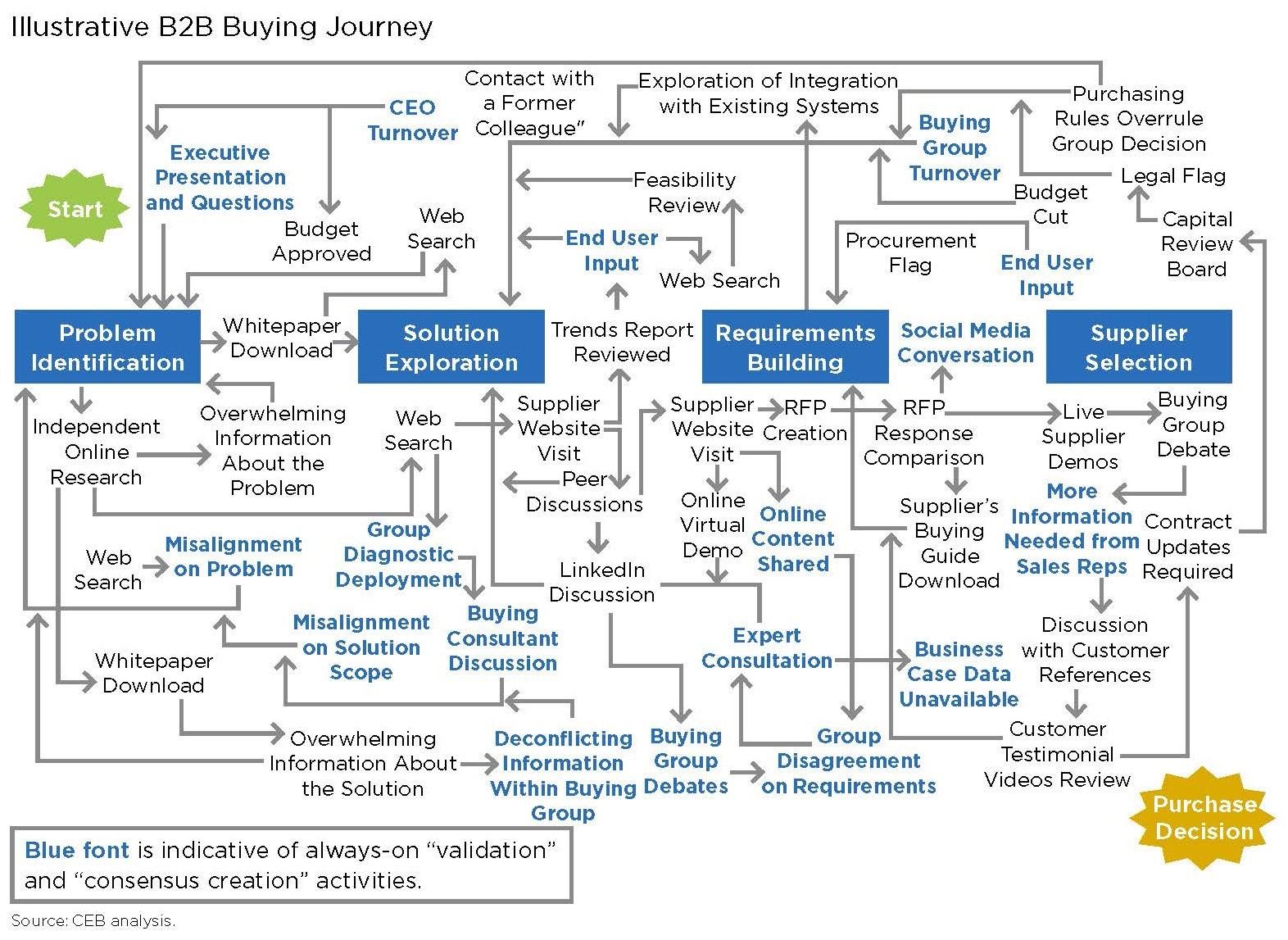 How do you know what to focus on when trying to attract new customers, with so many touchpoints to look after?
My answer – you don't. Once you accept that customers will want to interact with you in a hundred ways, on their terms, on their timescales, then your job is to make sure that every micro-interaction with your brand is as great as it could be.
Whether a customer is seeing an ad, visiting an area of your website, reading a whitepaper, looking through some documentation, visiting your help center, watching some helpful videos, visiting your stand at a conference, or having any other experience of your org, the Brand Team make sure that the quality and consistency of that experience are as good as they could be.
To do this we keep work on branding, graphic design, the website and ad creation in-house – we've found it's the only way to maintain the quality of work that we need, even if agencies might be cheaper.
Portfolio Marketing
Great, but then how do we turn that interest into revenue? We use the principles from Revenue Marketing – you must link marketing activities directly with the generation of leads and pipeline in a repeatable way.
Portfolio Marketing is the team responsible for how we take our offerings to market and how we engage with potential customers, ranging from a heavily targeted 1-to-1 approach through to mass marketing for smaller orgs. This function is split in three, but there is consistency across all areas – our role is to fully understand our customers, the world in which they operate and what their problems are. We then help those customers with their issues, connecting these problems with our offerings.
By understanding our customers deeply, then providing commercial insight about their worlds, we can build a relationship with customers whereby they actively want to work closely with Redgate. That's not about sending out 10% discount offers at Halloween, it's the much harder job of being seen and respected as a team that knows our customers perhaps even better than they know themselves.
Product Marketing
What is our go-to-market strategy for a given solution? What is the market? How big, what's the Ideal Customer Profile? What is the positioning (using April Dunford's approach to this topic)? Then, what's the narrative story that we want to weave for customers? How will we enable sales to truly understand this story and present it to customers?
Getting product marketing right is the foundation for all of the other marketing work that we do. We have multiple examples of how, when we do get this right, it is transformational in our organization. Product marketers work closely with product management and the rest of the marketing team on strategy. It requires a willingness to get inside the heads of customers, to understand the market, then turn that into a plan of action. It's not an easy role, but incredibly rewarding when you see a product line take off for our business.
Account Based Marketing
How do we take that message to the market? The Account Based Marketing teams work closely with sales to reach senior buyers at our pre-defined list of target accounts. This activity ranges from account planning for individual accounts (Who are the key stakeholders? What message will work for them? How do we reach them!?) through to broader campaigns for particular sets of accounts and verticals. We have teams in the US, UK and Australia based in our regional sales offices, as the close relationship with sales is key to the success of this role.
Demand Generation
As well as marketing to key accounts, we have a parallel go-to-market strategy – reaching out to mid-tier accounts and SMBs, generating leads and opportunities for our territory reps, inside sales and the website. This is the bedrock of Redgate's revenue, and we have a team dedicated to running these one-to-many campaigns for our customers.
Again, the messaging and quality of this work is vital – even when reaching out to thousands of people, our job is not to send 10% discount vouchers – it's to help educate our customers about the world in which they work and linking our solutions to their problems.
Customer Engagement Marketing
Finally, what happens to people after they've bought from Redgate? In a world where subscriptions are becoming the driving force for any business, you have to help your customers use and understand your products. The customer engagement team carry out a number of activities to make this happen, including:
Customer Success
How can we help customers get up and running? After they purchase, do they know how to use our products? Which are the difficult ones? Do they prefer documentation, videos, in-depth articles, or short 'getting started' pieces? How can we work with the community to educate them about the value they can get from the products?
Advocacy
We have a number of rock star advocates who are incredibly respected in our community. They work closely with customers to take the message to the community, and equally, to feed back to Redgate what our customers are worried about. Again, this is about quality – we have the foremost experts in our market working for Redgate, and the work they do is invaluable to us.
Events and Webinars
We also put on the best events and webinars in the world, as well as attending a great deal of conferences around the world. The experience our customers have of Redgate is most keenly felt when we meet them face-to-face. They leave our events giving us unmatched scores for customer satisfaction, and maintaining this high standard is a key driver for the business – if they don't love us when we meet them face-to-face, we'll have little chance building that trusting relationship online!
PR
We now talk to an enormous range of customers, from end users to CIOs, who we want to help implement one of Redgate's solutions. To get that message out to the more senior folk and build our brand with these people, we need a strong PR department who can use a variety of channels to reach our targets. Luckily we have that!
Community Sites
Redgate does an enormous amount of work for the community. We know that supporting and helping the community is great for customers and Redgate alike. We run two of the most successful sites in the space – www.sqlservercentral.com and Simple-Talk. These sites have taken literally years to build into the thriving communities that they are today. The visitor numbers are phenomenal but again, the driver here is quality – writing great pieces for users, that genuinely solve their problems, helping the customers with real insight.
Marketing Operations
Looking after our customers is key to how we run marketing. But that's not enough. This work has to connect with awareness, leads, opportunities and retention. For that we have expertise in the specific field of marketing operations – helping us to understand the impact of our work and drive the right activities to make us as effective as possible.
This is a long blog post, but that's because I feel such pride in the work done at Redgate marketing, and I struggle to miss out any of the great work (apologies to those that I have missed out, despite best efforts!).
That great work is done by great people following principles of customer insight and customer education; humility, knowing that there's always more to learn about our customers and about marketing; and developing people to become the best marketers they can be.
That's us, but what about you? Where could you be if you joined us? If you want to learn more, please get in touch – we'd love to talk.
Was this article helpful?