Every year, Redgate's State of Database Monitoring Report reveals how businesses and organizations are monitoring their database estates. Are they using in-house or third-party monitoring tools? Who has access to the data? What are their biggest challenges?
The thousands of responses to the survey behind the report offer the answers, and also provide an opportunity to dive deeper and examine those issues at an industry sector level. This is particularly valuable because the variations that emerge indicate how different sectors are managing and monitoring their database estates, and what issues are most important to them. This in turn gives businesses in the sector an opportunity to benchmark their own practices against those of their peers.
The survey behind the 2020 Monitoring Report was conducted during the global pandemic and an analysis of the responses from those in Healthcare provides a glimpse into how the sector is addressing the challenges they now face in five key areas.
Higher adoption and usage of third-party monitoring tools
Generally, manual monitoring is more common than the use of third-party monitoring tools in organizations with under 100 employees, with fewer than ten servers, or when they deploy changes to the database only a few times a year. For larger estates where there are likely to be different versions and editions of SQL Server, as well as instances in the cloud, it saves time and resources to use a third-party monitoring tool.
That said, the percentage of respondents using a paid-for database monitoring tool across all sectors in Redgate's monitoring report has been 39% for the last two years. In the Healthcare sector, however, this rises to 48%, which probably reflects the larger size of organizations in the sector, the sheer amount of personal data they need to store and protect, and the recent growth of telehealth services.
Wider access to monitoring data
Respondents in the Healthcare sector reported wider access being given to monitoring data across virtually every area of the business. Beyond the usual suspects like DBAs and developers, for example, it is more common for management and the C-suite to be using third-party monitoring solutions to gain deeper insights into issues that affect their server estates.
This may well be a result of the huge demands being placed on the sector at the moment. There is  an increasing need to use the data to maintain performance, deliver services more efficiently, improve processes and practices, and keep a close watch on resource usage like CPU, disk space, memory, and I/O capacity.
A lower satisfaction rate with database monitoring tools
Perhaps conversely, while there is a higher take-up of third-party monitoring tools in Healthcare, the satisfaction rate in the sector is 55% compared to 68% across other sectors. This fall of 13 percentage points is a sizable variation and the reason is far deeper than a lack of features, which was cited by 45% of respondents in Healthcare compared to 50% across other sectors.
Beyond this, slow speed, poor training, insufficient support, and scalability issues are all significantly more important in Healthcare. This could demonstrate the increasing reliance on monitoring by more people, and those in the sector should look for third-party tools which offer 'soft' features like training materials alongside headline features like speed.
Failed deployments are detected earlier – and recovered from faster
Because of their complexity, deployments of database changes occasionally fail when they reach production. It's often down to a simple error but detecting them, and then recovering from them, is important in order to maintain the efficiency and performance of IT systems.
This is even more crucial in Healthcare, where 51% of respondents in the monitoring report stated they deploy database changes once per week or more frequently, compared to 43% across other sectors.
Fortunately, Healthcare organizations that use a third-party monitoring tool are already ahead of the curve. 70% reported a mean time to detect (MTTD) failed deployments of 30 minutes or less, compared to 57% in other sectors. They also reported a mean time to recover (MTTR) of 328 minutes compared to 402 minutes in other sectors.
Migrating to the cloud is the biggest challenge for the next 12 months
The current pandemic has already accelerated the move to the cloud across all industry sectors, with IDC's Worldwide Whole Cloud Forecast, 2020–2024 predicting the value of the cloud marketplace will surpass $1 trillion in 2024. Published in October 2020, the report includes the impact of COVID-19 in its assumptions and forecasts a double-digit compound annual growth rate (CAGR) of 15.7%.
Perhaps unsurprisingly, the monitoring report showed that the cloud is a major issue for respondents in Healthcare. 30% stated that migrating to and integrating with the cloud will be their biggest challenge over the next 12 months, compared to 18% in other sectors.
The key take-away here may be that, while Healthcare professionals handle performance issues and deploy database changes better than other sectors, the sheer growth of data in the sector is prompting many to advance their plans to move to the cloud.
For more insights into database monitoring, download the Healthcare edition of the 2020 State of Database Monitoring Report.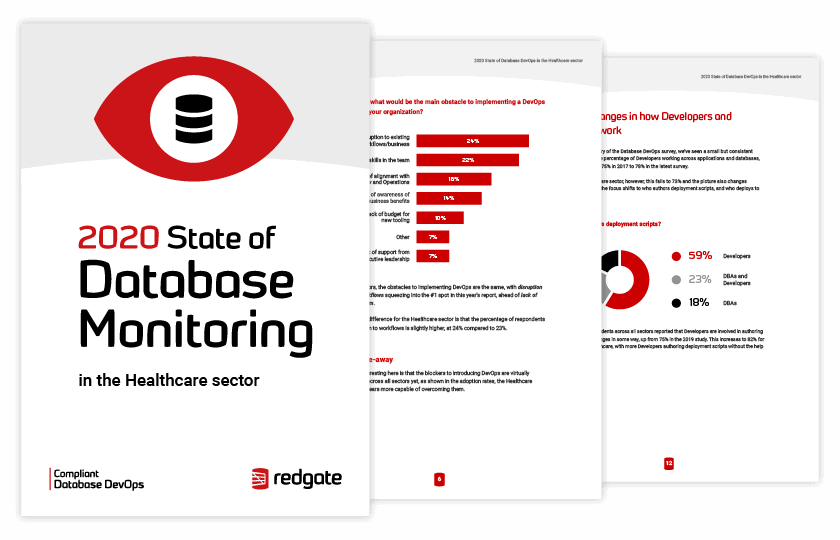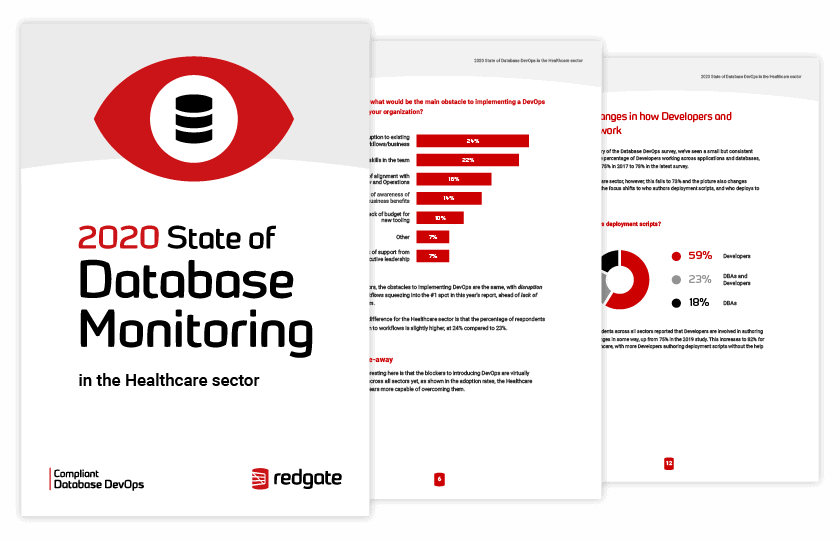 Was this article helpful?