Redgate is closely monitoring developments related to the COVID-19 outbreak and has already put in place measures to ensure the safety of our employees while still fully supporting our customers.
We back the decision many conference organisers have made, by postponing their events until later in the year or switching them to virtual events. However, we also appreciate that you may have been due to attend an upcoming conference and were interested in meeting up with the Redgate crew to talk about your IT team challenges and projects. We anticipate that you may have been looking forward to learning how our solutions can support you and your IT team.
Although you won't be able to speak to us face-to-face at conferences while the pandemic situation unfolds, we'd like to assure you that we're here and available to support you. At Redgate we're committed to helping you deliver value quicker while keeping your data safe. As always, we want to do all we can to help you meet the demands of your business and better serve your end-users during this uncertain time.
We'd like to invite you to join us at Redgate Streamed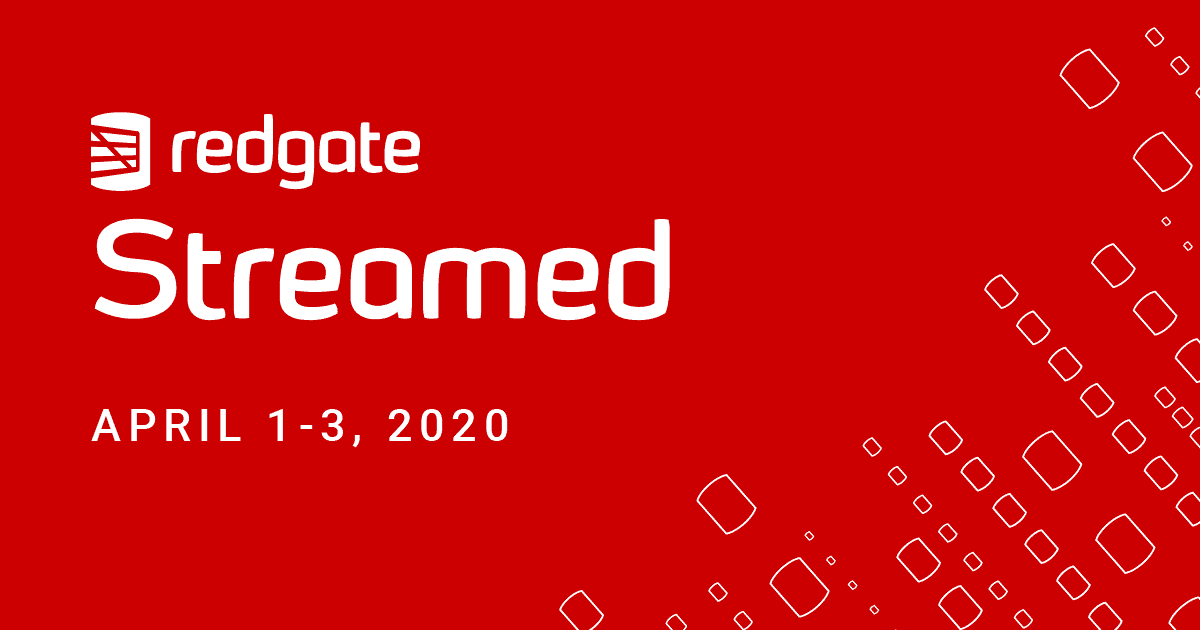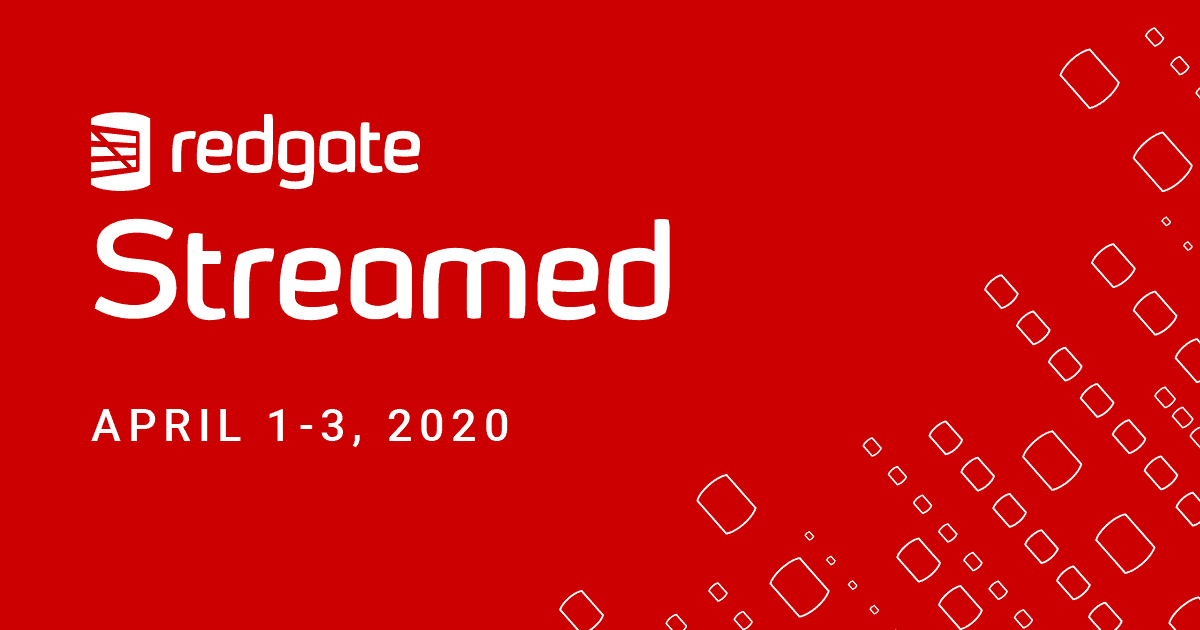 Redgate has been hosting virtual events for a number of years. We have vast experience running livestreams and webinars that enable Redgate customers and the Data Platform community across the globe to come together to learn virtually.
Our first livestream took place online in 2016 and we've come a long way since. All of our nine previous livestream virtual events that broadcast live to thousands of virtual attendees are available to watch on-demand any time. While our next livestream event was still in the planning stages, we're reacting to the current situation and have decided to host a livestream sooner than originally planned.
You and your team can join in with Redgate Streamed at a time that suits you between April 1 – 3. There will be a series of virtual touch points to keep you engaged and all of the content will be available for free after the event, to consume at any time.
Redgate's Advocates and solution teams who were due to be at SQLBits, the largest Data Platform conference in Europe, will be on hand to host the informative sessions they were due to present. They've also been joined by other SQLBits speakers, who are Partners and Friends of Redgate, to present a range of other sessions as well.
What to look out for on Day 1
Wednesday April 1, 2020, 2-7pm BST / 8am-1pm Central / 6am-11am Pacific


Use Git for database code: From cheat sheets to Pull Requests
Kendra Little, MVP & DevOps Advocate
Database DevOps with Containers
Rob Richardson, Microsoft Cloud & Datacenter Management MVP
Blogging and writing for the Tech Professional
Steve Jones, MVP & SQLServerCentral Editor
Kathi Kellenberger, MVP & Simple Talk Editor
Learn to effectively use Extended Events
Grant Fritchey, MVP and PASS Past President
How database DevOps levels up remote work
Panel discussion with speakers
What to look out for on Day 2
Thursday April 2, 2020, 2-7pm BST / 8am-1pm Central / 6am-11am Pacific


Protect your data by design: Creating a data masking strategy
Chris Unwin, Redgate Data Privacy & Protection Specialist
Shortcuts from an impatient DBA
Andy Mallon, MVP & Founder of BostonSQL
The basics of unit tests with tsqlt
Steve Jones, MVP and SQLServerCentral Editor
SQL Injection: How it works, how to stop it
Grant Fritchey, MVP and PASS Past President
How to learn automation in Azure DevOps
Panel discussion with speakers, plus Cathrine Wilhelmsen, MVP & Azure Data Engineer Associate
What to look out for on Day 3
Friday April 3, 2020, 2-7pm BST / 8am-1pm Central / 6am-11am Pacific


SQL Notebooks in Azure Data Studio for the DBA
Rob Sewell, Microsoft Cloud and Data Center Management MVP
Convince the DBA to support DevOps
Grant Fritchey, MVP and PASS Past President
An introduction to Intelligent Query Processing
Kathi Kellenberger, MVP and Simple Talk Editor
Index tuning in an agile world
Kendra Little, MVP and DevOps Advocate
The future of database Administration and Development
Panel discussion with speakers
Join us and make the most of our latest virtual event
Our experience tells us that a virtual event just can't replace the value you'd get from an in-person event. However, with the technology available, there are things we can do to help you enjoy an interactive experience, should you want it.
We'll be using the following technology during the week, to give you the opportunity to connect with Redgaters, speakers and other attendees virtually:


We hope you enjoy this new experience coming to you from Redgate. While we appreciate it's not a match for replacing the live-events experience, we hope Redgate Streamed will provide the opportunity to come together to connect with others who are in the same situation as you, learn from each other and experts, and feel connected during this period.
As we won't be attending SQL Bits this March, we're donating the budget we would have spent to help the World Health Organisation's COVID-19 response fund. For every registration attendee during Redgate streamed, we'll also donate a further US$1.
Register today and join us at Redgate Streamed
Was this article helpful?