It's been a few months since I joined Redgate as the Development Lead for Database DevOps. I've passed my probation, so the risk of me being kicked out for annoying the heck out of my colleagues has hopefully reduced, and it seems like a good time to reflect back on Redgate and how it feels to work here. Waiting also has the useful benefit of any honeymoon period having worn off by this point.
I've been around a bit, I've worked at large corporates, medium size organisations and a smattering of start-ups and start-ups coming out of starting up and moving onto professional companies. So I feel like I've got a good set of past experience to use as a bit of a yardstick to measure Redgate against.
So what are the things about working at Redgate that differentiate it from other employers?
The elephant in the room
The benefits package
Let's get this out the way first because it's normally the thing that concerns people when looking for a new employer. The salary at Redgate is the market rate for Cambridge, which means you aren't going to be buying a yacht in a year, but you also aren't going to be on the poverty line. It's also negotiable. If you think you can bring something to the table for the role you are applying for, then Redgate is open to discussion.
The other benefits …
Good pension, free healthcare for you and your family/dependents, critical illness cover, income protection, death in service, travel insurance for you and family, free lunches and breakfasts, great holiday allocation, buy and sell holiday, profit share, flexible working, childcare vouchers, great expenses policy and £100 self-approval on items, fantastic learning and development opportunities …
I could go on, these are just off the top of my head. But I would challenge you to find a more generous employer in Cambridge for benefits and flexibility and it is something Redgate is rightly proud of.
Other good reasons to work here …
A focus on coaching
You'll have heard the term 'servant leadership' before. You've possibly been told your managers perform this function. You've possibly scoffed at this as you're told to go do X task by Y date and report back. Redgate isn't perfect in this respect but is the first employer I've seen that dedicates time, money and effort to trying to make their people managers into this sort of role for their teams.
I've been given incredible development support since joining, from how to get the best out of my teams, to how to help them form up their approach, to how to tackle their work in an order and manner that gets the best from them. Coaching is incredibly important here and it bleeds from every part of the organisation. From senior managers offering up the opportunity to run Reddit style AMA sessions to your line manager focussing on coaching as a specific part of 1-2-1 sessions.
Freedom – autonomy & alignment
For lovers of Spotify's approach to agile, you'll be pleased to hear Redgate is a firm believer in autonomy for teams, within the bounds of an alignment of the wider company goals. We use a process called OKRs (Google uses it too) which is based on objectives and key results. In other words, the objective could be to 'make product X kick ass this quarter', and the KRs could be 'by adding in a button labelled 'awesome' that a user can click on'. An incredibly rubbish attempt on how these are structured, but hopefully you get the gist.
The teams are responsible for creating these OKRs and the intention is for this to be what the team gets behind each quarter. How they do it is down to them (with some help from us), but it is genuine autonomy in allowing the teams to work with other departments (such as marketing and sales) to decide where the most value can be provided to our customers right now.
Agile everywhere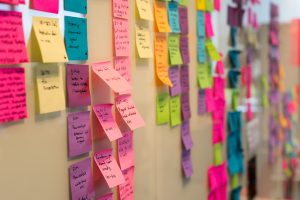 While touching on agile, one of the first impressions any new joiner gets when walking into the building is our obsession with Post-it notes. There is a very good reason for this, as every team here uses some shape or form of agile to run their department and teams. Now clearly agile was developed as a software development approach but I've been a firm believer for years (and even trialled it at one employer) in agile being used across other departments.
Here, it's used in every team. Our People Team use backlogs and boards just as effectively as our development teams. Does it mean Staples are on speed dial for more Post-its? Absolutely. Does it mean you can see any department's current and planned work? Yep. Does it work? Undoubtedly
It's an impressive thing to see, just walking around the different teams and seeing how so many methods can be used in the same company without chaos. It also makes Redgate incredibly quick to respond to changes or challenges in the market. One of our current projects launched off the back of changes announced in Q2 this year that present a massive opportunity for us, and already two development teams are hard at work (and releasing) products that will address it. People and teams talk of being agile, but this is one of very few places I've seen that is genuinely capable of responding to market shifts quick enough to supply customers with a solution when it's needed.
Development and environment
You hear (and I've witnessed) plenty of companies which talk about how much they care for their employees, right before they drop a bunch of their benefits or ask them to reapply for their jobs. There is a bit more to caring for your staff than simply having a pool table and a games console in the corner of a room. At Redgate, personal development is a key focus for everyone. As people managers, we're encouraged to have regular conversations with our staff and help them map out the next stages of their development.
Alongside this, we're provided with opportunities to expand our skills with access to online materials such as Pluralsight, MSDN subscriptions, the chance to attend courses and conferences across the globe, present at conferences, build networks of like-minded individuals on particular technologies and make extensive use of the office library (or order in more books if something is missing).
On top of this, the office environment is brilliant. Clean, well furnished, plenty of break-out areas and meeting space. Whiteboards on every wall, our free canteen (breakfast and lunch from a wide choice of food is free), great coffee machines, private areas for confidential discussions, excellent video conferencing in practically every room and a wide choice of hardware to perform your role.
Down Tools Week
You'll hear of many companies holding hackathons over 24 hours. These tend to just focus on development teams who normally end up having to work around in-flight projects or activity so feel painful to support.
Here at Redgate we hold an annual 'Down Tools Week' where teams come up with ideas on customer problems we can tackle using different approaches we may not have a chance to consider in normal day-to-day software development. This can be anything from apps to entirely new products. Even more impressive is the efforts we go to in supporting external charities. Each DTW we invite a charity to work with our teams on building a solution for them. At the last DTW, I was involved in a human rights reporting app alongside Cambridge University.
These DTW events run for the entire week and cover the entire company. Everyone is invited and work on day-to-day activity tends to be gently slowed down to really support this initiative as much as possible. Imagine a hackathon spread over five days, allowing everyone in the company to get involved, with as many doughnuts and free food vans and activities as you can squeeze in and you'll be close to the mark.
This video of a previous DTW pretty much sums up my experience:
The people
None of this stuff would really matter much if the people were zombies and made the environment feel horrible. Thankfully, everyone is extremely helpful and welcoming. People will come and sit with you in the canteen and take an interest in what you're doing, maybe even help you work up a solution to your problem. People talk at the coffee machines (all on one floor to encourage collaboration). People managers genuinely care about your development and the board of the company are completely transparent in all their dealings. Minutes from every board meeting are posted on our intranet site, board members own objectives and KPIs are shared with every member of staff, and we regularly hear and see them around the office. In fact our CEO was speaking to me about my current programme this week and currently sits in my department (they like to be in the teams rather than in offices).
So should you apply to join Redgate?
Before you do, check out our website and see the latest openings we have, or get in touch with our people team to make an enquiry. I think one current Redgater sums it up perfectly by stating 'I was looking for a small Google, I never thought I'd find it in Cambridge'.
Related posts
Also in Working at Redgate
A great part of working at Redgate is that I get to know folks in our software development teams. They're smart, fun people, and I love getting a view into how they build our solutions.
This post...