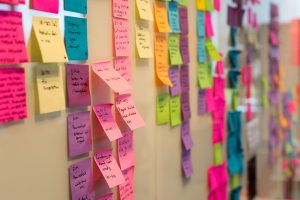 When anyone visits Redgate HQ in Cambridge and takes a tour of the software development teams, their reaction is invariably the same. They're surprised at the dress code (we don't have one), they're mystified by the walls plastered with Post-it notes, and they're intrigued by the giant bean bags and cake everywhere.
That's the outside appearance of the culture we're fostering at Redgate. One which encourages teams to do great work, makes Redgate an enjoyable place to do that work, and results in users being delighted by the value our software delivers.
It's not just driven by a relaxed dress code, Post-it notes, and cake, however. It's also down to a set of principles we're introducing because we believe they're key for every one of our development teams. We're working towards them now and, while we're pretty good at following them, we still have room to improve. But then that's what probably makes it such an enjoyable journey.
Have a clear purpose and focus on it
Every team member knows why the team exists, what their mission is and why it's important. They have a plan for the upcoming work and know the benefit they hope their work will deliver and how it contributes to their mission.
Be transparent
Anyone and everyone at Redgate is able to see the aims, plans and progress of the teams without having to ask.
Deliver value to customers in an agile way
The teams ship releases frequently and deliver value in thin slices. This results in rapid feedback from users, to which the teams can quickly respond. At the same time, they're expected to identify the riskiest areas of their products and mitigate them appropriately.
Understand the users
Every team member understands the domain in which their products exist, and their competitors, and uses this knowledge to make critical decisions and build software that our customers love.
Strive to improve
Teams know where they need to shape their processes and practices so they work better for them. They take decisions when they need to, ask for help when they need it, and change things if they're not working. As importantly, they take the time and space to think deeply about the important challenges they face.
Be proud of the work you do
Redgate teams care about the products they create, the code they engineer and the service they provide to our customers. They balance technical excellence with the drive to deliver valuable work to users.
Be mindful of other teams
Redgate offers a suite of software, and many of our tools work alongside others. So teams think about how their work affects other teams and often go out their way to help. They understand that the needs of Redgate can be more important than the needs of their individual team, and they share their successes, in the hope to inspire other teams.
Be open and collaborative, informal and celebratory
Team members work together more often than they work apart, and engage in open, honest debate and listen to each other. They also celebrate success and great work, often with cake.
This is our vision for how to create great development teams. If you think it sounds like a journey you'd like to be part of, we're recruiting, so take a look at the latest opportunities on our careers pages.
Was this article helpful?