Down Tools Week has been around at Redgate for a long time. And like everything related to software, it has its share of technical debt, it's become a bit woolly around the edges, and it's in need of a refresh. Welcome to DTW v2.0. The fun starts today.
The first week in November will be something like the twentieth (it could even be the thirtieth) Down Tools Week at Redgate. And it's going to be a little different. The first Down Tools Week was exciting and new, but since then the lustre has faded. It's not anyone's fault – the organising team have been valiant in their efforts to keep it relevant, interesting, and involving.
It's time to put more resources and more energy behind it. Give it a reboot, if you like. That's why we're launching DTW v2.0 – a bigger, shinier version with a whole list of bug fixes.
1. You decide the projects
While Down Tools Week is five weeks away, the ideas bit starts today. In the atrium are whiteboards waiting for thoughts, doodles, glimmerings of projects that can be worked on.
We've put a few ideas up to set the ball rolling, and it's down to you now. No rules, no need to think about Redgate products, no requirement to even suggest a software project. We need lots of ideas that you'll then vote on.
The top four ideas are the ones we'll run with – and it could be your idea.
2. That includes you, Pasadena
We'll be sharing the whiteboards with everyone in the Pasadena office. So if you have an idea on Colorado Boulevard, suggest it, we'll put it up, and we'll all vote on it.
3. Think big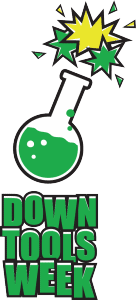 When you think about the number of people involved in Down Tools Week, there's more than a year of coding during the week. That's a lot of code that could do a lot of work. So think big. Really big. Let your imagination run riot. Suggest that crazy but tempting idea that's been hovering at the back of your mind but you've never had the time or the resources to do it.
And don't necessarily think coding. You might be thinking of doing something else that needs a lot of people hours. We've got the people. Down Tools Week will provide the hours.
4. Its not just about developers
Traditionally, developers are the focus for Down Tools Week. DTW v2.0 needs testers, UX designers, tech authors, project managers, sales people, marketing people – anyone who can contribute something to the projects. So don't feel it's not for you: DTW v2.0 is for everyone.
5. Expect more
DTW v.20 won't just be four big teams working on four big ideas. A whole host of events, activities, and weird and wonderful things will be happening during the week. So watch this space. We'll be keeping you updated on the blog and in your email box during the coming five weeks.
More news soon.
Was this article helpful?