When someone buys software from Redgate, it's often not the end of the story. It can be the beginning of a journey because support is frequently part of the package.
There's good reason for that too because while we pride ourselves on developing software that's ingeniously simple to use, that simplicity is deceptive. We make complicated processes like comparing database schema very easy, but under the hood, Redgate software is incredibly complex.
That's where support steps in. We're the backstop, the safety net, the go-team when something unexpected happens. The software doesn't behave as it should. There's a problem that's stopping a user doing his or her job. A tricky technical issue emerges.
But what do we actually do, and what does a day in the life of a Product Support Engineer at Redgate involve?
Woke up, fell out of bed …
A typical day starts with the daily stand up. That's when the whole team gathers and we check our workload, bring up any product issues everyone needs to be aware of, and get feedback from the product teams on the latest updates.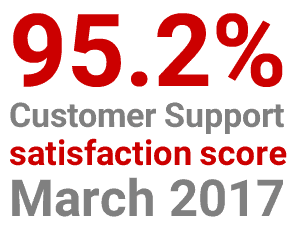 Then the real work begins, although we don't really think of it as work because we like helping customers. On average, each Product Support Engineer handles around 25 calls and 100 emails a month and while some support issues are ones we've seen before and can answer quickly, others bring new challenges.
The calls are typically where there's an urgent problem that needs to be resolved quickly and those can be the most rewarding – and the most demanding. We want to do the best for customers at Redgate, and when a customer has a big concern that's stopping them doing their job properly, emotions can run high.
That's particularly true when our software isn't at fault, but the error is being presented through our software. Cases like this can involve reproducing the problem on our side and getting the software development team involved to work out a solution faster.
That said, being able to fix a tricky technical issue, working with other people to get to the bottom of it, is really satisfying, particularly when customers end up only having good things to say about the service they've received.
Found my coat and grabbed my hat …
Probably the best thing about being in product support at Redgate is the support we get in return. This isn't the kind of place where you have to find your coat, grab your hat and make the bus in seconds flat.
We obviously have to be available to answer calls and emails at certain hours, but there's flexibility too. It's not a clock-watching culture, it's one that recognizes people need a proper life/work balance. You might have to leave early, for example, or come in late, or pop out for an hour during the day.
Personal development is also seen as key because the more knowledgeable and skilled we are, the better we're able to help customers. So if you need training, it's there. If you want to attend a seminar or conference, shout up.
It all works too. We recently had our busiest month ever, resolved nearly 2,000 support tickets – and still got a customer satisfaction score of 95.2%. That makes everyone feel good.
If this sounds like the kind of support team you'd like to join, take a look at the latest opportunities on our careers page.
Was this article helpful?