Redgate has supported PASS for over 15 years, and now, as the owner and host of the largest database community gathering in the world, we're proud and excited to share more information with you about our improved presence at this year's Summit.
Explore the Redgate Summit sessions
Whether you're joining live from Seattle or tuning in from the comfort of your own home, here's our top pick of Redgate sessions not to miss out on.
With over 1,000 minutes of session time, visit the session catalog for a full list of Redgate sessions at Summit.
Find us at our online booth
We appreciate that not everyone can or wants to travel right now, so we've put extra care into ensuring our online audience have a brilliant experience too. Catch our live-streamed sessions during the event itself, and check out our Exhibitor page, where you can learn what's new at Redgate, as well as learning more about the #Redgate100 – our list of this year's most influential community members.
At our Redgate online booth, you can also find out more about our different solutions by watching short demo videos and downloading our whitepapers, collateral and info brochures. And importantly, our online booth is where you can play our spot-the-difference game, with the chance to win a cool prize.
Find us at our in-person booth
For everyone attending the Summit in person, do take the time to come and chat with us at one of our two Redgate info kiosks, or at our main booth in the Expo Hall (you can't miss us – we're booth 101). Whether you're a long-standing Redgate customer, or this is your first interaction with us, everyone is welcome to talk to us about our latest product features, give feedback to our product managers, or spend time with Kathi Kellenberger, Grant Fritchey and Steve Jones, all of whom will be available at the Redgate booth.
If you're more interested in educational content or practical knowledge, make sure to swing by during break times to catch our expert sessions on:
"A beginners guide to Automating Database Deployments using Redgate's Flyway Enterprise and Azure DevOps", "Track your SQL estate with Redgate SQL Monitor" and "Tackling Deadlocks with Redgate SQL Monitor", during the morning break time (10:45-11:15), Wednesday through Friday.

Every lunch breaks we'll be running live Redgate University courses for you, starting with protecting and preserving your data on Wednesday, using Flyway on Thursday, and monitoring your estates on Friday. 

During the afternoon breaks (3:45-4:15pm each day), we'll be running a trivia quiz on Wednesday, and on Thursday our most senior solutions architects will discuss and take questions around common challenges with implementing database CI/CD. So bring your notebooks and get your questions ready.
Away from the booth (but definitely worth a visit) we'll be running "DevOps in a Lunchtime" sessions on Thursday and Friday. Food will be served in the session room, and this lunch-and-learn opportunity will keep both your brain and stomach nourished. These sessions need to be booked through the session catalog, so make sure you've got them in your calendar if you're interested in attending.
Don't forget our give-aways … including Lego Steve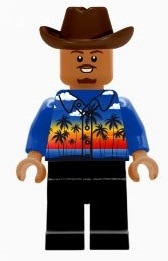 This year is a special homecoming for us, and we'll be bringing cool new give-aways to share at the Summit. Among them, we're pleased to reveal Mr SQLServerCentral in miniature … Lego Steve.
Lego Steve is our smallest supporter of everything Summit. You can find him in action at our booth, and spot him dotted across the venue.
Get your very own Lego Steve at our booth, or from the real Steve Jones himself. Share your selfies with the various Steves on your social media and don't forget to include the #LegoSteveAtSummit hashtag. Tag and follow @redgate and you'll also be in with a chance of winning an Indiana Jones Lego Set.
And don't forget to connect with us
Whether you're joining in person or remotely, do get in touch with us. We'd love to hear how you're finding the Summit, or chat to you about Database DevOps. You can find us online in spatial.chat or the Redgate booth chat, or in-person at our Redgate info kiosks and our main booth.
Was this article helpful?