When talking to friends, family, or even sometimes colleagues, I often get a questioning look when I say I work in Product Marketing. Sure, most people roughly know what Marketing is, but then what's the 'product' bit?
Well, I thought I'd make it easier to answer this question by starting a series of blog posts about Product Marketing at Redgate. For this very first one, I'm going to cover Product Marketing in more general terms.
As the name suggests, Product Marketers work on products and typically collaborate across functions like sales and development. Unlike other marketing roles, it's less focused on marketing channel expertise, such as PPC or events, and instead prioritises the understanding of the market, its segmentation, who we're targeting or not, and how our products and solutions should be positioned.
Product Marketing overlaps with Product Management – in some organizations it's even the same role – but at Redgate Product Marketing Managers have a more commercial focus, being responsible for marketing strategy and sales lead generation, while Product Managers are more closely linked to development, and work on the long-term product vision and technical implementation.
So, what are the day to day responsibilities of a Product Marketer?
In the context of Product Marketing and Management, the Pragmatic Marketing Framework gets mentioned frequently as it provides a nice overview of typical activities ranging from strategy to execution: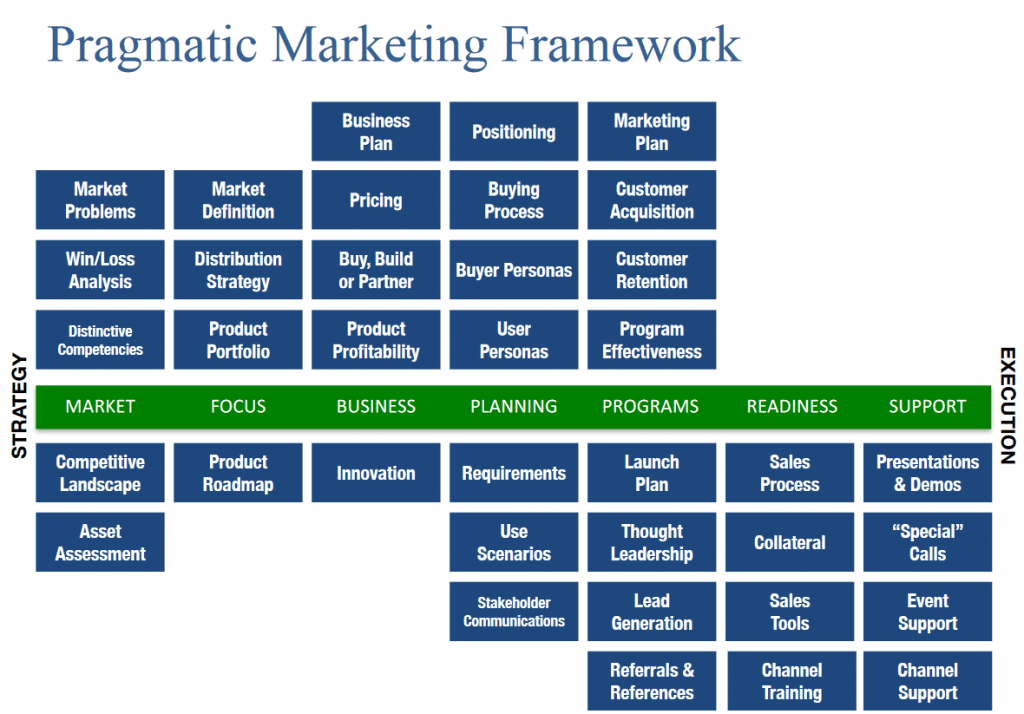 But surely this is far too much for one person!?
Well, we thought so too. Even though our responsibilities overlap with those of Product Managers, we still found it was asking the impossible of Product Marketers to expect them to lead on commercial strategy at the same time as carrying out sales lead generation programs. To address this, we've recently split Product Marketing at Redgate into two roles:
Strategic Product Marketing Managers develop go-to-market strategies and are heavily involved in research.
Product Marketing Managers, on the other hand, have more emphasis on generating leads for a product or solution.
When looking at these roles within the Pragmatic Marketing Framework, the responsibilities of Strategic Product Marketing Managers typically fall into the left-hand side of the table, while Product Marketing Managers are closer to the right.
If Product Marketing at Redgate sounds exciting, apply via the website. We'd love to hear from you.
And, if you want to find out more about the day-to-day activities and responsibilities of these two roles, stay tuned for the next blog in my Product Marketing series.
Was this article helpful?