In 2017 we launched our first report into the State of Database DevOps and have repeated it year-on-year. The responses from thousands of database professionals have given us unique insights into how organizations and individuals are adopting DevOps, how the roles of developers and DBAs continue to shift, and the biggest obstacles teams and organizations currently face.
For our 2020 report, over 2,000 respondents took part, with responses coming from all industries, and from all around the world. Those within Financial Services were the second largest sector to contribute to the survey, and are also the front-runners when it comes to implementing Database DevOps. This blog post will explore their adoption rates, the key drivers to adoption, and also touch on the future for the industry.
Database DevOps adoption rates
The overall trend for DevOps adoption across all sectors has increased, with those reporting no plans to adopt falling. While this pattern is reflected in Financial Services too, both these trends are showing a more dramatic shift: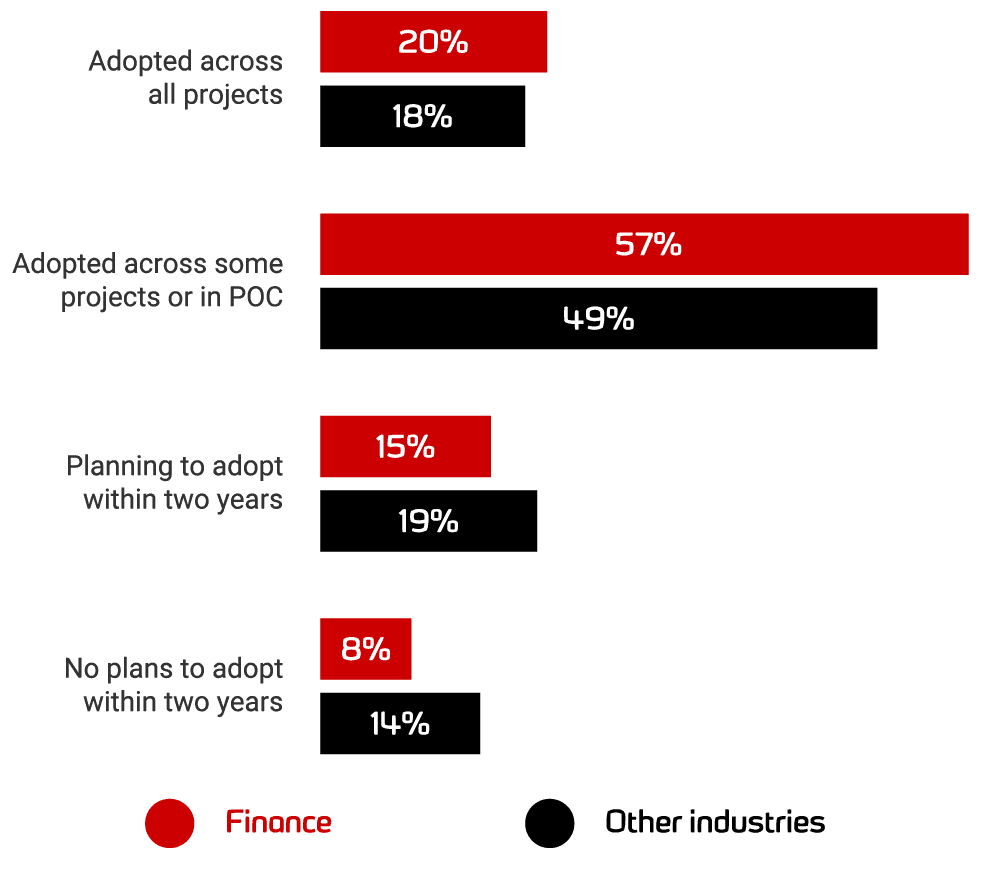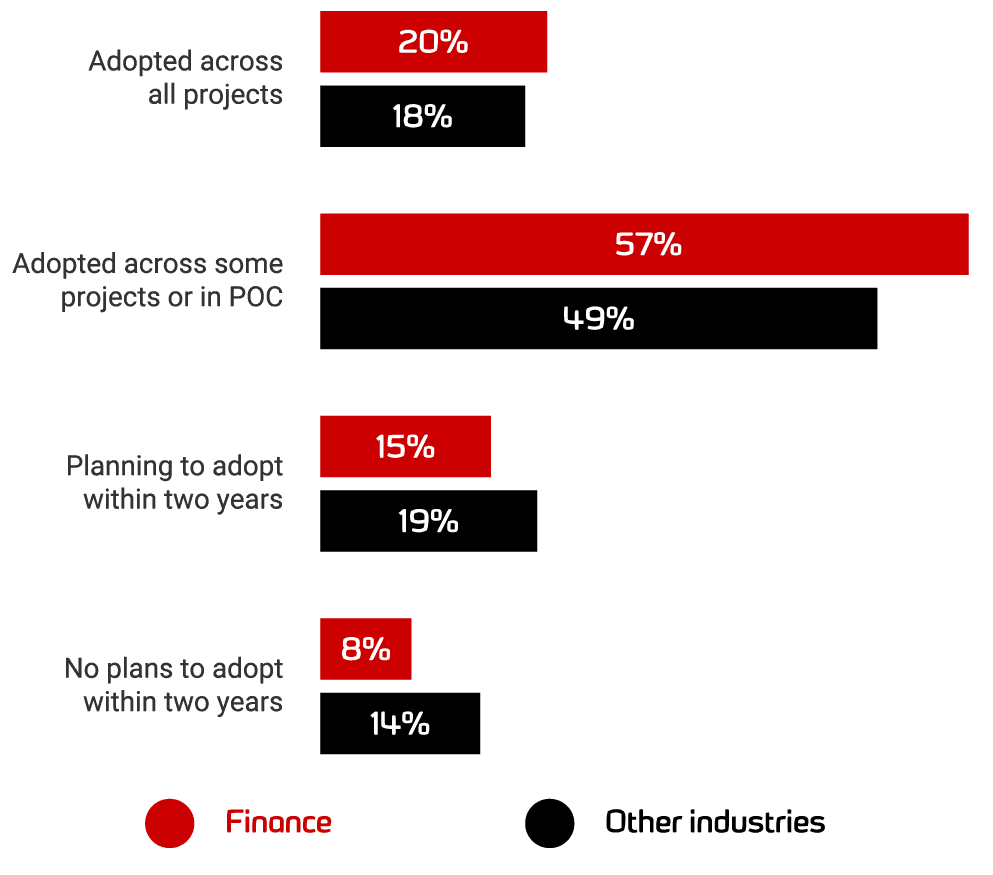 Respondents in Financial Services report the highest levels of Database DevOps adoption this year – with proportionally higher rates than any other sector. More than 77% of respondents in this sector stated that their organizations are either in PoC, have adopted it across some of their projects, or have adopted it across all projects.
An interesting point to note here is that the majority of those in Financial organizations who have not yet adopted DevOps report that they do have plans to do so within the next two years. In fact, we see a similar picture across other sectors as well. In the first survey we conducted, 20% of respondents said their organizations had no plans to adopt DevOps. This dropped to 15% in the 2019 survey, and in the latest survey only 14% expressed no plans to adopt. In the Financial sector we see the ratio even smaller at under 8%, but likewise, this percentage is at its lowest when compared with previous years.
All of this indicates that those with plans to implement DevOps do follow through by beginning to adopt it across at least some of their projects later down the line. It also suggests that those with no plans to implement DevOps can potentially change their mind with time, and as more organizations do the same, those that remain will not want to be left behind.
Drivers for adopting DevOps
Looking at the collective response across all sectors, the top two drivers for DevOps adoption were 'Increasing the speed of delivery of database changes', and 'Freeing up developers' time for more value-added work'. We've seen these two drivers consistently ranking highest in previous years too. Although many factors contribute to this, one consistent threat which is ever-present in today's landscape is constant technological change, which forces organizations to continually adapt in order to keep up.
This is mirrored in PwC's Annual Global CEO Survey which asks CEOs to list their top business threats for the coming year. While concern over 'Speed of technological change' reduced for 2019 compared to previous years, it rose again for 2020 in the latest survey, with nearly a third of respondents ranking it as a risk factor. Having the ability to consistently add value to your product, as well as maintaining the continual need for speed of delivery is essential to maintaining a competitive advantage.
When looking at the drivers over time, we see the desire to increase speed has remained consistently important, whereas there is a distinct rise in those wanting to free up developers' time: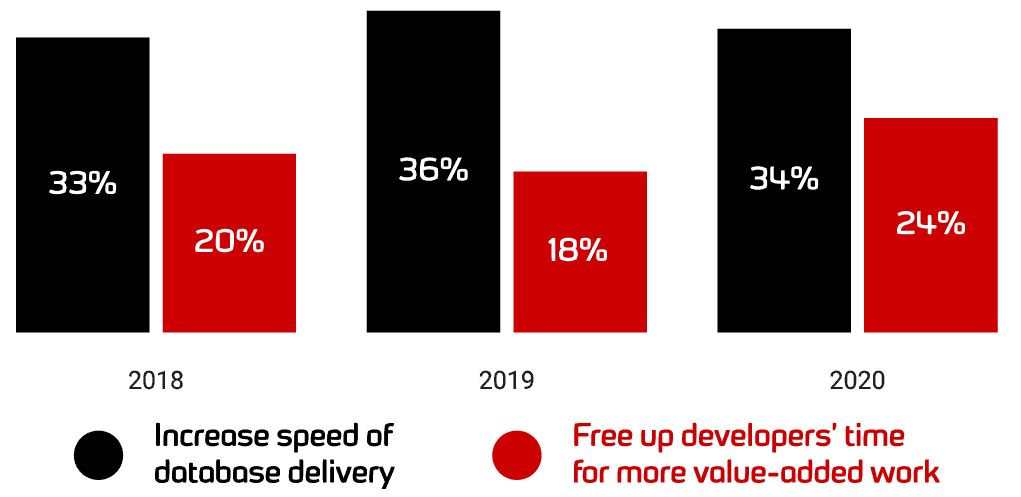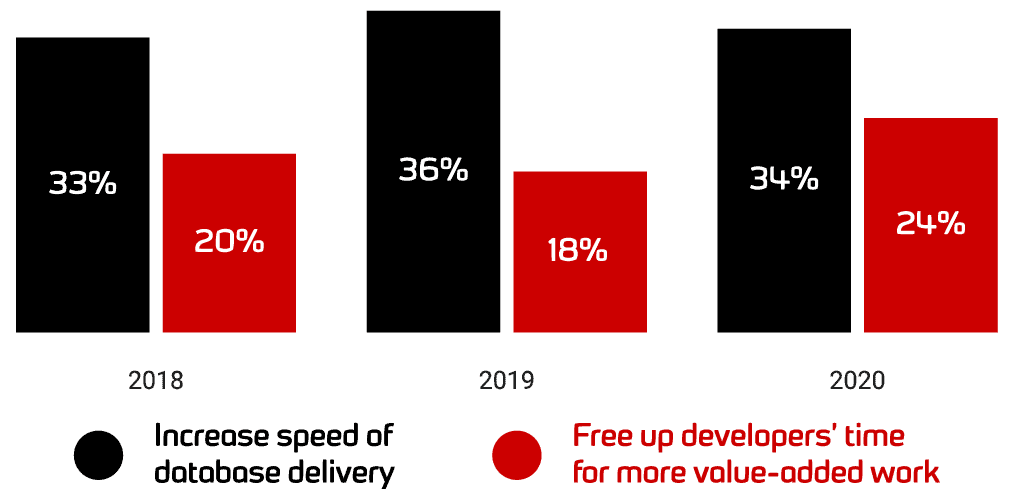 This is not merely a case of wanting developers to have additional time for general maintenance and routine database development duties. It's more about enabling developers to have more time to spend on new projects and innovative features to stay ahead of the curve.
We see this driver for adoption as being important for both developers themselves, as well as the most senior job roles within organizations. DBAs on the other hand, are less likely to select this reasoning, but this is not surprising given their different viewpoint and priorities. They were more likely to say that 'Facilitating better collaboration between development and operations' was their main driver for adopting DevOps.
There's a clear similarity with other sectors for the requirement to free up more developer time, whereas the need to increase speed is much more important to those in Financial Services: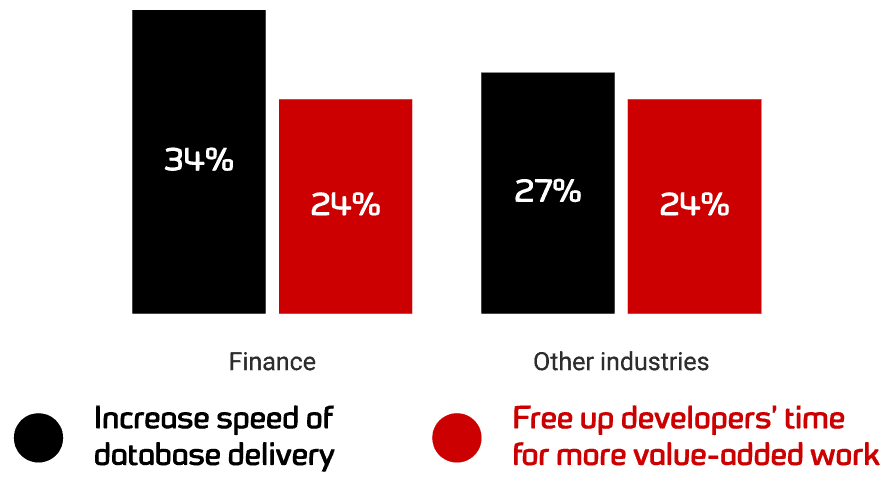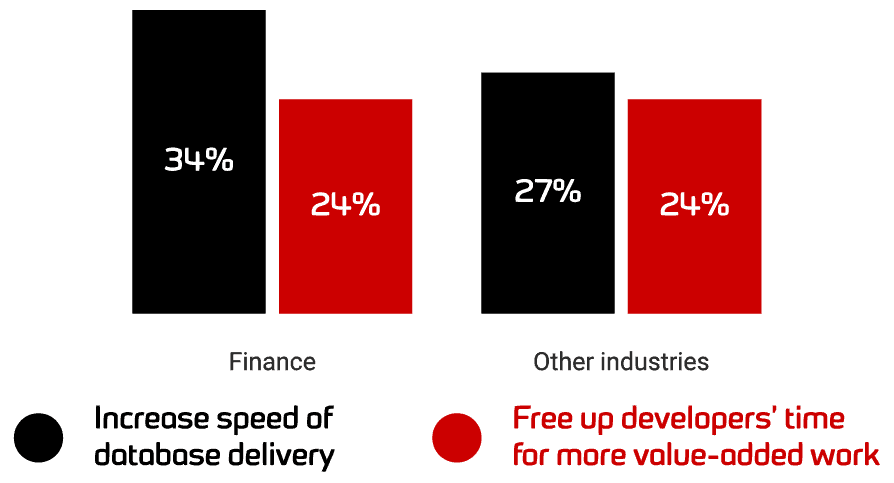 The higher proportion selecting this driver really demonstrates how critical it is for those in Financial Services to have the ability to deliver changes quickly and maintain frequent deployments in such a competitive, fast-paced environment.
What the future holds
Although we see the same drivers for adoption ranking top in the State of Database DevOps report, the landscape is always evolving, bringing new obstacles to manage. These hurdles can come in areas outside general database development, such as organizations increasingly moving to the cloud and having to contend with new data security requirements. On an sector-specific level as well, challenges sometimes arise which have a unique impact.
PwC's latest Annual CEO survey, for example, reported that respondents as a whole rated 'over-regulation' as the top threat to business, with 36% selecting it. In its Banking & Capital Markets category, however, over 50% of respondents selected it, more than in any other category. The same CEOs also listed 'cyber threats' in their top 3 business threats. We know that they have to contend with highly regulated environments already, but these statistics also suggest that the sharp upturn in new regulations and legislation is overwhelming to comply with, despite the prevalent need to guard against security breaches.
We've increasingly seen many large companies hiring entire teams and creating new job roles just to cope with the implementation of safeguards around data security as the concerns around how to manage it continue to grow. However, whether or not there is a dedicated team to manage these changes, the adoption of database DevOps is also something that will help companies deal with these new challenges.
Improving development procedures and encouraging the evolution of company cultures to work towards DevOps is a process which takes time to implement. But it is not only about the benefit of speeding up deployments and freeing up developers' time. It also helps by putting a framework in place to keep data safe and compliant with regulations at all points of the build and release cycle. From version controlling database changes, building a reliable and automated release process, and provisioning sanitized production data for developers, achieving data protection is made possible by design and default. All of these individual parts can work together to combat the growing concerns the Financial Services sector has over threats to cyber security, while simultaneously adding business value in other ways too.
As was highlighted at the beginning of this post, our Database DevOps report this year shows Financial Services as the clear frontrunner when it comes to DevOps adoption. It's no surprise that those in the sector also report more frequent deployments, are more likely to sanitize their production data, and the majority also testify to DevOps positively impacting regulatory and compliance requirements.
Interestingly, those from Financial Services are also the most optimistic about their expected timescales for full DevOps adoption: the majority of respondents from Financial organizations predicted it would take a year or less to move from traditional practices to a fully automated process.
Business threats to Financial Services continue to evolve, but DevOps equips teams to deal with these through reliable, scalable, and repeatable processes, and an automated framework to embed the best practice for data security throughout.
Read the full report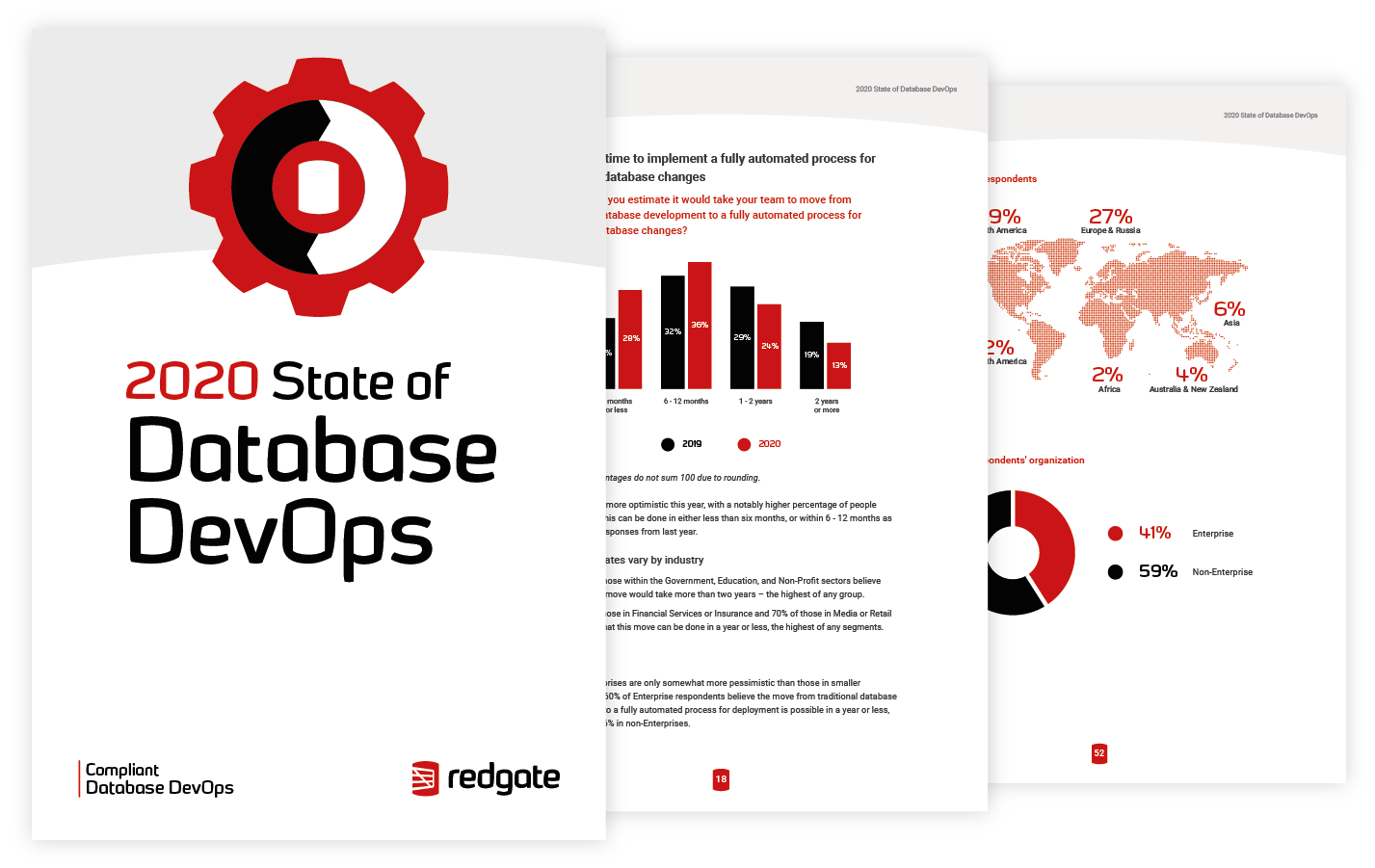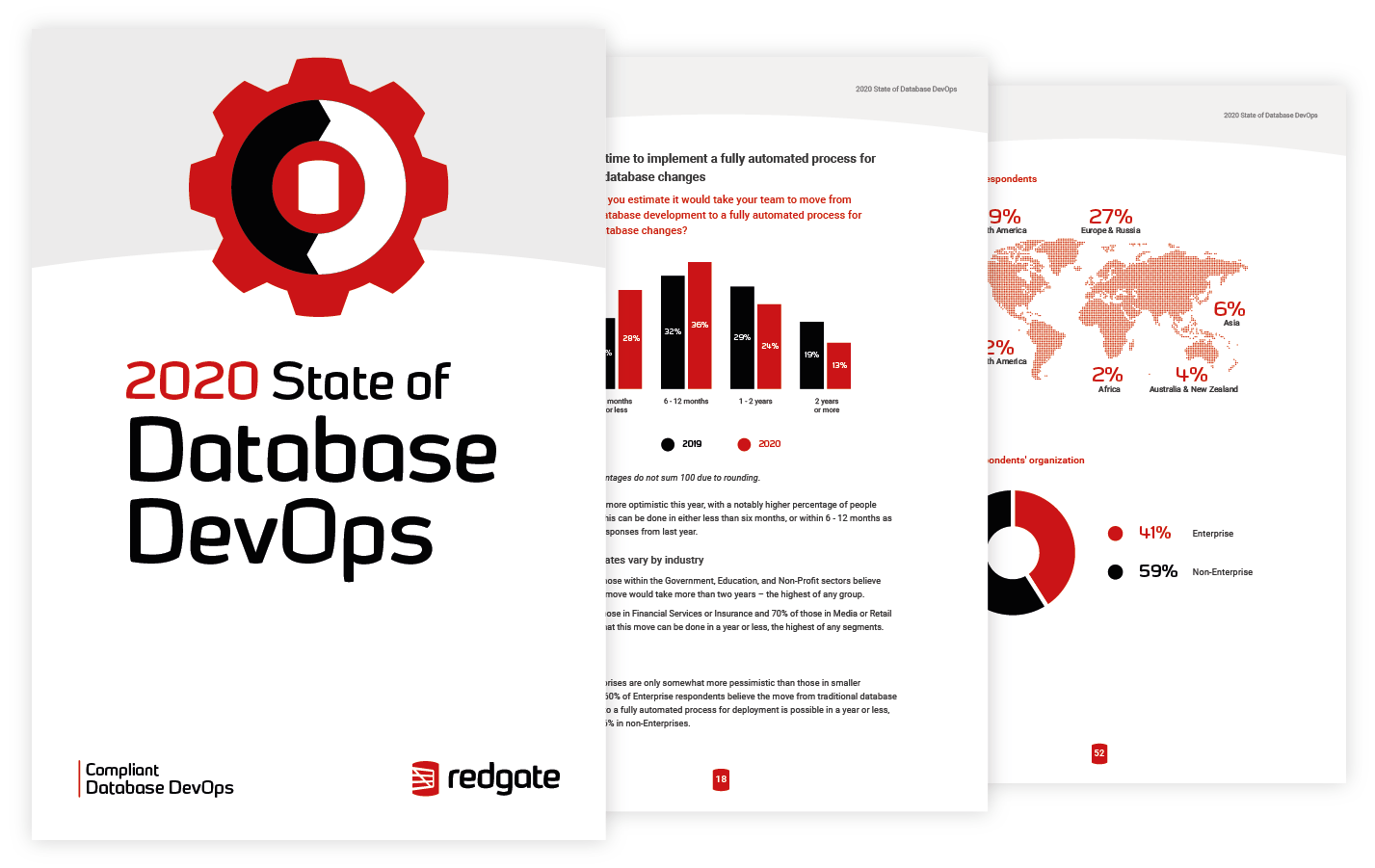 For our detailed analysis of the responses in the 2020 State of Database DevOps report download your free copy today.
Was this article helpful?