In 2018 we launched the industry's first ever report into the state of SQL Server monitoring. The responses from over 600 SQL Server professionals gave us a unique insight into how they monitor their estates, the technologies they work with, and what were the biggest challenges they faced.
In 2019 we ran our State of SQL Server Monitoring survey for a second year. Still the only survey of its kind, over 800 SQL Server professionals participated this year with responses coming from DBAs and Developers, through to Architects, BI Analysts and CTOs, from over 70 countries in industries ranging from finance and technology, through to manufacturing, education and defense.
What we learned this year
You can download our full report to delve into all the data and insights, here is a summary of what we learned from our 2019 responses.
Organizations are using multiple database systems


SQL Server is still the most used database system, with 53% using MySQL/MariaDB at least sometimes. Oracle usage has increased since our 2018 survey, with 23% using it sometimes and 25% using it regularly.
In 2018 we predicted an increase of hybrid setups with organizations using multiple database systems for different business functions, and this seems to be coming to fruition in 2019 with occasional use increasing across the range of available options.
Most respondents intend to keep their database system usage the same over the next 12 months, with 39% of those using SQL Server intending to increase usage further. Very few people intend to stop using the systems overall.
Estates continue to grow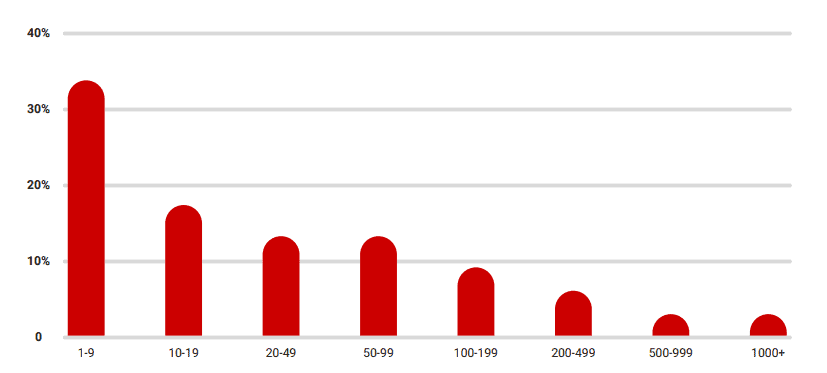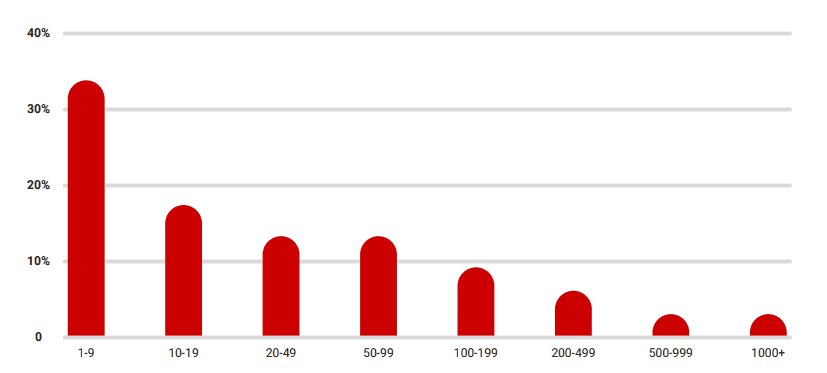 Respondents have added more servers to their estates over the past 12 months and expect this trend to continue into 2020.
In 2018, 37% of respondents had fewer than 10 servers and this year that has dropped to 33%. Those with 10-19 servers have also dropped by 5%, and those with 20-49 have decreased by 3%.
In contrast, respondents with estates of 50-99 servers have increased by 4%, 100-199 by 3%, 200-499 by 4%, and 500-999 by 4%. Those estates with 1000+ servers have remained at 3%.
The majority (45%) expect their estates to continue to increase into 2020, slightly fewer than the 47% who said the same in 2018. Even fewer people expect their estates to decrease this year.
This highlights the continued importance of monitoring tools for the industry, particularly as 27% continue to monitor manually – a process that becomes near impossible as estates grow.
Monitoring is key to managing large estates


60% of organizations with 50 or more SQL Servers are using a paid-for monitoring tool, and only 1% say they aren't monitoring at all.
While monitoring one or two servers manually may be reasonable for a DBA, once more servers begin to be added it becomes much harder to do this without the help of a tool.
Furthermore, the ability to aggregate estate trends, map historical data and take proactive database management decisions are all made possible through a monitoring tool.
Adoption of cloud technologies is increasing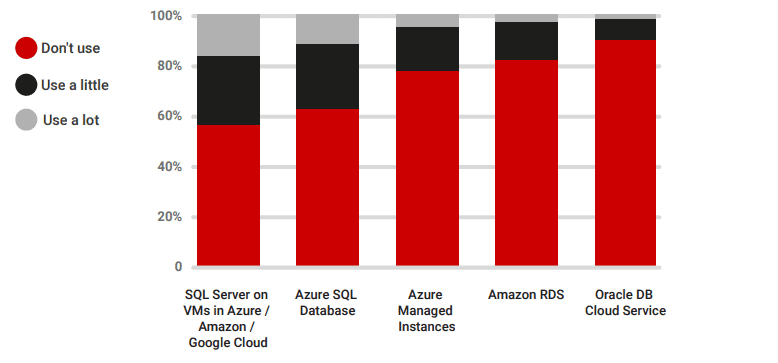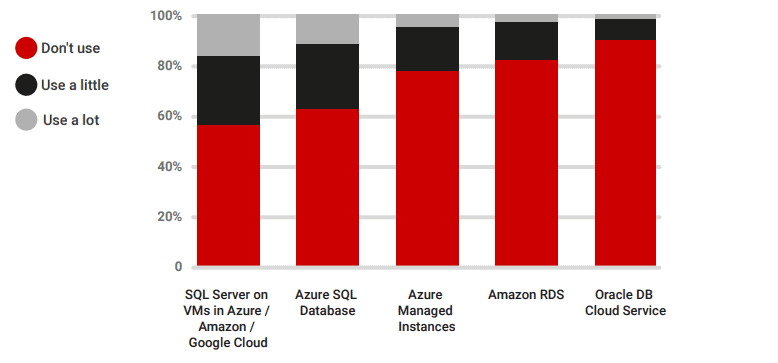 As predicted in our 2018 report, cloud usage has increased this year with 44% using SQL Server on VMs at least some of the time, up from 37%, Azure SQL Database usage increasing from 33% in 2018 to 38% in 2019, and Azure Managed Instance usage rising by 4%.
However, we are not seeing a wholesale jump to the cloud, with most respondents with databases on these platforms reporting that they use them a little. This indicates that hybrid estate setups, with databases hosted on a mixture of cloud and on-premises platforms, is still preferred.
Migrations are the biggest challenge for 2019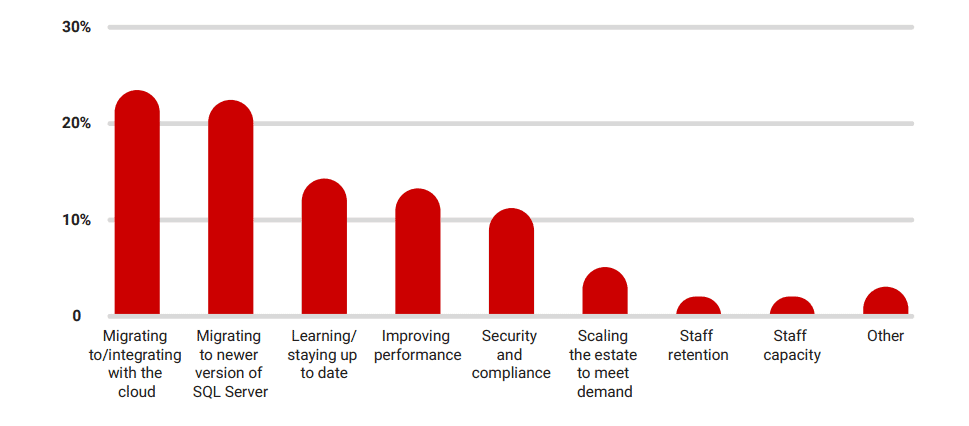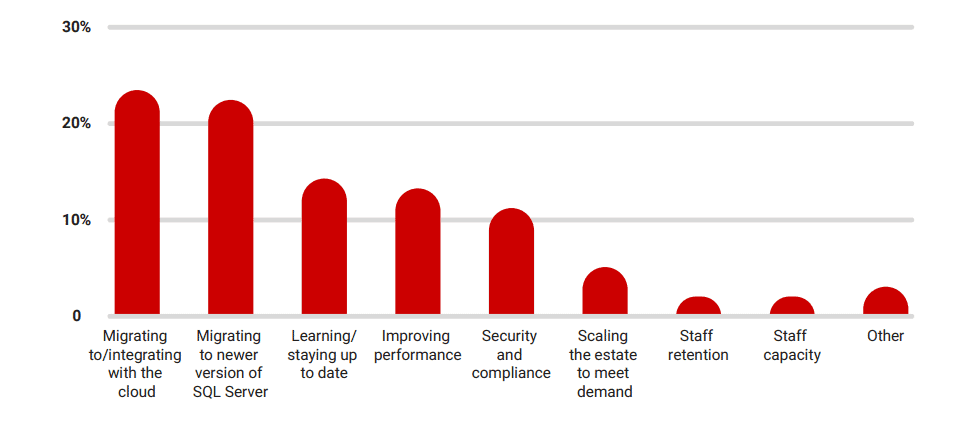 Migrations to the cloud and migrations to newer versions of SQL Server come out as the biggest challenge database professionals face over the coming 12 months.
Over 45% of respondents said they are expecting to manage migrations of their databases to cloud-based servers or a newer version of on-premises SQL Server.
Both Redgate and Microsoft have identified the growing trend for hybrid estates – that is, estates that combine a mixture of on-premises servers with those hosted remotely. This explains why this has remained the top concern for database professionals this year.
For monitoring tools, there is a clear need for them to provide metrics into the whole estate, regardless of where servers are based. Alongside this they can play a key role in helping DBAs stay on top of upgrades and patching, while also helping them analyze the impact of changes and migrations on performance.
Redgate SQL Monitor is the most popular third-party tool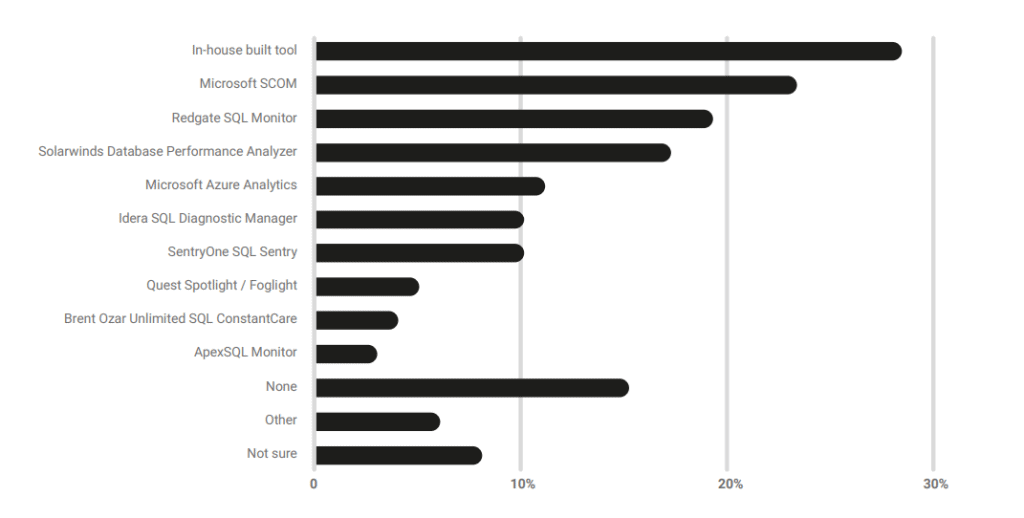 Redgate has once again come out as providing the most popular third-party tool for SQL Server monitoring, even after answers from our customer base were removed.
This year we added Microsoft SCOM to this list, as in 2018 you told us you were regularly using it for SQL Server monitoring.
It's interesting to see how much SQL Server monitoring is carried out just using SCOM because, while you get a high-level infrastructure view with this tool, deep-dive analytics will require additional software or scripts.
We've put together a handy guide on how SQL Monitor and Microsoft SCOM work together, so you can have the best of both worlds.
Read the full report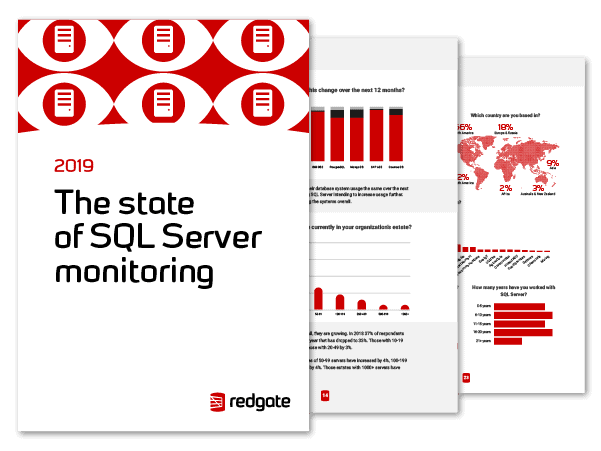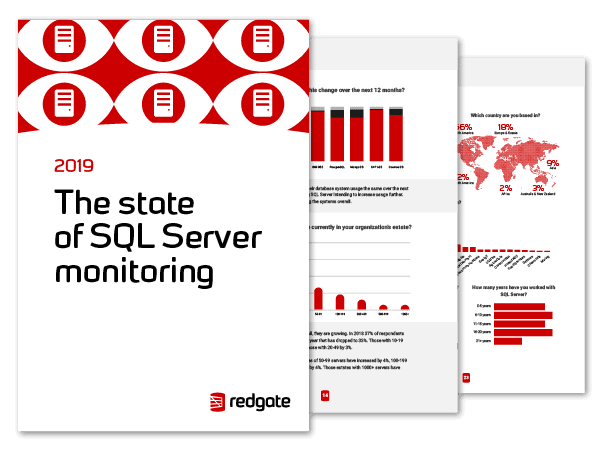 This post is just a brief summary of our key findings this year. For our detailed analysis of the responses download your free copy of the 2019 State of SQL Server Monitoring report today.
Get SQL Monitor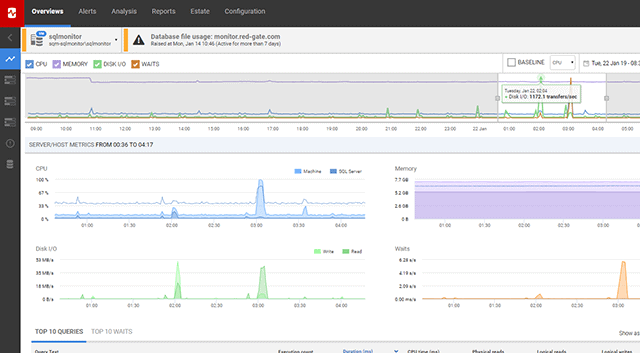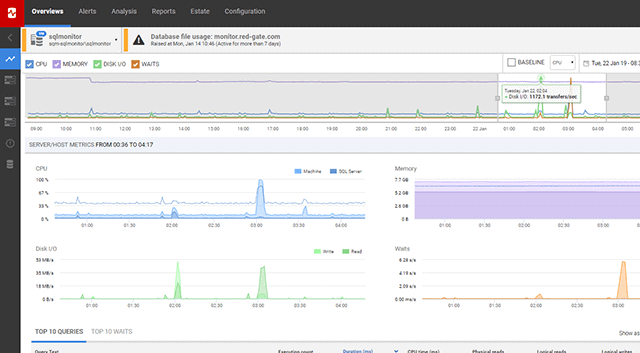 If you're ready to start proactively monitoring your SQL Server estate, then give SQL Monitor a try and find out how you can monitor on-premises, VMs and cloud-based servers and databases from one easy-to-use dashboard.
Was this article helpful?