As I'm sure you've already heard, Redgate recently celebrated 20 years of making ingeniously simple software, but did you know that we've also been supporting the Microsoft Data Platform community since 1999?
Over the last 20 years, we've helped thousands of data professionals across the globe develop their skills, improve their technical knowledge, and connect with other members of the community. And we don't plan on stopping!
This blog post will outline how we can support you and your community with user group sponsorship, free learning resources, and online spaces for you to connect with your peers.
1. Sponsorship Program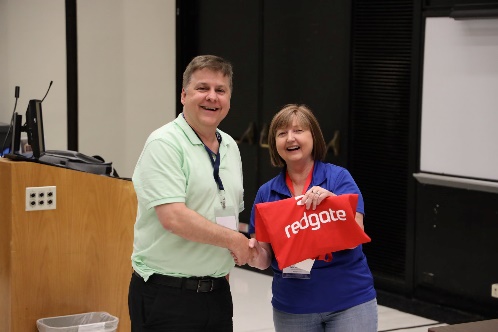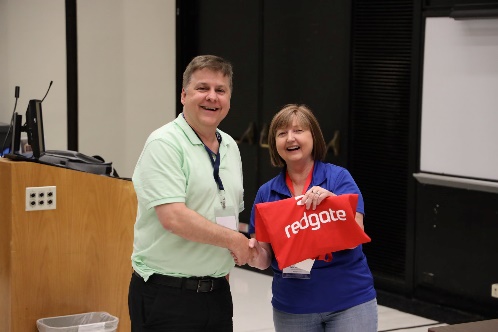 We support Microsoft Data Platform and Database DevOps communities all over the world through our Sponsorship Program. So far this year, we've supported 81 communities globally from the UK to Ireland, Germany, Hungary, Australia, New Zealand, the USA and Canada.
Our remote sponsorship is designed to add the icing on the cake to user group meetings and events, and support organizers in their efforts to deliver free learning events for the community. There are three levels of sponsorship to apply for:
Level
You'll get
Bronze

A raffle prize license for one of our tools

Silver

A raffle prize license for one of our tools
A selection of Redgate swag to give away

Gold

A raffle prize license for one of our tools
A selection of Redgate swag to give away
Financial support towards running costs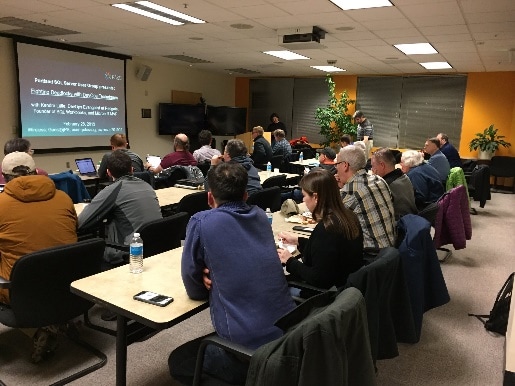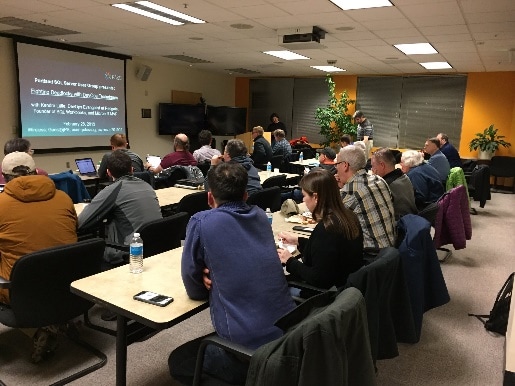 In addition to providing raffle prizes, swag, and monetary support, we can also arrange for a speaker to present a session to your group.
For example, we recently arranged for our Data Privacy and Protection Specialist, Chris Unwin, to deliver a session on Protecting SQL Server Data by Design: A Data Masking Strategy (a condensed version of his session at PASS Summit 2019) at the October meeting of the Cambridge DevOps, Dev and Test Gathering group.
Earlier in the year, Pre-Sales Engineer Anderson Rangel also delivered a talk on SQL Provision to the QLD SQL Server User Group in Brisbane, and our Advocates often speak at their local SQL Server User Groups and SQL Saturdays.
Would you like Redgate to support your user group or event? Simply, complete our short form to apply for sponsorship.
2. Free learning resources on the Redgate Hub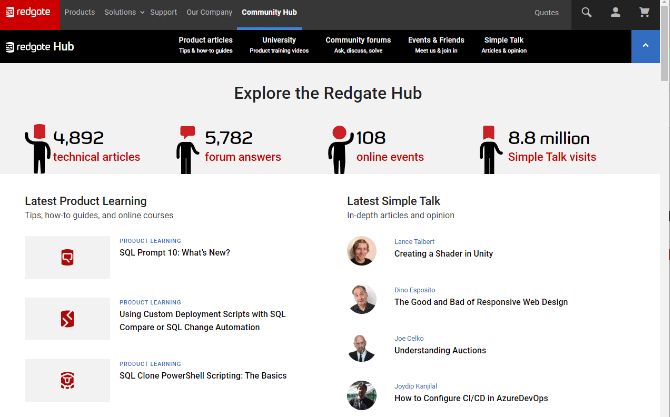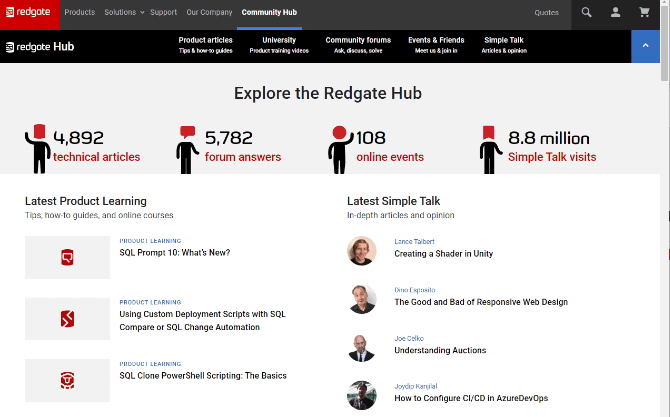 You'll never stop learning with the Redgate Hub. Featuring a wide range of free educational resources, the hub has something for everyone, whatever your learning style. Visit it online and you can access the following resources 24/7:
Redgate University
Learn the fundamentals and best practices for Redgate products with easy-to-follow training videos on Redgate University. These short, bite-sized courses take you from the basics all the way to getting the most out of advanced features with technical tips, tricks, and troubleshooting. Hosted by our resident experts, including Microsoft MVPs Grant Fritchey, Steve Jones, Kendra Little and Kathi Kellenberger, new content is being added regularly to help you advance your skills.
Simple Talk
Read in-depth articles and opinion pieces from renowned industry authors in our technical journal, Simple Talk. Edited by Microsoft MVP Kathi Kellenberger, Simple Talk has a wealth of articles that aim to communicate complex ideas clearly and simply.
Product learning articles
Get detailed advice on how to solve common IT problems with your Redgate tools with our Product Learning Articles. These technical articles provide step-by-step guidance on how to use key features, along with our top tips, and tricks.
Online events
Discover the latest SQL Server and Database DevOps trends with our webinars and live-stream events. Hosted by our experts and featuring guest presenters such as Microsoft MVP Hamish Watson and Microsoft Principal Cloud Advocate & DevOps Lead Abel Wang, our online events program is designed to give you the experience of attending a training session from the comfort of your home or office.
3. Redgate Forums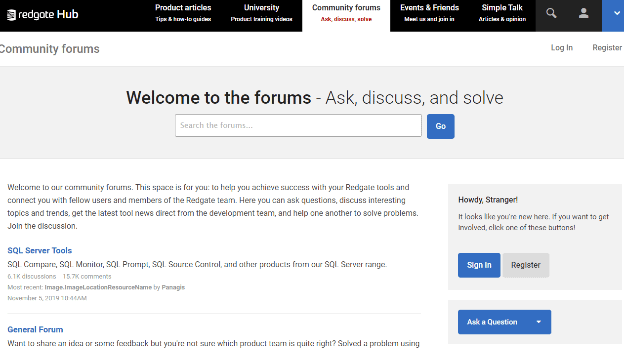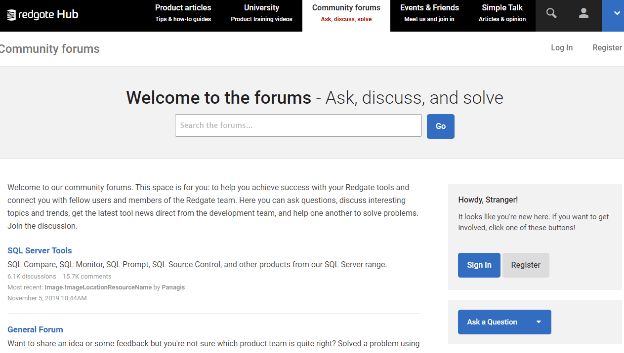 The home of our customer community, the Redgate Forums are your go-to place to connect with fellow users and members of the Redgate team. On the forums you can ask questions, discuss trends and best practices, get the latest tool news direct from the development team, and help one another to solve problems. We also run monthly competitions and have regular opportunities for you to take part in research and shape the future of our tools.
4. SQLServerCentral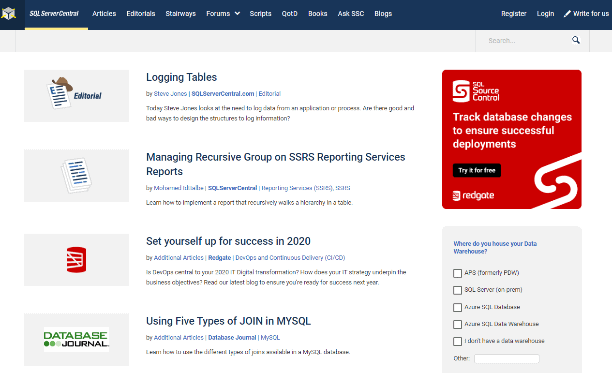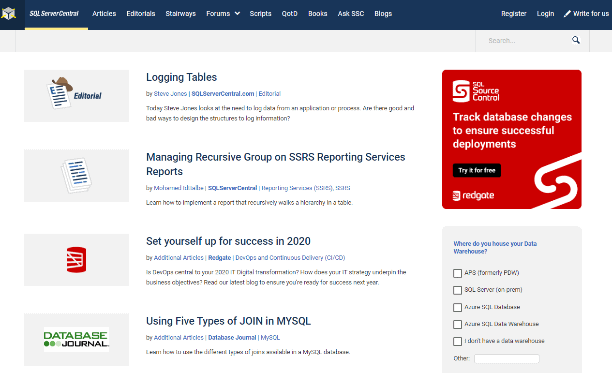 Join over 819,000 members learning and connecting on SQLServerCentral, the #1 education and community site for SQL Server.
Edited by Microsoft MVP Steve Jones, SQLServerCentral gives you the opportunity to access a wide variety of free technical articles on all things SQL Server and connect with members of the SQL family.
You can also sign up to a daily newsletter to get the latest articles and news delivered straight to your inbox.
We hope you and your community can benefit from all these resources. If you have any questions, or suggestions for how we can further support you, please email us.
Was this article helpful?