I love SQLBits. It's one of the largest community run Microsoft database platform conferences in the world – and it's fun too. It's the fun part I really like about it and this year's arcade-themed event from 8 to 12 March looks to be no different.
It will be different in one way, though, because for the last couple of years we've all been attending conferences, seminars and meetings online. So we got the learning part, but missed out on the chance conversations, the catch-ups with old acquaintances, the social moments that really make an event an event.
Welcome back to conferences as they should be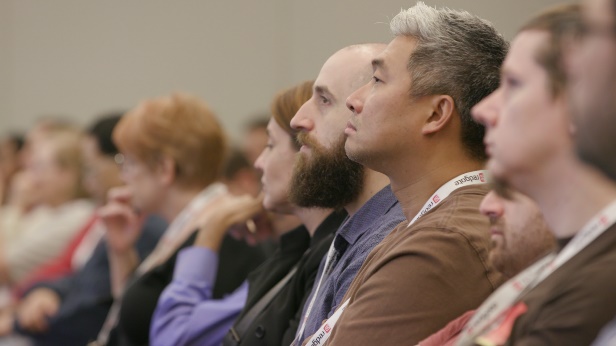 The year's SQLBits will be held both digitally and in-person and I'm delighted to say I'll be travelling to London to play a part in it, along with the editor of SQLServerCentral, Steve Jones. Our fellow Redgate Advocate and Microsoft MVP, Kathi Kellenberger who edits the Redgate technical journal, Simple Talk, will also be joining us.
It's back to business as usual, with Steve, Kathi and I running a PreCon session on Wednesday, March 9, Learn Database DevOps with Redgate, talking about the people, processes and tools you need to introduce DevOps.
That's not the end of the story, though, because there's a lot more to look forward to.
Look out for the Redgate booth at SQLBits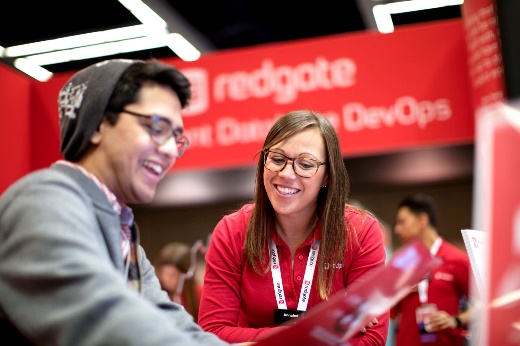 Redgate has been supporting SQLBits since 2009 because we believe community events are a great way for data professionals to learn, network, and advance their careers as well as their knowledge. If you'd like to know more about how Redgate can make monitoring your database easier or help introduce DevOps to your database development processes, you can talk to Redgate software engineers and database experts, in person, at our booth.
You can also get 10% off the price of attending SQLBits by quoting the discount code REDGATE274 when you register.
Look out for the Redgate Advocates at SQLBits
The booth is only part of Redgate's presence at SQLBits. As well as the PreCon I mentioned, Steve, Kathi and I will be presenting a number of sessions throughout the conference.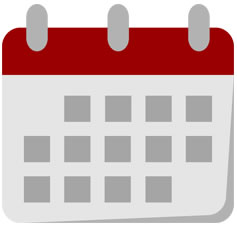 Wednesday, March 9, PreCon
09:00-17:00, Room 14: Learn Database DevOps with Redgate
Grant Fritchey, Steve Jones, Kathi Kellenberger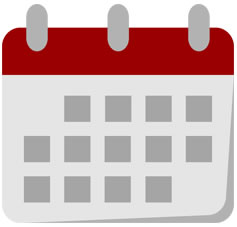 Thursday, March 10
11:30-11:50, Room 7: The Serverless Azure Database
Steve Jones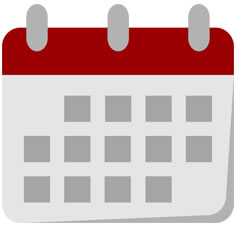 Friday, 11 March
11:30-11:50, Room 8: Benefits of Using Version Control in Database Development
Grant Fritchey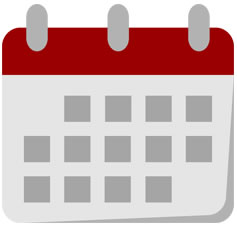 Saturday, 12 March
9:30-10:20, Room 05: Intelligent Query Processing
Kathi Kellenberger
We'll also be diving a little deeper into four key topics if you'd like to know more about monitoring, DevOps, using modern T-SQL, or database deployments with Flyway. We're still confirming the session times, and I'll update you as soon as I know: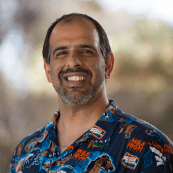 Monitoring a growing database environment: insights for success
Hosting servers in the cloud and / or in a hybrid environment is becoming the norm. Steve Jones, Monica Rathbun, Uwe Ricken and Matt Gordon will be delving into the best approaches to monitoring complex SQL Server estates and the big lessons they've learned along the way.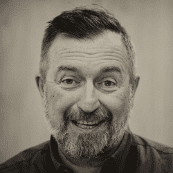 What I'm telling your developers about DevOps
Using DevOps methodologies successfully can lead to massive improvements in delivering more functionality and higher quality software quickly and safely. But how can DBAs automate database deployments and testing in order to adopt database DevOps? Join me to find out.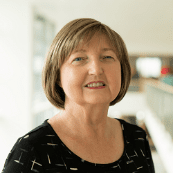 Modern T-SQL for Better Performance
Microsoft has released several versions of SQL Server with T-SQL enhancements, many of which not only let you write queries easier, but the queries run faster. Join Kathi Kellenberger to learn how this "new" T-SQL functionality can save you time when writing queries that also perform great.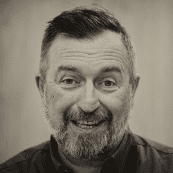 Flyway: An Evolution in Database Deployments
Flyway gives you a mechanism to run the right scripts in order to safely deploy databases. Join me to discover how you can get even more functionality in support of fast, safe, automated database deployments in the evolution of Flyway.
What are you waiting for?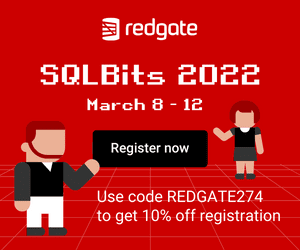 I'm excited about SQLBits – in fact, my bags are already packed. Do join me and the rest of the Redgate team if you can. Do so in person or online and you'll have the opportunity to learn as well as have a little fun along the way.
Register now, and remember to use the discount code REDGATE274 to get a 10% discount.
We look forward to seeing you there.
Was this article helpful?