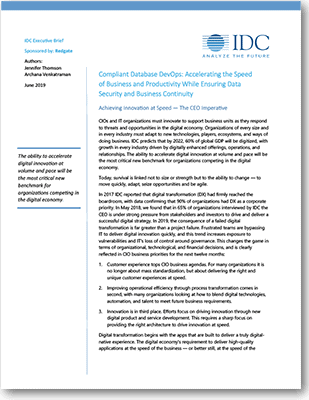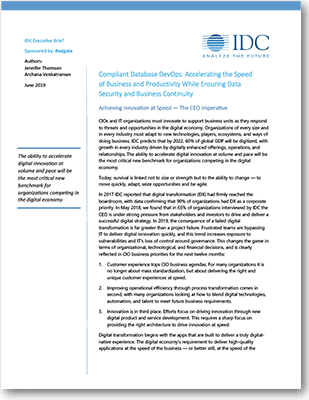 Ahead of our attendance at IDC's DevOps Conference in September 2019, we approached Jen Thomson, IDC's Senior Research Director & Lead for Accelerated App Delivery Practice, to help us articulate how pivotal the database estate and the supporting team are in enterprises seeking to optimize software delivery.
The resulting Executive Brief, Compliant Database DevOps: Accelerating the Speed of Business Productivity While Ensuring Data Security and Business Continuity, draws upon existing research conducted by the leading IT market research and advisory firm, as well as insights gathered from some of Redgate's largest customers.
Here are the five compelling insights we took from the brief, which you can download to get the complete picture:
More than 60% of large enterprises now use DevOps, but on average just under a third of their applications are currently developed and deployed this way.
The brief goes on to explore how the aspiration to scale DevOps further is high, but that DevOps practices need to be brought to a wider set of functions in the technical organization.
Shorter sprint and release cycles from developers are having a knock-on effect on the other areas of the tech stack.
IDC call out that while the infrastructure layer is transforming thanks to the emergence of cloud, automation and software-defined architectures, the database is under growing pressure (more applications = more queries to the database). Yet optimizing database development and management practices is being overlooked and this is impacting application delivery and performance.
Structured databases, such as SQL Server and Oracle, power the majority of enterprise applications – 75% on average.
With the number of applications being developed by enterprises forecast to explode to 500 million in the next four years, the dependency of those applications on the database becomes even more critical.
Transformation of database development and management will not only accelerate DevOps, but also help IT to be in control of data.
Frustrated internal customers are increasingly bypassing IT to deliver digital innovation quicker. This increases vulnerabilities such as exposure of sensitive data. By extending DevOps best practice to the database, organizations can develop faster within the safety of enabling guardrails (such as automation, audit trails and data masking) that minimize these risks.
In IDC's opinion, Redgate's Compliant Database DevOps offering extends agile capabilities to database environments and brings the best of both worlds – speed of software delivery and protection of business data.
Only by pivoting their entire technical organization, at the application infrastructure and database levels, can CIOs truly optimize delivery and accelerate innovation. Bringing DevOps to the database allows database teams to play a significant part in digital transformations, preventing them from causing an unnecessary bottleneck and keeping valuable data protected at all times.
This blog is a summary of our key takeaways from the IDC Executive Brief, sponsored by Redgate, Compliant Database DevOps: Accelerating the Speed of Business Productivity While Ensuring Data Security and Business Continuity, IDC #EUR145261019 , published June 2019. Download your copy of the Executive Brief for a full overview.
Was this article helpful?