SQL Prompt includes a number of snippets by default that can help you quickly write T-SQL code. These are templates of code that users use regularly. One of the more popular snippets is the 'cdb' snippet that helps with quickly creating a new database for development work. This can also be used to ensure production databases are created with the standard settings that your organization may have.
Let's examine how this snippet works. If I type cdb, I get the popup with this snippet:

The code for the snippet is shown to the right, and as you can tell, it's a lot of code. Three characters and I've saved over a hundred keystrokes when I type TAB. Once I do that, I get the code in my window, but I also get my cursor at the point where the database name would be typed: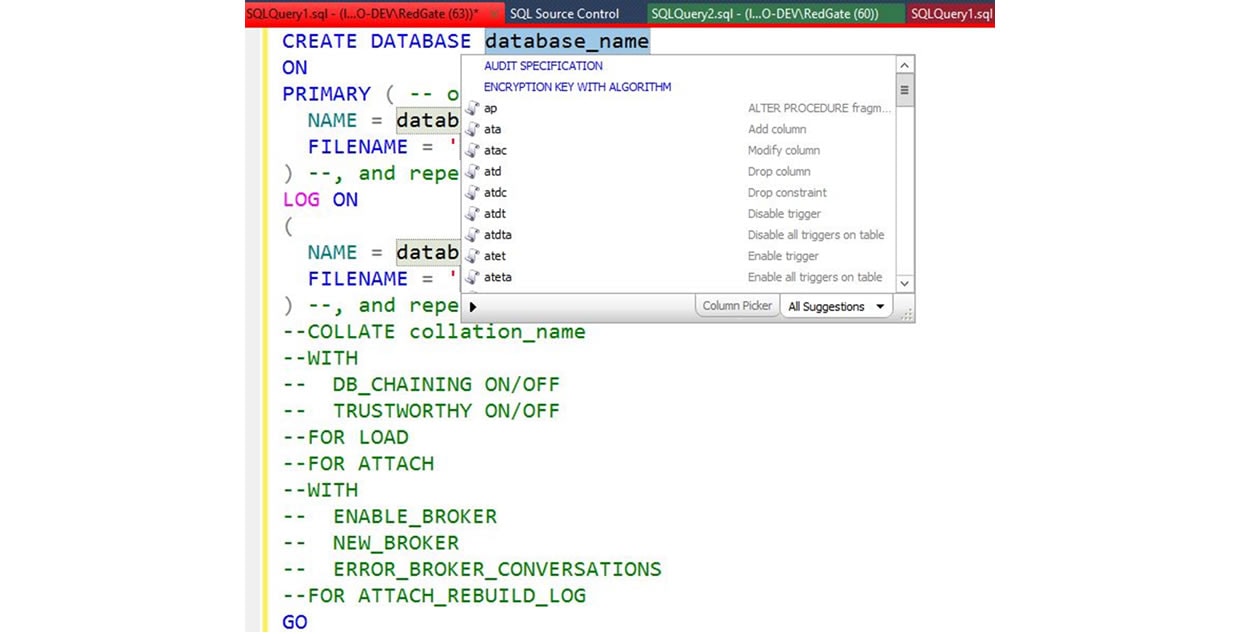 This is another feature of SQL Prompt. The parameters that are in the snippet can be placed in multiple places. In this case, the database name is also used for the virtual and physical file names. I'll type QuickTest and then TAB. I now see this: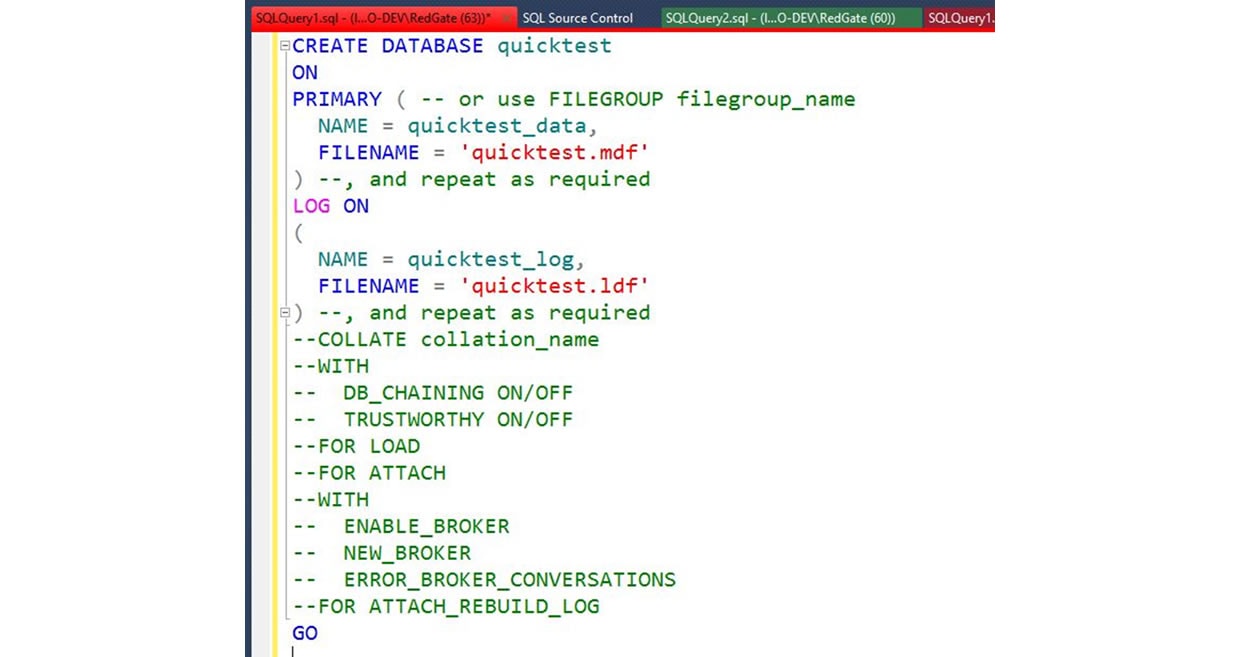 If you look through the code, you'll see I have the database name included in the virtual file names (quicktest_data and quicktest_log) as well as the filenames (quicktest.mdf and quicktest.ldf). I would certainly add additional filegroups/filenames if I wanted by editing the snippet. I could also easily uncomment out some of the database settings if they were appropriate for my test databases.
At this point, I could execute this snippet and have a new database that allows me to test some code. Four keystrokes produced all this code.
There are a number of built-in snippets for SQL Prompt, and many of them are very simple, but they can greatly speed up your T-SQL coding if you learn what they are. I'd suggest you download our SQL Prompt Quick Reference Guide and practice using a few of these shortcuts in your code.
I also cover a few other snippets including SSF (SELECT * FROM) and II (INSERT INTO) in the new series of #SuperSQLTips videos. Take a look and you'll find handy tricks from other Data Platform MVPs and SQL Server experts too, not just on snippets, but a host of tips and tricks to help you write SQL more quickly and accurately:
If you're not a SQL Prompt user, 
download a free trial
 and see how much more productive you can be writing code every day.
Like this? Share it with other SQL professionals using the social sharing buttons below. Simply tweet: I've just read @way0utwest's blog on using the CDB snippet with #SQLPrompt – see the #SuperSQLTip at http://rd.gt/2fWiZrs
Tools in this post
SQL Prompt
Write, format, and refactor SQL effortlessly in SQL Server Management Studio and Visual Studio.
You may also like
Article

Louis Davidson sticks his neck out and offers his take on a sensible SQL code formatting style, based on twenty-plus years of writing SQL. Starting from SQL Prompt's Default style, he customizes it based on his own list of personal preferences for how SQL code should look. The result is the Louis Davidson custom SQL Prompt style that you can download, try out, and adapt as required.

Article

With SQL Prompt snippets you can invoke your favorite time-saving routines with a few clicks, and they also help standardize coding practices during team development . Phil Factor shows how to create a 'table-build generator' that will save you a lot of time, especially if you use a lot of working tables in your code.

Article

Having untrusted or disabled FOREIGN KEY or CHECK constraints in your databases will degrade data consistency and integrity and can cause query performance problems. Phil Factor explains how to detect these and other table-related issues, during development, before they cause trouble further down the line.

Article

While everyone knows SQL Prompt for its code completion and IntelliSense features, a lot of its extra value comes from features that allow the development team to standardize coding practices and drive up code quality.