Protect and preserve data
Keep sensitive data safe and stay compliant, without slowing development down.
As data protection laws tighten and the risk of data breaches grows, so does scrutiny of how data is stored and used.
You need to strike a balance between data compliance and business demands for speed and agility.
Redgate provides the tools to keep software development running smoothly and securely. You can keep data safe with catalogs, masking, and monitoring, and keep pace with development using secure environments that can be set up with a couple of clicks.
How our customers have benefited
Full masking

of sensitive data for CCPA, GDPR, HIPAA compliance

720 times faster

delivery of data environments

95% reduction

in storage needs for developers

Up to 20 hours a week

saved by Operations teams
"Our process before was quite slick, but in my tests with SQL Clone, I reduced the time to provision copies of all six of our databases from nearly two hours to ten minutes."
Advantages of protecting and preserving data
What does the process look like?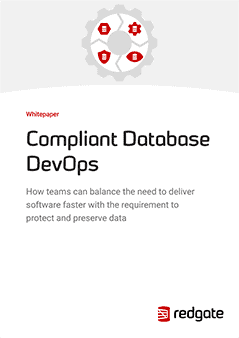 Whitepaper
DevOps has entered the conversation. It's provided a route to remove the database as a bottleneck. Learn how IT teams can balance the need to deliver software faster with the requirement to protect and preserve data in this free whitepaper.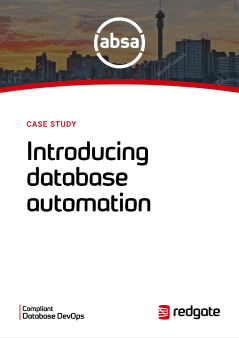 Case study
"Our key consideration for all activities is risk management. If our systems go down it costs ABSA a lot of money very quickly" Rynhardt van Rensburg, Systems Analyst, ABSA Bank
Contact us to find out how Redgate's Compliant Database DevOps Solution can help your team deliver value quicker while keeping your data safe
The industry standard tools for 20 years
Redgate has specialized in database software for 20 years. Our products are used by 804,000 IT professionals, in more than 100,000 companies.
World-class support
Redgate offers comprehensive documentation and a friendly, helpful support team. An average 87% of customers rate our support 'Excellent'.
Redgate data protection products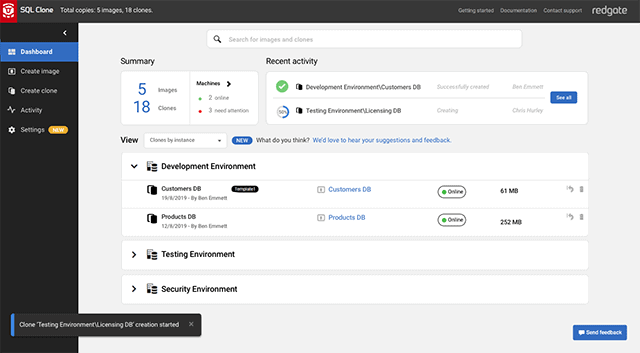 Discover Redgate's complete Compliant Database DevOps solution
21 years
in database software
93%
rate support 'excellent'