2020 State of Database DevOps in the Healthcare sector
Now in its fourth year, the State of Database DevOps Report has become the resource IT and database professionals turn to for the latest facts, figures and trends about how DevOps is transforming database development.
The Healthcare sector was already ahead of many other sectors in its adoption of DevOps and database DevOps, and recent events may accelerate the pace at which it is introduced.
To give businesses in the Healthcare sector a deeper understanding of the particular challenges they face, this special edition of Redgate's 2020 Database DevOps Report presents a deep dive into the survey data from Healthcare respondents.
It highlights the differences - and similarities - that exist for businesses in the sector compared to other sectors, and gives a valuable steer on where they should focus their digital transformation initiatives.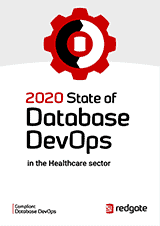 Get the Report
Discover Redgate's complete Compliant Database DevOps solution
21 years
in database software
93%
rate support 'excellent'