There are three major events coming up, and you're invited!
This week Redgate are excited to be exhibiting as Gold sponsors at SQLBits 2018. SQLBits is THE largest SQL Server conference in Europe, and best of all this year it's taking place just down the road from Redgate's HQ, at Olympia in London.
We'll be there from Thursday, February 22 – Saturday, February 24, and are looking forward to meeting up with customers, and the community of database professionals.
Redgate's Grant Fritchey and Kathi Kellenberger both have sessions in the agenda. If you haven't already registered, you can get 10% off the ticket price by using the code REDGATE.
Finalize your sessions now and we'll see you at SQLBits in London.


On Wednesday, February 28 our Data Platform MVPs, Grant, Kathi, and Steve Jones will be joined by Redgate Certified Partner, Ike Ellis, for our first 2018 instalment of SQL in the City Streamed.
We've traditionally run these Redgate events annually in the past, but this year we'll be livestreaming every quarter, so that you can enjoy even more free SQL Server virtual training the Redgate way.
Register now for our free 5-hour livestream event.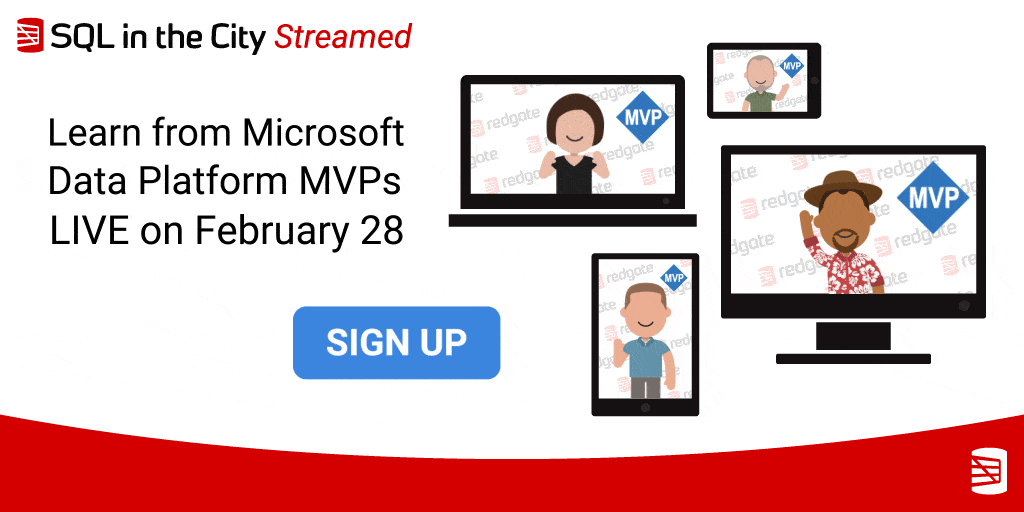 Finally, I'm delighted to announce that Redgate will be hosting a face-to-face event in London on Friday, May 18 – the SQL Privacy Summit.
Our one-day summit will take place at the five-star Grange Tower Bridge Hotel in the heart of the City and promises to be an insightful event, aimed at senior data managers responsible for data privacy and protection.
We've listened to our customers who are looking for advice and information to support their move to compliant database development and management, and have designed the SQL Privacy Summit to provide delegates with the following key takeaways:
Learn how you or your team can get full visibility of your SQL Server estate, and how to handle sensitive information correctly
Discover how to ensure your team has access to reliable data for development and testing without risking the exposure of sensitive information
Understand the business benefits of adopting Redgate's new SQL Data Privacy Suite
Find out how to implement the necessary controls and processes, needed in order to comply with data privacy regulations, such as the General Data Protection Regulation (GDPR)
Register today for this exclusive conference in London.
For the full line-up of events that we're involved in, check out our Redgate events calendar.
Was this article helpful?