A couple of months ago, we updated you on the changes we've been making to our licensing system.  Since then, user account licensing has been incorporated into even more Redgate products (you can see the current list here).
We've also been busy adding new functionality to the license management portal.  As a license owner (normally the person who purchased the product), when you log in to the Redgate website with your Redgate ID and click through to a detailed product page from the My products tab, you'll now see an option to invite a user to the license: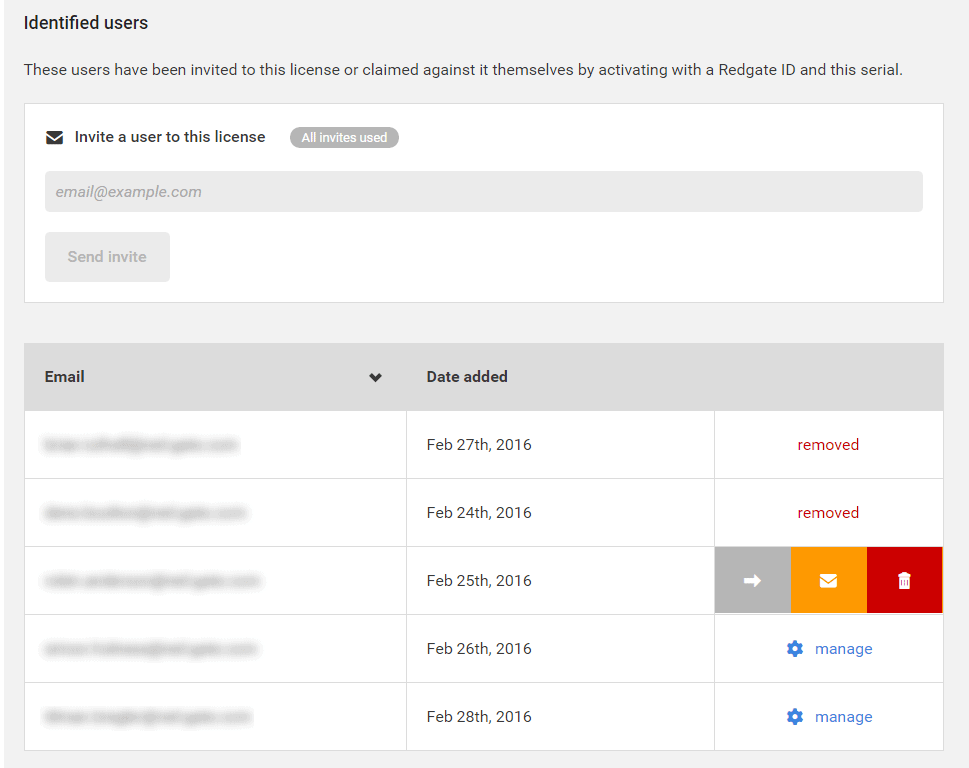 To invite a user, enter their email address in the input field and click Send Invite.  They'll receive an email saying they've been invited to use a product.
The email includes an invitation link which, when clicked, takes them either to a page where they can create a Redgate ID (if they don't already have one), or to the Redgate ID login page.  Once they've logged in, they'll be taken to the detailed product page in My Products, where they can get the serial which is needed to activate the product.
If you've already invited a user but they've mislaid the invitation email, you can resend it by clicking on the Manage gear, then selecting the yellow envelope icon.
As covered in a previous blog post, to remove an identified user, click on the red trash icon next to their details.
You can invite as many users as you have licenses for the product.  When you've reached the maximum number of invitations you'll see the message All invites used in the invitation section, and the invitation functionality will be disabled.  In this scenario, before you can invite another user you must first remove one of the existing identified users (see above).
For more information on our licensing system and license management portal, you can also read our documentation.
Related posts
Also in Blog
SQL Monitor's dev team has made huge improvements to the product over the last year. In the first half of 2017 alone, they released reporting capabilities, support for collecting metrics from VMWare h...
Also in Software development
SQL Data Mask is the latest prototype to come out of Foundry, Redgate's research and development division. It copies your database while anonymizing personal data. You can use it to mask your databa...