As I write these words, I look with amazement at a very smart-looking 305-page book; the 2nd Edition of The Confessions of an IT Manager, the complete collection of 'Opinion-pieces', both articles and blogs, first written for Simple-Talk and Business of Software over a period of three and a half years.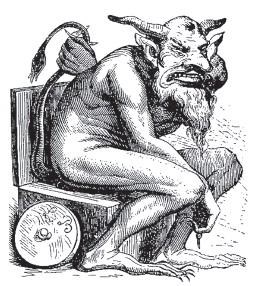 Whenever anyone accuses me of not being a real person, it takes me by surprise. What else could I be: A committee like Shakespeare? The ubiquitous Al in 'et al' of scientific papers? No. I just have to use a nom de plume for my writings, but I still feel as real as anyone else who has used a different name for their literary output. After all, Mark Twain or Lewis Carroll both felt that when they banged their finger with a hammer, it hurt. They didn't consider themselves at all fictional. I have to use a nom de plume for two reasons: Firstly, the publication of amusing reminiscences of life in the workplace is usually seen as a negative point on a CV, especially if one is taking a rather satirical view of one's colleagues' morals and abilities. Secondly, I would hate anyone to mistakenly identify themselves or a colleague in one of the characters from my stories. I aim to make general points about the bizarre working lives of IT people, not to make hurtful remarks about individuals, or to attack people who can't fight back.. The Individual characters are all entirely fictional participants in the stories.
Having made that clear, I have to make a small confession. Phil Factor is, in a subtle way, a different person from me, his creator. In a sense, he soon took on a life of his own that is quite distinct from mine. He escaped from me: Phil's reminiscences are autobiographical, because I find it very difficult to write fiction, but they are stocked with fictional characters and disguised locations. Phil's independent streak is so strong that he soon struck out on his own and became his own man. We all now speak of him as if he has taken on a separate existence. Like me, Phil is a comical figure in that he, like most people who are working in IT, cannot really understand what is going on around him. We work in an insubstantial universe of shifting realities, where certainties turn out to be illusion. Phil shares quite a lot with Conan Doyle's hilarious creation 'Brigadier Gerard' whose autobiographical adventures are based on his quite false premise that he is a great and admired figure rather than a buffoon who causes chaos wherever he goes. Conan Doyle's brilliant twist to the stories is that one ends up realizing Brigadier Gerard's essential nobility. I hope that Phil shows the same virtues. He is a cynic and a survivor, but he is strongly guided by his conscience..
Although Phil is recognizably British, the single most important inspiration for this long series of articles is not a British book, but Mell Lazarus' brilliant American novel 'The Boss is Crazy Too'. This was based loosely on his experiences, early in his career, as an apprentice cartoonist working for Al Capp and his brother Elliott Caplin at their Toby Press, which published a range of comics such as Shmoo. He is now famous as the creator of the 'Miss Peach' and 'Momma' comic strips. For some reason, his experiences resonate with my own experiences of work in IT. There is a lot in common with all office work, and it transcends national boundaries and language. My other inspirations amongst American authors are are Philip K Dick, Don Marquis and Dorothy Parker , but also a brace of British comic writers such as Stella Gibbons, Auberon Waugh, Evelyn Waugh, P G Wodehouse, A A Milne, G K Chesterton and A P Herbert. Stylistically, my greatest influence is an Italian writer who didn't even write in English: Giovanni Guareschi. .
Why should you read the book? It is because it is written for anyone who struggles to find the comic aspects of working in IT. You will find that almost every story and article in the book has a subtext, a hidden message: they are constructed like fables. The stories start with a theme, such as the way that we misunderstand our real role within an organization, and then I bring my own experiences to illustrate that theme. I see the book more as a textbook on how to survive in IT, and how to thoroughly enjoy the experience. If you have already achieved that goal, then you do not need the book, but you will still find it amusing to read, I hope. If you haven't, then read it carefully, for Phil, though absurd, opinionated and gullible, is a cunning and tough character who disguises the medicine of sage advice, gleaned from others over the years, in a sugar coated pill of humour..
The Contents
Contents

3

Introduction

7

Foreword

9

The DBA's Demise – a recitation

10

Section I: On Learning to Love your Manager

12

Training Your IT Manager

13

The Septic Tank

19

The Yancey Men

23

Bunnikins!

29

Betting on Promotion

35

How to Prevent Initiatives

39

Irregular verbs for IT managers

45

Phrases with which to discourage ideas

47

Initiating a project with a Strategy one-pager

51

Looking Busy

55

Doing things – The Manual

59

The Incident of 'The Two Johns' – an IT Manager confesses

61

Section II: The Strange Business of Software

64

Going It Alone

65

The Walrus and the Manager

69

Click-A-Crematorium

75

A Chilling Prophecy

79

Talking Technical

81

The Diary of a Microsoft Marketing Man

85

Microsoft Boy announces his School Homework

87

The March of Technology

91

Clinging to the Flotsam. A Survivor's Tale

97

Section III: Software Projects: the Good, the Bad and the Pitiful

100

Secrets of successful IT projects

101

Confessions of an IT Strategist

109

The Technically Minded Subclass and the Fog of Misperception

113

The Data Dialog

117

The Joy of NAD

121

Smoke and Mirrors

127

The Acronym Playpen

131

The Writing on the Wall

135

The Ghost in the Machine

139

The Sticking Page-Down-Key Incident

145

The Escape from Developer Hell

149

The Time Bomb

153

On the Trail with the Cowboy Coders

159

When the Fever is Over, and one's Work is done

163

Section IV: Hiring, Firing and other acts of Villainy

174

Bogus resumes and unblushing lies: navigating the database hiring waters

175

IT Agencies and the Devil

181

The Stepford Geeks

187

The Terror of Technical Tests

191

The Interview with the Psychometric Test

193

Brown Shoes Don't Make It

195

Technical Interviews and Tests Have Got to Stop!

199

Two stops short of Dagenham

203

The March of Time

207

Fired With Enthusiasm

209

The Whipping Boy

213

Hens that Crow

219

The New Man

223

Section V: What If …?

228

Had IT been responsible for the Creation

229

Had offshoring been responsible for Hamlet

233

Had Tennyson been a Technical Author

239

Had God been a Technical Author

241

Had the Sistine Chapel been Created by Committee

243

Captain Codd and the Simple Proposition

249

Section VI: Hiccoughs in the Working Day

254

I could do it in my Sleep

255

The Pub Lunch and Programming

259

At half-past three, it's time for tea

261

Cha: Tea-drinking for IT Developers

265

Survival Tips for PowerPoint Boredom

269

The Joy of IT Meetings

275

Why do we call them 'Bugs'?

279

The Ballad of the Tuple Relation

281

Common Law, and the Need for Restraint

283

Phil Factor on the Law

287

Santa's SLA

291

Tomorrow will be our Dancing Day

295

The Data Center that Exploded: A Halloween Tale

301
The Ebook of the second edition of Phil factor's 'Confessions of an IT Manager' is available from here and the printed version is available to buy from Amazon.