Ich bin unglaublich stolz darauf, für Redgate zu arbeiten. Einer der Hauptgründe dafür ist, dass ich mit voller Überzeugung sagen kann, dass wir fantastische Software herstellen, mit der Sie Ihre Arbeit besser, einfacher und schneller erledigen können.
Allerdings gab es ein Tool, auf das ich vor ein paar Jahren noch nicht ganz so stolz war.
Lassen Sie es mich so formulieren: Ich war nicht der größte Fan von Redgate SQL Monitor.
Damals
Noch vor etwa 6 Jahren war Redgate SQL Monitor ein völlig anderes Tool als heute.
Die Datenstruktur passte nicht ganz, die Leistung nicht immer so gut, wie sie sein könnte. Ich zögerte, Redgate SQL Monitor bei mehr als 20-30 Servern zu empfehlen, weil ich mir nicht sicher war, ob es vollends funktionieren würde. Ich fühlte mich einfach nicht so richtig wohl dabei, Großunternehmen zu einem Monitoring-Tool zu raten, bei dem ich unsicher war, ob es ihre Systeme eventuell zusätzlich belasten könnte.
Außerdem hatten wir zwar einen wirklich guten Alert-Mechanismus, aber viele der anderen bereitgestellten Kennzahlen waren noch nicht überzeugend. Wir hatten noch keine Wartestatistiken oder andere wichtige Informationen über zum Beispiel Datenabfragen, Sperrungen, Blockierungen oder Deadlocks. Zusätzlich waren die Informationen, die wir zur Verfügung stellten, oft schwer zugänglich, weil die Benutzeroberfläche einfach noch nicht so ausgereift war.
Deshalb habe ich mich dafür eingesetzt, dass wir uns lieber auf andere Tools fokussieren, die weniger Überarbeitungen benötigen, und SQL Monitor einfach abschreiben.
Ich war selten so glücklich darüber, dass man nicht auf mich gehört hat.
Heute
Aufgrund meiner Bemühungen und einiger Bedenken, die von den Vertriebs- und Entwicklungsteams geäußert wurden (um ehrlich zu sein, waren es die Vertriebs- und Entwicklungsteams, die den tatsächlichen Anstoß gaben), nahm das Unternehmen SQL Monitor nochmal genau unter die Lupe. Wir haben alle Funktionen überprüft und SQL Monitormit anderen verfügbaren Tools verglichen – sogar mit anderen Redgate-Produkten, die eine deutlich bessere Figur machten. Der weitere Weg war damit klar: Wir erstellten einen detaillierten Verbesserungsplan, durch den SQL Monitor mittlerweile eines von Redgates besten Tools geworden ist.

Wir haben ein völlig neues Tool! Das ist es, was Redgate SQL Monitor heute so großartig macht:

1. Engagierte Entwicklungsarbeit
Für die Überarbeitung wurden dem Tool nicht nur ein Entwickler-Team, sondern sogar mehrere zugewiesen. Stand heute arbeiten vier verschiedene Teams an SQL Monitor. Diese Teams haben sich mit Steve Jones, mehreren Kunden, unseren Kollegen aus der Microsoft Data Platform Community und mir zusammengesetzt. Sie haben definiert, was wir von einem Monitoring-Tool erwarten und diese Erwartungen auch umgesetzt. Heute veröffentlichen wir einmal pro Woche neue Funktionen und Verbesserungen. Wir hören unseren Kunden zu und liefern das, was sie benötigen. So habe ich schon selbst mitbekommen, wie eine neue Funktion – in diesem Fall die Möglichkeit, nach Datenabfragen zu suchen – sofort hinzugefügt wurde, nachdem ein Unternehmen darum gebeten hatte.
2. Voller Überblick über hybride Datenbankumgebungen
Die Benutzeroberfläche wurde überarbeitet, um die Navigation zu vereinfachen und alle möglichen faszinierenden Details freizulegen. Es werden zusätzliche Kennzahlen erfasst, darunter Wartestatistiken, Datenabfrage-Recompiles, anspruchsvolle Blockchains und vieles mehr. Wir haben sichergestellt, dass wir Azure SQL Database, Azure Managed Instance und AWS RDS vollständig unterstützen. Auch wenn Sie eine Kombination von lokalen und cloudbasierten Datanbanken verwenden, können Sie diese mit SQL Monitor in ein und demselben Dashboard überwachen.
3. Unterstützung von großen Datenbanken und Serverbeständen
Darüber hinaus wurden die Datenabfragen optimiert, Datenstrukturen angepasst und der Code verbessert. Wir unterstützen jetzt nicht mehr nur eine Handvoll Server, sondern Tausende. SQL Monitor kann skaliert werden, um Sie bestmöglich zu unterstützen.
Wir haben alle möglichen speziell auf große Unternehmen ausgerichteten Überwachungsfunktionen, Reports und Kennzahlen hinzugefügt, um Ihnen die Verwaltung großer Serverbestände erheblich zu erleichtern. Außerdem helfen wir Ihnen, Ihre Serverbestände sicherer zu machen und besser zu schützen, zum Beispiel durch eine Übersicht der installierten SQL Server Versionen und Backup-Reporting.
Zeit, einen erneuten Blick auf Redgate SQL Monitor zu werfen?
Auch wenn ich damals gezweifelt habe, kann ich nun mit Stolz sagen: Sie sollten sich etwas Zeit in Ihrem zweifellos vollen Termin-kalender freischaufeln und SQL Monitor ausprobieren. Wenn Sie bisher noch keine Berührungspunkte mit dem Tool hatten, werden Sie sicher sehr zufrieden sein. Wenn Sie es schon einmal getestet haben, werden Sie angenehm überrascht sein, wo wir mittlerweile stehen. Unsere Teams haben ein erstklassiges Monitoring-Tool entwickelt. Und das Beste ist: Wir sind noch lange nicht fertig. Ständig werden neue Funktionen eingeführt. Unsere Systeme werden immer schneller. Wir erweitern die Fähigkeiten des Tools, um die Überwachung wachsender Datenbanken zu unterstützen und streben danach, das Tool kontinuierlich weiter zu verbessern.
Ich bin froh, dass ich mich geirrt habe. SQL Monitor ist ein fantastisches Tool, und es ist an der Zeit, dass Sie einen zweiten Blick darauf werfen.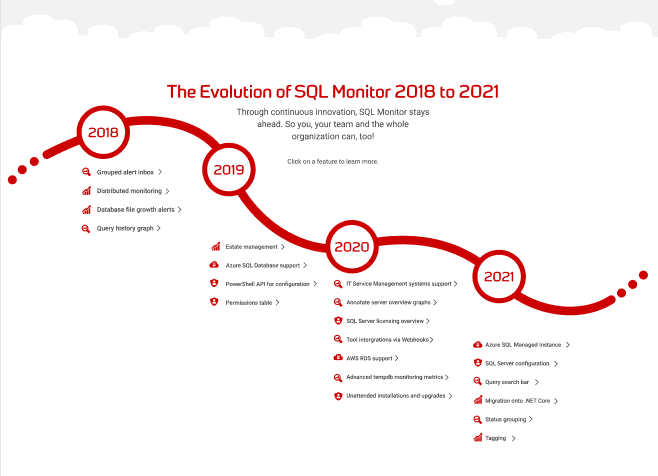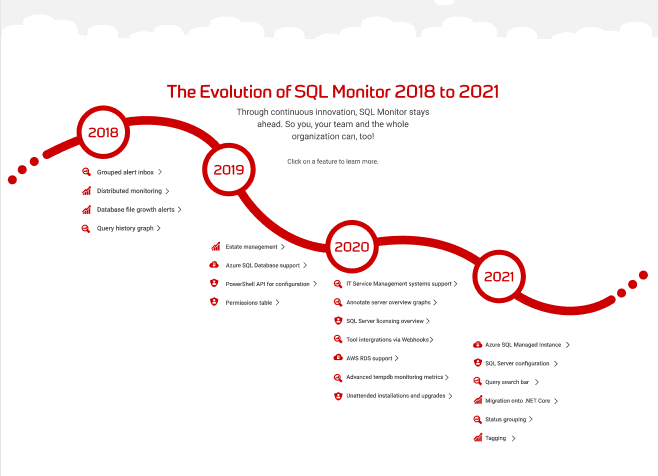 Finden Sie hier heraus, warum Redgate SQL Monitor Sie und Ihr Team so hervorragend unterstützen kann. Die gesamte Entwicklung in Form einer interaktiven Infografik finden Sie hier.
Read next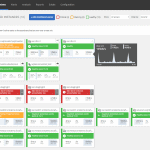 There are a whole range of reasons you should monitor your SQL Server estate, from the essentials that support firefighting through to advanced modelling to help with proactive future planning. However, there are a few steps you need to take in order to ensure the monitoring is effective. In this post, we'll show you what
There's no doubt the cloud is having a big impact on the nature and make-up of SQL Server estates. The 2021 State of Database DevOps report from Redgate, for example, showed that 58% of organizations now use the cloud either wholly or in combination with on-premises servers, compared to 46% in the same report a
Interaktive Infografik
Smarter arbeiten mit Redgate SQL Monitor
Alle raffinierten Funktionen in einem leicht verständlichen Format.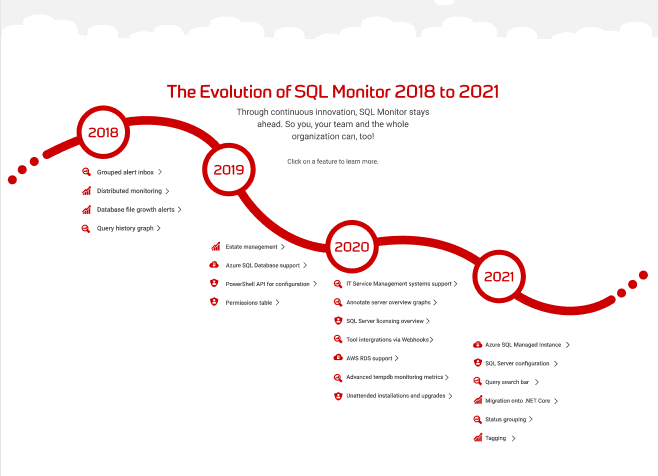 Was this article helpful?