In a geographic sense the company I work for is a fairly typical multi-national organisation – we have our corporate headquarters in North America and small to medium sized regional offices located in other countries around the world. The corporate data centre is in the head office, and most of the regional offices have some local server infrastructure servicing the local office needs.
The regional office infrastructure typically consists of an Active Directory domain controller, a Windows file and print server, and a Linux server. In some cases there is an additional domain controller in a separate Windows domain which is used to manage a customer training environment. In our classic setup we would deploy each of these roles as a separate physical server, meaning we had a minimum of three or four physical servers in each office. For our smaller offices the initial cost of this server hardware, and the subsequent costs of replacing it, are a fairly significant outlay.
Several years ago we realised that we could use server virtualisation to reduce the amount of physical hardware we were deploying in our regional offices – we called our proposal the "Office in a Box" project because we wanted to run the entire office's infrastructure from a single physical box. For a number of reasons the project didn't develop from more than an idea until early in 2009, but in October 2009 we successfully completed a pilot project which used virtualisation to reduce the number of physical servers in one of our regional offices from four to one. Our Office in a Box had become a reality, and we now plan to use this as our standard setup as we replace hardware in existing offices or deploy hardware to new offices.
One of the problems we had faced when developing our proposal was choosing a virtualisation platform. We had previously deployed VMware ESX and Microsoft Virtual Server in our corporate datacentre, but did not have defined strategy for smaller deployments. The release of Microsoft Windows Server 2008 with Hyper-V also gave us another candidate to consider. Eventually an enterprise agreement with VMware and our previous experience with ESX made that an obvious choice.
Another big consideration was the physical hardware which the virtualisation platform would run on. We typically deploy HP ProLiant servers, and for a virtual server we needed something which would pack a lot of storage and power into as small a chassis as possible. When HP released their ProLiant DL370 G6 server, with support for dual quad-core processors, up to 14TB of internal storage, and up to 192GB of RAM, all in a 4U chassis, we had found our hardware platform.
Going into the pilot our objectives were to prove that we could:
Improve the performance and capacity over that of the existing servers
Reduce the cost of server hardware and hardware maintenance
Reduce the administrative effort of maintaining the hardware
Integrate with other existing hardware (such as tape backup systems)
Provide comparable reliability and availability
Provide scalability to add new services without requiring additional hardware
Our primary performance concern was the Windows file and print server, as analysis of historic data showed that as the machine which was under the most load. Because the new virtual server could take up to 14 x 1TB disks (while the old server only had capacity for 6 x 300GB disks) we had no concerns about the storage capacity we could allocate to the VM.
Our final specification for the virtual server was an HP ProLiant DL370, with Dual quad-core Intel X5550 2.66GHz CPUs, 48GB RAM, and 5TB usable storage made up of a 7 x 1TB HDD RAID5 array with on-line spare. We also included a SCSI HBA which was compatible with our existing tape library, and supported by VMware, so we could simply present the tape library to the Windows virtual machine and continue running backups as we had in the past.
We ran a range of performance tests against the system, including disk IO tests, and found that the virtual machines clearly outperformed the old physical servers, and in fact the performance difference between running in a virtual environment or natively on the same hardware was not significant. The tests proved that we could meet the existing load requirements and had room to add more services later – because we designed-in a surplus of CPU, RAM, and disk resource we can increase the resources allocated to the existing VMs and we can also add additional virtual machines to provide new services, without needing to buy and install additional hardware.
After performance, our next concern was to ensure that we could continue to provide reliable and robust services – by virtualising the entire office's infrastructure on a single virtual server we are putting all our eggs in one basket. We started by making sure that the server had redundant fans and power supplies. We added an on-line spare disk to the RAID array, advanced remote management functionality, and we made sure we had a comprehensive maintenance contract in place.
Our network and domain architecture means that AD services can be provided by an out-of-site DC, albeit at reduced performance, and we can run network services such as DHCP and DNS from other platforms or devices in the regional office. Additionally, core line-of-business applications such as CRM and e-mail are provided from other locations, so in the event of the physical server failing the only real impact to the office will be the loss of the file server – the same net position we were in with multiple physical servers.
One of the main drivers of our project was to reduce initial and on-going hardware costs. If we bought it today the hardware cost of our classic four physical server configuration would be approximately US$29,000. The cost of our virtual server configuration is slightly less than half that at approximately US$14,000. There are no savings on software as the same number of operating systems need to be licensed, and the cost of the virtualisation platform has to be included, but with options like VMware ESXi, which is free, or Microsoft Windows Server 2008 with Hyper-V, which is included in the 64-bit versions of Windows Server 2008, it shouldn't blow the budget.
By only having one physical server we were also able to reduce the cost of hardware support. The cost of a five year support agreement for four physical servers is slightly less than four times the cost of support for the virtual server – US$6,500 versus US$1,800.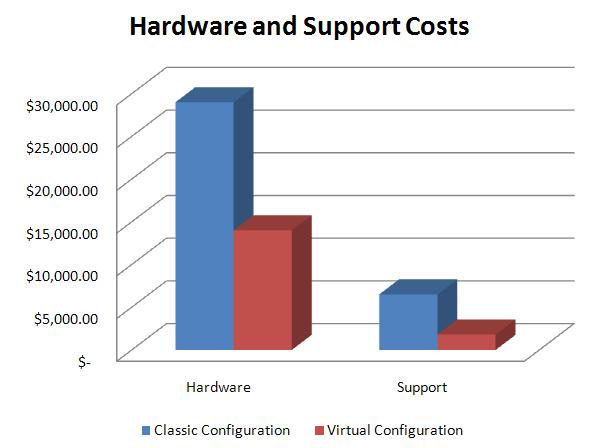 There are also some important indirect savings. By reducing the number of servers we have reduced the power consumed by servers from around 1500W to around 300W. This means that we are spending less on electricity, but also that we need smaller UPSs and less cooling in the computer room, all of which helps make our IT infrastructure greener.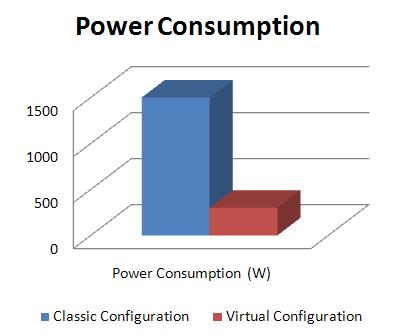 One physical server also means just one machine to apply firmware updates to, and one machine to keep maintenance up to date on, reducing the time administrators have to spend looking after the hardware.
The direct and indirect savings we can make by deploying virtual servers in our regional offices makes it much easier to make the case for hardware upgrades, and also makes it easier to provide new and improved services to our users.
By significantly lowering the costs of hardware and hardware maintenance, and the amount of space, power, and cooling that the hardware requires we have made it possible to consider providing server infrastructure to locations where it may not have been justifiable in the past. In fact, we are now even considering that a single physical server, deployed in an acoustically engineered rack, could be installed in the corner of an office without requiring a traditional computer room at all.