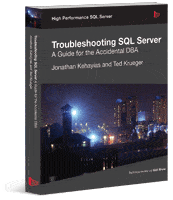 Troubleshooting SQL Server: A Guide for the Accidental DBA
Jonathan Kehayias and Ted Krueger
Available now from Amazon.com.
Get your free eBook download here.

We spend much of our working life helping solve SQL Server-related performance problems, hands-on, during consulting, or on online forums. We've seen a few weird-and-wonderful issues but, mainly, it's the same problems and misconceptions time-and-again. This is our attempt to describe, diagnose, and solve the most common problems with SQL Server 2005, 2008, and 2008 R2.
First, we explain a basic approach to troubleshooting, the essential tools, and how rare it is that a problem can be diagnosed by looking at a single data point. The art of troubleshooting SQL Server is the art of first gathering various pieces of information and then assembling the "puzzle" to reveal a complete picture of what is going on inside a server, and so the root of the problem. Next, we explore the areas in which problems arise with alarming regularity:
High Disk I/O -RAID misconfiguration, inadequate I/O throughput, poor workload distribution, SAN issues, disk partition misalignment and more
High CPU usage -insufficient memory, poorly written queries, inadequate indexing, inappropriate configuration option settings, and so on
Memory mismanagement – the advent of 64-bit SQL Server removes the memory allocation "shackles" placed on its 32-bit predecessors, but issues arising from incorrect memory configuration are still common
Missing indexes – arguably the number one cause of wasteful resource usage in SQL Server
Blocking – caused mainly by poorly designed databases that lack proper keys and indexing, and applications that apply needlessly restrictive transaction isolation levels
Deadlocking – covering the Bookmark Lookup deadlock, the Serializable Range Scan deadlock, the Cascading Constraint deadlock and more
Full transaction logs – lack of log backups, hefty index maintenance operations, long running transaction, problems with replication and mirroring environments, and more.
Accidentally-lost data – "oops, wrong database!" Let's hope you've got backups%hellip;
In each case, the book describes the most common problems, why they occur, and how they can be diagnosed using tools such as the Performance Monitor, Dynamic Management Views, server-side tracing, and more. Finally, it provides practical solutions for removing root causes, rather than "papering over the cracks".
The steps and techniques described are ones we use day-to-day to troubleshoot real SQL Server performance problems. With them, we hope you can solve performance problems quickly and accurately, and tame your unruly SQL Servers.