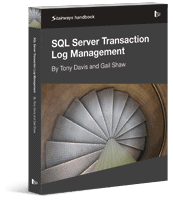 Free eBook download (PDF): From Red Gate
Kindle edition: Kindle US | Kindle UK
Buy the printed book: Amazon.com | Amazon.co.uk
When a SQL Server database is operating smoothly and performing well, there is no need to be particularly aware of the transaction log, beyond ensuring that every database has an appropriate backup regime and restore plan in place. When things go wrong, however, a DBA's reputation depends on a deeper understanding of the transaction log, both what it does, and how it works. An effective response to a crisis requires rapid decisions based on understanding its role in ensuring data integrity.
In this book, we strive to offer just the right level of detail so that every DBA can perform all of the most important aspects of transaction log management. We cover:
The critical role of the SQL Server transaction log and write ahead logging
How to perform transaction log backup and restore in FULL and BULK_LOGGED recovery models
Managing log growth, and dealing correctly with an overgrown or full log
Optimizing log throughput and availability, and how to avoid log fragmentation
In short, our book will show you how to control your transaction log, so that it doesn't control you.