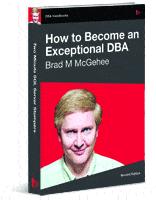 "This book is my attempt to provide a "career guide" for DBAs. It is intended both to help prospective DBAs find a "way in" to the profession, and to advise existing DBAs on how they can excel at their jobs, and so become Exceptional DBAs."
Brad McGehee, Author.
Download the eBook
Buy the printed book
Table of Contents
Chapter 01: Why Should I Become an Exceptional DBA?
Chapter 02: Characteristics of the Exceptional DBA
Chapter 03: Specialize (You can't do it all)
Chapter 04: Hone Your Skill Set
Chapter 05: Is Professional Certification Necessary?
Chapter 06: Participate in the SQL Server Community
Chapter 07: Manage Your Career, Don't Let It Manage You
Chapter 08: Manage Your Brand Withing Your Organization
Chapter 09: Manage Your Online Brand
Chapter 10: Get an Exceptional DBA Job
Chapter 11: The Exceptional DBAs Code of Conduct
Chapter 12: Best Practices for Becomming an Exceptional DBA
Why read this book?
This book is not about the technical aspects of being an Exceptional DBA. There are already many good resources available on this topic. This book is a career guide that will show you, step-by-step, specifically what you can do to differentiate yourself from the crowd, so that you can be an Exceptional DBA. While I focus on how to become an Exceptional SQL Server DBA, the advice in this book applies to any DBA, no matter what database software they use.
Once you finish this book, you will have the background you need so that you too can become an Exceptional DBA. If you are considering becoming a DBA, or are a DBA and want to be more than an average DBA, this is the book to get you started.
Book Details
Paperback: 184 pages
Publisher: Red Gate Books