This video is a recording from the webinar broadcast by Red Gate on 24th January 2012.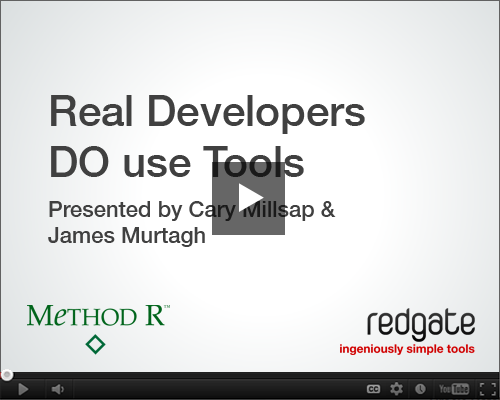 You may've heard the idea that real developers don't need tools, and the mark of a good developer is someone who can hand-code everything. But there are certain tasks where it doesn't make sense to disregard using tools. In particular, critical tasks that need to be completed before an application or database update goes live.
Development models are also changing. Agile methodology is gaining traction as companies look to shorten the development cycle. Therefore, reducing the time spent on critical tasks such as smoothing out application inefficiencies or identifying differences between instances of your database is becoming even more crucial.
The Method R Workbench and the Deployment Suite for Oracle are featured during the presentation to demonstrate that using tools is a necessity, rather than an option, for efficient database and application development.
A Q+A session with Cary Millsap follows the presentation.