Nail down the workers
Steve's a young very talented C# / SQL developer for a leading British investment bank stuffed to the gunnels with wealthy customers whose names are vaguely familiar, ranging from minor royalty and Labour politicians to A-list celebrities.
He's a team player, who is much liked by his peers because he works hard and helps them to achieve good results. He enjoys his job and is well paid. You'd think he couldn't be happier.
" For Steve, matters are
not now so straightforward "
The problem is that his aptitude has not gone unnoticed by a competitor, a larger, wealthier bank with a lot more foreign money behind it and total assets approaching $80 million.
They would like to hire Steve to help consolidate their position in the market over the next few years. So they give him a call and invite him in for a little chat.
Over a pot of Earl Grey tea and cakes in a private room at a plush hotel they give him the hard sell. 'Come and join us', they say, 'and you'll enjoy more success, have more fun and earn more money'; quite a lot more money, actually, a range of benefits and a bonus at the end of the fiscal year. He's in an enviable position.
There is just one small problem. His employer somehow gets wind of his meeting. Now, you might think that, while this is a little embarrassing, it is not serious. Well, that would be true a few years ago when Steve (and others like him) was but a small cog in a large corporate machine. There is normally nothing illegal about listening to the seductive words of an employer trying to poach you.
But for Steve, matters are not now so straightforward. He's so good at what he does that he has a contract barring him from talking to any competitor while under contract.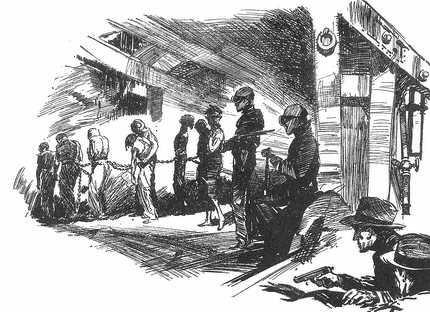 Generally, employment law both in the UK and US seeks to protect the rights of the individual and freedom of movement. But several things have got in the way, notably the global IT skills shortage that is affecting the financial services, the public sector and retail, the hardest.
With fewer highly qualified workers having knowledge of the sectors in crisis and possession of heavyweight specifications such as Basel II and MiFID for the financial services industry, there is a greater sway towards fixed-term contracts.
The bigger picture in all this is that many more companies are increasingly using the law to tie up their employees, so that even if they can't stop the person being poached, they can at least limit the benefit they bring to their new employer.
Firms try to nail down their workers with contracts that include a variety of arcane restrictive covenants. These seek to define exactly what employees can and cannot do when they leave a company and this is where it can get a little sticky.
A 'non compete' covenant prevents an employee from working for a competitor for a fixed period after they leave. However, because the courts are keen to ensure that freedom of competition is maintained, these can be hard to enforce.
At least that used to the case. Recently this judgement was turned on its head when the Court of Appeal, the engine room of the judicial system in England & Wales, upheld a non-compete cause after a former managing director of an IT firm tried to sue his former employer for breach of contract and constructive dismissal.
He also maintained that a 12-month 'non-compete' clause was an 'unreasonable restraint of trade' after moving to a larger software company.
The Court did not see it his way and upheld the decision that the 12-month penalty was reasonable despite the defendant's loud and persistent protestations to the contrary.
The Bark of the Covenant
Under 'non-solicitation' covenants, employees who leave a company are restricted from trying to entice former colleagues or clients to follow them to their new place of work, but these are notoriously difficult to police.
'Non-deal' covenants are used to put a blanket ban on a former employee dealing with former clients, whether they have approached the client or the client has contacted them.
" Businesses have the right to
protect their legitimate business interests "
Big companies utilise their own anti-poach mechanisms. Some of the larger firms have made the poaching of senior VPs and directors especially difficult because they have contracts under which they have to tell the company if they have received an approach.
But all this legal red tape cannot prevent a serious effort to poach someone. Businesses have a right to protect their legitimate business interests.
'A lot of contractual principles enshrine that, in the end you can't force people to work for you if they are de-motivated,' says Laura Green, an assistant solicitor at Lovell's Employment Group, who adds that 'contractual principles can go only so far. If someone doesn't want to work for you then you must allow them to go somewhere else or motivate them to stay on.'
'The problem comes when you're nervous that the employee might take intellectual property rights or development ideas to a rival company. The only way round this is to make sure that when you employ someone in a senior post make sure that the contracts says several things, namely:
that the business owns all intellectual property (IP) work created during the course of employment – whether during working hours or not
Intellectual property created using business equipment or resources belongs to the company
that there's a legally enforceable waiver to the employee's moral rights
the rights and obligations relating to IP continue in force after the termination of employment and are binding on the employee's personal representatives
Contracts of employment are renewed and re-thought out every one or two years at the very least
'Some of them may seem Draconian laws but they are necessary to protect co-workers, your company and its future commerciality,' claims Green.
Ferocious Poaching
The job of poaching senior executives is often contracted out to that shady employment assassin – the head-hunter, or as one practitioner to call himself 'the human equivalent to the childproof medicine bottle'.
'Head-hunting requires a broad and sound knowledge of the industry, an inquisitive mind and a desire to help one's fellow man.
All these qualities are abundant in physicians, even those working in the IT industry', says head-hunter Andrew Meredith.
One DBA at an investment bank, who had an analyst run the slide rule over his career had a 'buy' note issued against his name, he tells me.
The next thing he knew he was being approached by Meredith recruiting for the rival bank.
'I got a call asking if I was interested in throwing my hat in the ring. He sent me a job specification and I said I was interested, ' says the DBA in question.
He met Meredith for a 3 course, sumptuous lunch. The head-hunter meticulously checked out all the details on his CV and prepared a ten-page document outlining the business opportunities, development skills, knowledge and clients that the candidate would bring to the job. More than a half-a-dozen interviews with senior people at the bank followed, each a one-on-one.
'This particular bank took the view that everyone at a certain level had to feel comfortable that I was the right person for the job,' says the DBA.
Meanwhile the Meredith was sounding out the target to try to establish exactly what he was thinking and what the deal would have to be to reel him in.
At the top end, where the stakes are high and the head-hunter is getting a big dollop of money if they land the right person for the job, there is a lot of pressure to succeed.
Eventually the DBA decided that he didn't want the job and a new round of courtship ensued, with the bank offering fresh ever-expanding incentives. Eventually, grudgingly, it took no for an answer.
'I decide that I'd miss my mates and the banter, so said no and in any case being a DBA in the financial services industry is now like a cottage industry. Everyone, more or less, knows everyone else.
'If you're offered another position you have a drink or lunch and a rival may make you an offer. You tell your boss what the offer is and they either come back with a counter offer or they don't.
'There's gardening leave sometimes and some of the top analysts have long notice periods and stock options. But people move on pretty fast if they have decided to go especially in the present climate where more money is on offer,' says the must-remain-anonymous database wizard.
Some of the most ferocious poaching takes place in the unsentimental world inhabited by the booming IT outsources operations.
'We are attacked all the time," says Jonathan, senior manager of an American-owned IT analyst group based in London.
'There are times when we need to go and take out someone from the opposition – not to damage the opposition but because they are the best development people,' he says.
" We are attacked all the time. "
'Sometimes we will take out a whole team, sometimes people will have a go at a whole team of ours. On the whole we don't seem to lose that many but a lot of people are being lured by big money offers from firms in China and India, particularly ones that specialise in the areas of software migration/reengineering and .Net/Java application development. '
The process of raiding and being raided, he says 'can seem be gentlemanly underhand or seriously underhand. But it's all underhand. This is a heavily competitive world and we need to stay ahead of the game.' He doesn't think that the IT industry is any different from any other. 'Every profession must do it to survive especially as there's now more investment coming into the ICT market.'
The business that he works for tries to keep its best people by improving their pay or offering them share options. In addition, many employees are reluctant to leave until after their annual pay bonus has been received.
Employees have restrictive covenants in their contracts, but 'they only work to a degree. We've sent people away on gardening leave (sitting out one's notice period at home, rather than in the office) and all of that. But you can't stop someone earning.'
When an erstwhile employee at one software company joined a rival firm in a more senior position, his former company sought an injunction to stop him. His contract included a provision that for a period of two years after leaving the firm he could not work as an software engineer in his local area – a so-called 'radius contract'.
Not surprisingly, The High Court found that radius contracts are pretty much unreasonable and unenforceable, unless, of course, you happen to be a DBA who works for a celebrity hairdresser, a trade that is as almost as cut-throat as when Sweeney Todd was in business. But it is not only stylists who are poached from rival hairdressing salons.
'Nearly all our staff sign a 'radius contract' which prevents them from moving to a rival situated close by and that includes our IT staff. Taking our digital contacts and mailing lists has become a real problem with some of the IT people we've employed," says Ian Porter, director of a well-known celebrity hairdresser based in Las Vegas.
'A good celebrity mailing list with over 500 clients on it can easily sell for $10,000.
The difficulty for an employer when a rival comes poaching is that the poacher has the upper hand.
'What intrigues me about people is how quickly they become committed to the poacher. The poacher is always offering a brave new world with a better package and they are being taken out to dinner and having all this attention heaped on them and it is flattering,' says Porter.
The reality, he believes, is that when they arrive at the new job they find that the environment is not as good as they were expecting or the fine details in their contract leave them earning less.
While poaching of manpower may exist everywhere, there is one field of work where its prevalence makes the fuss look like a very minor concern. The boom in for IT consultants in Iraq has led to the poaching of top hardware and software engineers from rather safer domains.
Women especially are leaving their current jobs at the earliest opportunity to earn up to ten times the money performing similar roles (again in financial services) in this part of the Middle East and while large Western firms may be market leaders when it comes to prestige it can seldom compete on wages.
Some workers might be swayed by arguments about loyalty and safety, but as Steve our SQL developer at the start of this article knows, when the big money talks, people listen.