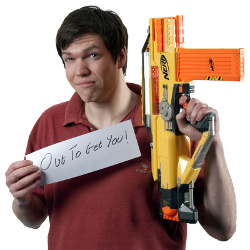 Robin Hellen is a test engineer here at Red Gate, and is also the latest coder I've interviewed. We chatted about debugging code, the roles of software engineers and testers, and why Vala is currently his favourite programming language.
How did you get started with programming?
It started when I was about six. My dad's a professional programmer, and he gave me and my sister one of his old computers and taught us a bit about programming. It was an old Amiga 500 with a variant of BASIC. I don't think I ever successfully completed anything! It was just faffing around. I didn't really get anywhere with it.
But then presumably you did get somewhere with it at some point.
At some point. The PC emerged as the dominant platform, and I learnt a bit of Visual Basic. I didn't really do much, just a couple of quick hacky things. A bit of demo animation. Took me a long time to get anywhere with programming, really.
When did you feel like you did start to get somewhere?
I think it was when I started doing things for someone else, which was my sister's final year of university project. She called up my dad two days before she was due to submit, saying "We need something to display a graph!". Dad says, "I'm too busy, go talk to your brother". So I hacked up this ugly piece of code, sent it off and they won a prize for that project. Apparently, the graph, the bit that I wrote, was the reason they won a prize! That was when I first felt that I'd actually done something that was worthwhile. That was my first real bit of code, and the ugliest code I've ever written. It's basically an array of pre-drawn line elements that I shifted round the screen to draw a very spikey graph.
When did you decide that programming might actually be something that you wanted to do as a career?
It's not really a decision I took, I always wanted to do something with computers. And I had to take a gap year for uni, so I was looking for twelve month internships. I applied to Red Gate, and they gave me a job as a tester. And that's where I really started having to write code well. To a better standard that I had been up to that point.
How did you find coming to Red Gate and working with other coders?
I thought it was really nice. I learnt so much just from other people around. I think one of the things that's really great is that people are just willing to help you learn. Instead of "Don't you know that, you're so stupid", it's "You can just do it this way".
If you could go back to the very start of that internship, is there something that you would tell yourself?
Write shorter code. I have a tendency to write massive, many-thousand line files that I break out of right at the end. And then half-way through a project I'm doing something, I think "Where did I write that bit that does that thing?", and it's almost impossible to find. I wrote some horrendous code when I started. Just that principle, just keep things short. Even if looks a bit crazy to be jumping around all over the place all of the time, it's actually a lot more understandable.
And how do you hold yourself to that?
Generally, if a function's going off my screen, it's probably too long. That's what I tell myself, and within the team here we have code reviews, so the guys I'm with at the moment are pretty good at pulling me up on, "Doesn't that look like it's getting a bit long?". It's more just the subjective standard of readability than anything.
So you're an advocate of code review?
Yes, definitely. Both to spot errors that you might have made, and to improve your knowledge. The person you're reviewing will say "Oh, you could have done it that way". That's how we learn, by talking to others, and also just sharing knowledge of how your project works around the team, or even outside the team. Definitely a very firm advocate of code reviews.
Do you think there's more we could do with them?
I don't know. We're struggling with how to add them as part of the process without it becoming too cumbersome. We've experimented with a few different ways, and we've not found anything that just works.
To get more into the nitty gritty: how do you like to debug code?
The first thing is to do it in my head. I'll actually think what piece of code is likely to have caused that error, and take a quick look at it, just to see if there's anything glaringly obvious there. The next thing I'll probably do is throw in print statements, or throw some exceptions from various points, just to check: is it going through the code path I expect it to? A last resort is to actually debug code using a debugger.
Why is the debugger the last resort?
Probably because of the environments I learnt programming in. VB and early BASIC didn't have much of a debugger, the only way to find out what your program was doing was to add print statements. Also, because a lot of the stuff I tend to work with is non-interactive, if it's something that takes a long time to run, I can throw in the print statements, set a run off, go and do something else, and look at it again later, rather than trying to remember what happened at that point when I was debugging through it. So it also gives me the record of what happens. I hate just sitting there pressing F5, F5, continually. If you're having to find out what your code is doing at each line, you've probably got a very wrong mental model of what your code's doing, and you can find that out just as easily by inspecting a couple of values through the print statements.
If I were on some codebase that you were also working on, what should I do to make it as easy as possible to understand?
I'd say short and well-named methods. The one thing I like to do when I'm looking at code is to find out where a value comes from, and the more layers of indirection there are, particularly DI [dependency injection] frameworks, the harder it is to find out where something's come from. I really hate that. I want to know if the value come from the user here or is a constant here, and if I can't find that out, that makes code very hard to understand for me.
As a tester, where do you think the split should lie between software engineers and testers?
I think the split is less on areas of the code you write and more what you're designing and creating. The developers put a structure on the code, while my major role is to say which tests we should have, whether we should test that, or it's not worth testing that because it's a tiny function in code that nobody's ever actually going to see. So it's not a split in the code, it's a split in what you're thinking about. Saying what code we should write, but alternatively what code we should take out.
In your experience, do the software engineers tend to do much testing themselves?
They tend to control the lowest layer of tests. And, depending on how the balance of people is in the team, they might write some of the higher levels of test. Or that might go to the testers. I'm the only tester on my team with three other developers, so they'll be writing quite a lot of the actual test code, with input from me as to whether we should test that functionality, whereas on other teams, where it's been more equal numbers, the testers have written pretty much all of the high level tests, just because that's the best use of resource.
If you could shuffle resources around however you liked, do you think that the developers should be writing those high-level tests?
I think they should be writing them occasionally. It helps when they have an understanding of how testing code works and possibly what assumptions we've made in tests, and they can say "actually, it doesn't work like that under the hood so you've missed this whole area". It's one of those agile things that everyone on the team should be at least comfortable doing the various jobs. So if the developers can write test code then I think that's a very good thing.
So you think testers should be able to write production code?
Yes, although given most testers skills at coding, I wouldn't advise it too much! I have written a few things, and I did make a few changes that have actually gone into our production code base. They're not necessarily running every time but they are there. I think having that mix of skill sets is really useful. In some ways we're using our own product to test itself, so being able to make those changes where it's not working saves me a round-trip through the developers. It can be really annoying if the developers have no time to make a change, and I can't touch the code.
If the software engineers are consistently writing tests at all levels, what role do you think the role of a tester is?
I think on a team like that, those distinctions aren't quite so useful. There'll be two cases. There's either the case where the developers think they've written good tests, but you still need someone with a test engineer mind-set to go through the tests and validate that it's a useful set, or the correct set for that code. Or they won't actually be pure developers, they'll have that mix of test ability in there.
I think having slightly more distinct roles is useful. When it starts to blur, then you lose that view of the tests as a whole. The tester job is not to create tests, it's to validate the quality of the product, and you don't do that just by writing tests. There's more things you've got to keep in your mind. And I think when you blur the roles, you start to lose that end of the tester.
So because you're working on those features, you lose that holistic view of the whole system?
Yeah, and anyone who's worked on the feature shouldn't be testing it. You always need to have it tested it by someone who didn't write it. Otherwise you're a bit too close and you assume "yes, people will only use it that way", but the tester will come along and go "how do people use this? How would our most idiotic user use this?". I might not test that because it might be completely irrelevant. But it's coming in and trying to have a different set of assumptions.
Are you a believer that it should all be automated if possible?
Not entirely. So an automated test is always better than a manual test for the long-term, but there's still nothing that beats a human sitting in front of the application and thinking "What could I do at this point?". The automated test is very good but they follow that strict path, and they never check anything off the path. The human tester will look at things that they weren't expecting, whereas the automated test can only ever go "Is that value correct?" in many respects, and it won't notice that on the other side of the screen you're showing something completely wrong. And that value might have been checked independently, but you always find a few odd interactions when you're going through something manually, and you always need to go through something manually to start with anyway, otherwise you won't know where the important bits to write your automation are.
When you're doing that manual testing, do you think it's important to do that across the entire product, or just the bits that you've touched recently?
I think it's important to do it mostly on the bits you've touched, but you can't ignore the rest of the product. Unless you're dealing with a very, very self-contained bit, you're almost always encounter other bits of the product along the way. Most testers I know, even if they are looking at just one path, they'll keep open and move around a bit anyway, just because they want to find something that's broken. If we find that your path is right, we'll go out and hunt something else.
How do you think this fits into the idea of continuously deploying, so long as the tests pass?
With deploying a website it's a bit different because you can always pull it back. If you're deploying an application to customers, when you've released it, it's out there, you can't pull it back. Someone's going to keep it, no matter how hard you try there will be a few installations that stay around. So I'd always have at least a human element on that path. With websites, you could probably automate straight out, or at least straight out to an internal environment or a single server in a cloud of fifty that will serve some people. But I don't think you should release to everyone just on automated tests passing.
You've already mentioned using BASIC and C# — are there any other languages that you've used?
I've used a few. That's something that has changed more recently, I've become familiar with more languages. Before I started at Red Gate I learnt a bit of C. Then last year, I taught myself Python which I actually really enjoyed using. I've also come across another language called Vala, which is sort of a C#-like language. It's basically a pre-processor for C, but it has very nice syntax. I think that's currently my favourite language.
Any particular reason for trying Vala?
I have a completely Linux environment at home, and I've been looking for a nice language, and C# just doesn't cut it because I won't touch Mono. So, I was looking for something like C# but that was useable in an open source environment, and Vala's what I found. C#'s got a few features that Vala doesn't, and Vala's got a few features where I think "It would be awesome if C# had that".
What are some of the features that it's missing?
Extension methods. And I think that's the only one that really bugs me. I like to use them when I'm writing C# because it makes some things really easy, especially with libraries that you can't touch the internals of. It doesn't have method overloading, which is sometimes annoying.
Where it does win over C#?
Everything is non-nullable by default, you never have to check that something's unexpectedly null.
Also, Vala has code contracts. This is starting to come in C# 4, but the way it works in Vala is that you specify requirements in short phrases as part of your function signature and they stick to the signature, so that when you inherit it, it has exactly the same code contract as the base one, or when you inherit from an interface, you have to match the signature exactly. Just using those makes you think a bit more about how you're writing your method, it's not an afterthought when you've got contracts from base classes given to you, you can't change it. Which I think is a lot nicer than the way C# handles it.
When are those actually checked?
They're checked both at compile and run-time. The compile-time checking isn't very strong yet, it's quite a new feature in the compiler, and because it compiles down to C, you can write C code and interface with your methods, so you can bypass that compile-time check anyway. So there's an extra runtime check, and if you violate one of the contracts at runtime, it's game over for your program, there's no exception to catch, it's just goodbye!
One thing I dislike about C# is the exceptions. You write a bit of code and fifty exceptions could come from any point in your ten lines, and you can't mentally model how those exceptions are going to come out, and you can't even predict them based on the functions you're calling, because if you've accidentally got a derived class there instead of a base class, that can throw a completely different set of exceptions. So I've got no way of mentally modelling those, whereas in Vala they're checked like Java, so you know only these exceptions can come out. You know in advance the error conditions.
I think Raymond Chen on Old New Thing says "the only thing you know when you throw an exception is that you're in an invalid state somewhere in your program, so just kill it and be done with it!"
You said you've also learnt bits of Python. How did you find that compared to Vala and C#?
Very different because of the dynamic typing. I've been writing a website for my own use. I'm quite into photography, so I take photos off my camera, post-process them, dump them in a file, and I get a webpage with all my thumbnails. So sort of like Picassa, but written by myself because I wanted something to learn Python with. There are some things that are really nice, I just found it really difficult to cope with the fact that I'm not quite sure what this object type that I'm passed is, I might not ever be sure, so it can randomly blow up on me. But once I train myself to ignore that and just say "well, I'm fairly sure it's going to be something that looks like this, so I'll use it like this", then it's quite nice.
Any particular features that you've appreciated?
I don't like any particular feature, it's just very straightforward to work with. It's very quick to write something in, particularly as you don't have to worry that you've changed something that affects a different part of the program. If you have, then that part blows up, but I can get this part working right now.
If you were doing a big project, would you be willing to do it in Python rather than C# or Vala?
I think I might be willing to try something bigger or long term with Python. We're currently doing an ASP.NET MVC project on C#, and I don't like the amount of reflection. There's a lot of magic that pulls values out, and it's all done under the scenes. It's almost managed to put a dynamic type system on top of C#, which in many ways destroys the language to me, whereas if you're already in a dynamic language, having things done dynamically is much more natural. In many ways, you get the worst of both worlds. I think for web projects, I would go with Python again, whereas for anything desktop, command-line or GUI-based, I'd probably go for C# or Vala, depending on what environment I'm in.
It's the fact that you can gain from the strong typing in ways that you can't so much on the web app. Or, in a web app, you have to use dynamic typing at some point, or you have to write a hell of a lot of boilerplate, and I'd rather use the dynamic typing than write the boilerplate.
What do you think separates great programmers from everyone else?
Probably design choices. Choosing to write it a piece of code one way or another. For any given program you ask me to write, I could probably do it five thousand ways. A programmer who is capable will see four or five of them, and choose one of the better ones. The excellent programmer will see the largest proportion and manage to pick the best one very quickly without having to think too much about it. I think that's probably what separates, is the speed at which they can see what's the best path to write the program in.