I'd like to give you a bit of background first… so please bear with me!
In 1996, whilst studying for my final year of my degree, I applied for a job as a C++ Developer at a small software house in Hertfordshire After bodging up the technical part of the interview I didn't get the job, but was offered a position as a QA Engineer instead. The role sounded intriguing and the pay was pretty good so in the absence of anything else I took it. Here began my career in the world of software testing!
Back then, testing/QA was often an afterthought, something that was bolted on to the development process and very much a second class citizen. Test automation was rare, and tools were basic or non-existent!
The internet was just starting to take off, and whilst there might have been testing communities and resources, we were certainly not exposed to any of them. After 8 years I moved to another small company, and again didn't find myself exposed to any of the changes that were happening in the industry. It wasn't until I joined Red Gate in 2008 that my view of testing and software development as a whole started to expand.
But it took a further 4 years for my view of testing to be totally blown open, and so the story really begins…
In May 2012 I was fortunate to land the role of Head of Test Engineering. Soon after, I received an email with details for the "Agile Testing Days" conference in Potsdam, Germany.
However, in my new role, I decided that it was time to bite the bullet and at least go to one conference. Perhaps I could get some new ideas to supplement and support some of the ideas I already had. I looked over the suggested programme and some of the talks peeked my interest. For numerous reasons I'd shied away from attending conferences in the past, one of the main ones being that I didn't see much benefit in attending loads of talks when I could just read about stuff like that on the internet.
So, on the 18th November 2012, myself and three other Red Gaters boarded a plane at Heathrow bound for Potsdam, Germany to attend Agile Testing Days 2012.
Tutorial Day – "Software Testing Reloaded"
We chose to do the tutorials on the 19th, I chose the one titled "Software Testing Reloaded – So you wanna actually DO something? We've got just the workshop for you. Now with even less powerpoint!". With such a concise and serious title I just had to see what it was about!
I nervously entered the room to be greeted by tables, chairs etc all over the place, not set out and frankly in one hell of a mess! There were a few people in there playing a game with dice. Okaaaay… this is going to be a long day!
Actually the dice game was an exercise in deduction and simplification… I found it very interesting and is certainly something I'll be using at work as a training exercise! (I won't explain the game here cause I don't want to let the cat out of the bag…)
The tutorial consisted of several games, exploring different aspects of testing. They were all practical yet required a fair amount of thinking. Matt Heusser and Pete Walen were running the tutorial, and presented it in a very relaxed and light-hearted manner. It was really my first experience of working in small teams with testers from very different backgrounds, and it was really enjoyable. Matt & Pete were very approachable and offered advice where required whilst still making you work for the answers!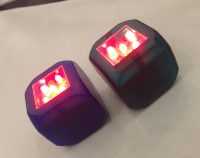 One of the tasks was to devise several strategies for testing some electronic dice. The premise was that a Vegas casino wanted to use the dice to appeal to the twenty-somethings interested in tech, but needed assurance that they were as reliable and random as traditional dice. This was a very interesting and challenging exercise that forced us to challenge various assumptions, determine/clarify requirements but most of all it was frustrating because the dice made a very very irritating beeping noise. Multiple that by at least 12 dice and I was dreaming about them all that night!!
Some of the main takeaways that were brilliantly demonstrated through the games were not to make assumptions, challenge requirements, and have fun testing!
The tutorial lasted the whole day, but to be honest the day went very quickly! My introduction into the conference experience started very well indeed, and I would talk to both Matt and Pete several times during the 4 days.
Days 1,2 & 3 will be coming soon…