How certain are you that you are keeping your job this year? Three or four years ago, if you lost your job and had a technical degree, it was only a matter of weeks until you secured another position, probably with even better pay. I remember that in my undergraduate engineering class, fellow mechanical engineering students with GPAs less then 2.0 (out of 4.0) and no internship experience were getting jobs in the industry right out of college. In contrast, this year when I gave a talk at the University of Delaware, students with graduate degrees and multiple publications were telling me that they were unable to get jobs and were going back to school to get their second Ph.D.
"Do this, and this
recession might just
turn out to be the
best thing that
ever happened to you."
The world has changed in the past several years. Whether you are looking for a job in USA or UK, your options have become much more limited. These days, your technical degree, whether computer science or engineering, no longer guarantees your employment.
What can you do if you were swept up, along with many others, by the world-wide recession? What should be your plan of action if your one month layoff stretches to six months or a year? How can you make yourself more qualified and more appealing to future employers, while you're not technically working?
If you are one of the lucky ones to have kept your job, how can you increase your chances of keeping it? For those of you who need answers to these questions, here are some steps that you can take now, in order to increase your professional value, whether or not your are currently employed.
1. Join Several Professional Associations
In the world of IT, software and data management these are organizations like LOPSA (Association for Professional System Administrators), PASS (Professional Association for SQL Server), NWCET (National Workforce Center for Emerging Technologies), SIIA (Software and Information Industry Association) and the list goes on. If you are already a member of one of these associations, join one or two more. A few years ago it was enough to have a good resume and a technical degree in on order to get a job in the industry. Now days, you need to know people to secure employment.
Memberships with these societies will allow you to meet people in your industry, find out about job openings and professional opportunities, and possibly get recommendations and references. If you are unemployed, professional associations can provide some of the benefits of a work place – a technical community of like-minded individuals, a place to learn and to obtain referrals. To find out more about what associations you should join, search through the Internet Public Library (http://www.ipl.org/div/aon/). For USA associations, take a look at "National Trade and Professional Associations of the United States" book, which can be found at your local library.
2. Become an ACTIVE Member of those Associations
Serving on committees, chairing technical sessions, and volunteering for local events will provide you with lot of opportunities for networking and obtaining letters of recommendation. Being actively involved with professional organizations means that you might find out about new job openings while staying in touch with current research in your industry. Visit the websites of those associations, find a local meeting and attend it. The simplest way to get started is to contact your local association chair and let them know that you would like to get involved in some volunteering activities. Many of the association websites are starting to incorporate blogs to provide more valuable information to their members. Blogs are typically updated much more frequently than newsletters, so the associations are usually happy to invite guest authors to contribute to the blogs.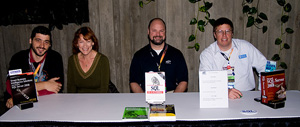 Why do you want to get involved? It's simple. The more people know you as a professional in your field – the more doors open up to you in terms of new jobs and professional recommendations. In addition, when you give away your expert knowledge in the form of articles, blog posts, and committee participation, you are building your credibility as an expert. If you keep at it, companies might actually hear of you through your professional community work, before you even apply for a job!
3. Join an On-Line Professional Community
This step is easy and, at the same time, can be extremely beneficial for helping you land your next job. My preference for a professional on-line community is www.linkedin.com. I have gotten everything from answers to technical questions, to referrals for web designers, to recommendations of my consulting work from this site. If you are already on Linkedin, become an active member – join discussion groups or create your own group in your area of expertise. As a word of caution, there is a wrong way for using an on-line community and that is to post your resume along with a desperate call of "I am looking for a job!" on every discussion board. Everyone is looking for a job these days. Your resume blasts are not going to impress anyone enough to get you an interview.
4. Give Talks
As professionals in a technical industry, we are often taught that explaining things in a clear and understandable manner should not be high on our priority list. In fact, in many cases, we are taught that the more confusing we sound, the more we will be perceived as intelligent and important individuals. When was the last time that you attended a talk at technical conference where at least a few of the attendees were not fidgeting with their laptops or just plain asleep?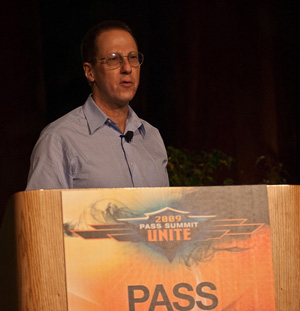 The ability to present complex technical ideas in a clear and understandable fashion is an extremely valued skill in the corporate world. It is also a skill that is immediately apparent in an interview. Learning to be a good communicator and speaker will put you miles ahead of other IT professionals searching for a job.
A good way to start to develop those communication skills is join Toastmasters International: www.toastmastersinternational.com. This is a wonderful organization that can help develop your public speaking, communication and leadership skills. For a nominal yearly fee, you can attend weekly meetings, get feedback on your speaking ability from other members and, most importantly, get plenty of practice speaking in front of a group of people.
5. Write
Finally, I recommend that you develop your written communication skills in the same way that you develop your public speaking abilities. To help you get started on improving you writing skills, here is another very simple idea. Create a blog and contribute to it every week. It is very easy to set up and it's free. Visit the Google blog service, www.blogspot.com to get started.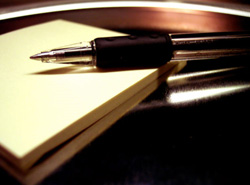 Here is another idea. You are reading www.simple-talk.com an ion-line journal for SQL Server and .NET developers and administrators. You might notice that there are a number of other authors in this journal whose article you enjoy reading. Why not become one of them? A more advanced step for those of you, who have built an established blog and feel comfortable with writing, is to find on-line journals or other blogs in your area of work and ask if the editors might be interested in some of your article ideas. They very well might be, in which case, I look forward to reading your piece in Simple-Talk in the future!
You are an expert in the technical field. You have excellent problem solving abilities. As do most of the other software scientists, system administrators and IT professionals looking for a job. Now is the time to start developing the other aspects of your professional skills if you want to stand out of the crowd job seekers. Develop your professional relationships, evolve your communication skills and become more involved in the technical community. Do this, and this recession might just turn out to be the best thing that ever happened to you.
Images 1 and 2 courtesy of Pat Wright taken at the 2009 PASS Summit.