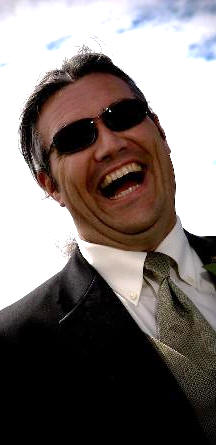 With a blog which attracted more than 14 million hits last year, a schedule that saw him travel more than 110,000 miles (countries visited included the UK, Japan and Thailand) and answering more than a 1000 random questions relating to SQL, you could be forgiven for thinking that Paul Randal sounds the very model of a modern major CEO.
The surprise is that Paul doesn't have tens of employees but a rel­ative­ly small team he leads with his wife Kimberly L. Tripp.
Even so, SQLskills.com has become the archetype for a Global SQL Movement, a source of inspiration for anyone who needs to know about high-availability, disaster recovery, database maintenance, storage engine internals, and performance in SQL Server.
In 2007, after almost 9 years on the Microsoft SQL Server team, Paul left the dark side to join Kimberly running SQLSkills.com and pursuing writing, teaching, and consulting.
Although he is a regular presenter of workshops and sessions at conferences and user groups around the world, Paul still keeps his hand in by teaches all of Microsoft's internal classes on database maintenance and operations.
He's a course author and instructor for Microsoft's most advanced Microsoft Certified Master – SQL Server qualification and has been involved with this qualification since its inception as the Microsoft-internal 'Ranger' class.
Together with Kimberly, Paul Co-Chairs the bi-annual SQL­inter­section conference
RM:

Paul, how did a Scot end up working in America?

PR:

Well, technically I'm not Scottish – I'm actually a mixture of English, Welsh, Irish, and French – but I lived in Scotland until I was 26 so I consider myself Scottish.
Anyway, my first job out of college (University of Edinburgh) in 1994 was working for DEC (Digital Equipment Corporation, or Digital). I was responsible for the Open VMS file system, the VMS equivalent of the Windows chkdsk utility, the disk initialization system, and the magnetic tape utility. I loved VMS – it was (and still is) and excellent OS. There's an interesting way story from my days at DEC here.
So how did I get to the US? Well, DEC started developing a transactional file system as a replacement for NTFS and I was heavily involved in that (working on the recovery system. Then Compaq bought DEC and decided that the software business wasn't relevant to them and they wanted to get rid of it.
The file system group in DEC was based in Livingston, Scotland and we were part of the larger VMS group out of Nashua, NH. We were an expensive group to run because of all the travel back and forth so Compaq decided to shut down our office. Microsoft heard about this and basically head-hunted as many of us as they could (8 out of 30 people moved to Redmond).
After being shown a good time in Redmond for 10 days, I had a choice of working in COM+, NTFS, or SQL Server. As I'd already spent nearly five years on file system work, I figured I'd try doing database work, and ended up taking over DBCC and eventually had responsibility for the whole Storage Engine before deciding to leave in 2007 to work with Kimberly Tripp.
Both DEC and Microsoft were great places to work – the only reason I left Microsoft was to be able to do exactly what I wanted.

RM:

Have you always had an interest in SQL Server?

PR:

To be honest, until the events I've described took place, I had no interest in SQL Server at all. I'd always had a soft spot for databases though – writing my first database system in BASIC in the late 80s on an 8-bit computer.
When I was deciding which group's offer to accept at Microsoft, I became attracted to working on another consistency-checking system (DBCC CHECKDB) that would give me greater scope for some neat algorithms that there was in the VMS repair utility.

RM:

So many people follow your blog and refer to it almost as a Global SQL Movement. Do you feel a part of what you've created with SQLskills has grown beyond what you imagined it could be?

PR:

I like to think of myself (and all of us at SQLskills) as part of the wide SQL community that exists – there are lots of people blogging great stuff about SQL Server – but I am pleased at how popular our site and blogs are and it was cool to be voted Most Authoritative Voice in the Redgate awards last year.
However you have to remember that Kimberly started SQLskills back in 1995 and had already built SQLskills into a very well-known and respected name before I decided to leave Microsoft in 2007 and join her out in the real world. We've just continued to build it up from there, along with the stellar people on the SQLskills team.

RM:

You're ever present on the blogosphere and Twitter. Has either of these altered the way in which you work? Are you deluged with questions from people seeking help with SQL Server problems?

PR:

Yes, for both.
For Twitter, it's come to replace the various internet forums for me to answer questions on. The forums have too much noise now, with people being too rude and anti-newbie and I don't need that (see this post). The #sqlhelp alias on Twitter gives me my question-answering fix. Twitter as a whole is also a great way to keep up with what's happening in the SQL community.
For blogging, I blog for several reasons: to help people out with interesting and useful info, for reference so I can point people at blog posts that explain things and answer questions, and as background material for our Immersion Event classes. That's especially true of surveys that I conduct – people are really interested in the results and it shows what people in the community are doing so they don't just have to believe what I'm saying.
As far as questions are concerned, I get anywhere from 10-50 questions per week from people on all kinds of SQL Server issues. I make it known in classes and conference sessions that this is cool and that I'll always provide an answer. I see this as a way of giving back to the community in thanks for everything the SQL community has enabled me to do, and it's also a great way to get ideas for blog posts.
I don't believe in being too busy to answer people's questions, as long as they're reasonable. However, I do expect people to have done some basic research first (see this post).

RM:

What's the most common problem that people ask you to answer?

PR:

Definitely around recovering from corruption where they don't have backups.

RM:

How have the questions to you differed over time?

PR:

To be honest, given what people know I've traditionally dealt with around SQL Server, there's always been a core of corruption questions. Since I left the SQL Serve team, I get questions about internals, maintenance, HA/DR, performance tuning, and everything else I blog and teach about.

RM:

Do you share your answers with anyone before publishing them?

PR:

No – if it's a question I know the answer to, the answer goes straight out there. I won't provide answers if I'm not sure of the answer. For questions I don't know how to answer, I'll ping one of the people on my team or one of a few people on the SQL team and SQL PSS team.

RM:

Are there friends whose advice you follow?

PR:

(For SQL Server) Yes – the same people I ask if I don't know the answer to a question about SQL Server.

RM:

Are there things Microsoft do better for the SQL Community?

PR:

I think there should be a clearer roadmap for Cumulative Update and Service Pack publication dates. I'd also like to see the product group stop removing information from Books Online, and put back all the info they've removed over the last few years. I don't think it's right that people should have to rely on non-Microsoft sources of information as that creates problems when managers and colleagues want the information to come from a Microsoft source.

RM:

What piece of advice would you give to SQL DBA's newbies coming to the sector?

PR:

Get a mentor and come up with a learning plan. You need to have someone more experienced than you to help you out and setting a learning plan gives you a structured way to learn and gauge progress. Also avail yourself of all the free information out there.

RM:

You're well known as a mentor and as you know many developers when they start out have other developers as mentors. Did this happen with you?

PR:

Yes, absolutely. When I joined DEC, my boss was my mentor, and he was great. All new developments in DEC started off fixing OS bugs, which is a great way to teach you what 'not' to do and the importance of code comments and readable code. At Microsoft I joined as an experienced developer so didn't have a mentor in the same way, but I did work with more senior developers to learn about the Storage Engine internals.
Mentoring is a vital process for growth in my opinion, and to help get yourself grounded in reality in a new company or job position. I have loose mentoring relationships with quite a few people in the SQL community, usually in a career development capacity. I was a manager at several levels in Microsoft and I wanted to be a (technical) people manager as I like helping people. It's very important to get a mentor/manager that wants to do it, compared to many managers who are 'promoted' into management even though they don't want to manage people.

RM:

Could you tell me something about the way you work? Do you live a hurried life and work every day, 7 days a week? What is your daily routine?

PR:

I have a single laptop that I use. I don't use extra screens or a docking station. That's pretty unusual. And I don't have an office. I might decide to work anywhere in the house or outside if the weather is nice. I don't have an email notification (sound or visual) and I hate phones.
Yes, I'm usually doing some work every day – that comes with running a popular business. Kimberly and I have a very busy life, what with the business, teaching so many classes, running the SQLintersection conference (which we own), all our hobbies, travel, kids, and so on. My to-do list never ends. But I make time to read a huge amount – lots of books and about 15 monthly magazines.
I don't have a daily routine but I do have an early-morning routine, which is working through the overnight email before breakfast (we're in Seattle so most of the US and Europe has been awake by the time we get up).

RM:

You're a great speaker and I'd like to ask you about speaking at conferences. Do you feel comfortable as a speaker? What's the key to delivering a good speech?

PR:

Thanks! Yes, very comfortable, but even though I've taught literally hundreds of classes and conference sessions, I still get a few nerves sometimes. Anyone who says they 'never' get nervous is lying in my opinion.
I wrote a long blog post about presenting (see Public Speaking: A Primer) and even recorded a Pluralsight course on communication skills (see here).

RM:

What are you planning to do different this year than you did last?

PR:

I just talked about this in the current issue of our SQLskills Insider newsletter! I'm learning Mandarin Chinese as a personal challenge and I've set myself a goal to lose 65lbs. I'm 20lbs down so far since January 1st, and I haven't learned any Chinese yet