Last Friday I was made to wake up obscenely early, which is something that I generally avoid. On this occasion, however, I was excited enough to spring out of bed when my alarm went, rather than hitting snooze three times before rousing, as is my usual routine.
The reason for my uncharacteristically sprightly behaviour was that we were holding our first ever Red Gate event, SQL in the City.
The preparation that had gone into this event had us all giddy with anticipation and it seems our attendees felt the same way, with several people arriving a full hour before registration officially opened at 9am.
In total, 330 people joined us for our London based event, filling One Wimpole Street with the buzz and excited chatter that can only be generated by SQL Server developers and DBAs, fuelled by caffeine and awaiting top-class training on the subject that they adore.
Once Neil Davidson, Joint CEO and cofounder of Red Gate, had given his opening speech (and had managed to get everyone to shut up after his attempt at audience participation had got out of hand), the attendees were treated to six hours' worth of first-rate SQL server training, from some of the best brains in the industry, free of charge.
In between the sessions, we Red Gaters had the chance to speak to our customers (as well as those who hadn't yet used our software), face to face. Ask anyone at Red Gate what they enjoy most about attending events and they will tell you that it is the chance to interact personally with users, find out what they like, what they don't like and what problems they have that we might be able to fix.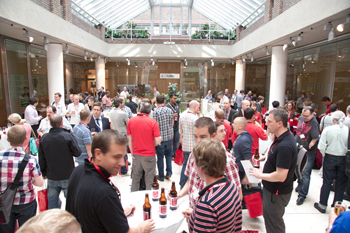 It seems our attendees enjoyed talking to us as much as we did them; when telling us their favourite thing about the event on our feedback form, there was a pretty even split between the informative and objective sessions and meeting us.
Topping off the entire experience was the Red Gate Ingeniously Pale Ale, which may have been an even bigger hit that the SQL Source Control hot sauce. It certainly kept people sticking around; we had a great chance to chat to attendees after the sessions had finished before they headed off to their homes, some of which were as far away as Poland and Belgium.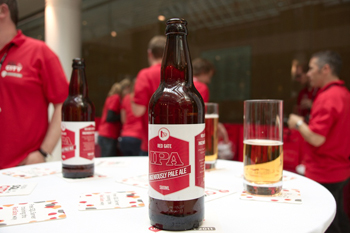 The banners, booths and posters were dismantled in an almost militarily efficient fashion, and it was as though we'd not had the place full to the brim with nearly 400 people just an hour earlier. A final toast to the main organizer, Annabel and we waited for the coach to bring us back to Cambridge, dazed and happy, but wishing we could do it all over again.
The great news is that we are doing it all over again, in LA! If you're around on 28th October, register free. We can't wait to meet you.
Post by Hannah Jermy