I think it was the moment when, 1500 metres above the fields of South Cambridge, sitting in the front cockpit of a yellow 1939 Tiger moth biplane in a flying jacket and goggles, the voice of the pilot came through my headphones to tell me "You now have control of the aircraft" that I thought to myself… "You know, Red Gate is a pretty cool place to work…."
It was Tuesday afternoon, about 3.15pm.
"I have control" I replied. I slowly moved the joystick between my knees to the right, and the plane banked alarmingly, the horizon tipping over like a drunk, to show the M11 motorway now parallel with my wing tip. I pulled back and to the left, and levelled the plane once more, propellers whirring away in front of me, only to be buffeted by a sudden gust of wind; the plane lurched a few feet downwards. "Nothing to worry about," the pilot reassured me. "Keep her nice and steady."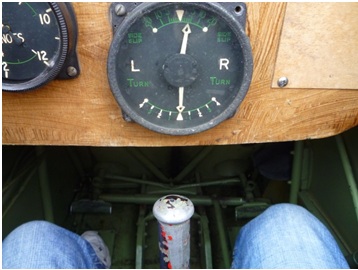 And so on I flew, in a vast, empty, sunny sky, above the colourful checkerboard fields and tiny houses clumped together, grinning from ear to ear…..
Now this is the life. Literally, the high life. A weekday afternoon, and I'm out with the rest of Red Gate's DBA Tools division at Duxford airfield, on a "Classic Wings" team activity day. When I first heard about the "Classic Wings" day, I dusted down my "Band on the run", "Live & Let Die" and "Jet" singles… but it turned out that – unlike our day out last year, when we had a session being taught how to bash plastic drums together like Stomp- this one was nothing to do with music.
27 of us arrived at Duxford airfield for our briefing, in a decommissioned control tower, at 10am. After coffee and biscuits, the guy from Classic Wings (no, it wasn't Paul McCartney) introduced himself and divided us into three groups….. a few minutes later, I was sitting in the back of a military truck with a dozen of my colleagues, feeling like I was part of a crack brigade on a secret mission in a cheesy action movie. We trundled along to a far corner of the airfield, and leapt from the back of our truck (actually that's a lie -those military trucks are really high above the ground; we descended gingerly using a rope and a ladder!) to do our first activity.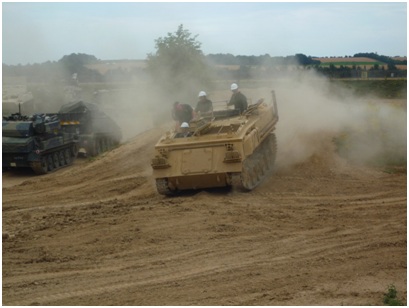 While half of our number headed off to drive some kind of continuous-tracked military vehicle over what looked like a giant BMX course (at least I think that's what they were doing; it was hard to see anything other than a giant moving cloud of dust), I picked up a laser-enabled shotgun to shoot some disks. Well, it would be more accurate to say "shoot at" or "aim generally in the direction of" said disks, as I didn't hit all that many. The light on the gun flashes red, and the giant scoreboard reveals your failure to the world as a massive zero when you miss. Laser shotguns are surprisingly good fun, though, as well as being surprisingly heavy. I've previously had a go at real clay pigeon shooting, and it's disconcerting to be able to rest the gun on your foot or point it threateningly at your mates without the instructor forcibly removing it from you and calling the cops.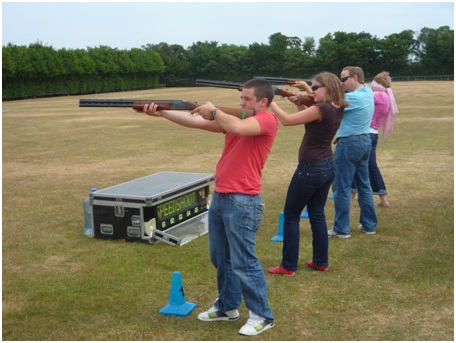 After playing every variation of laser clay pigeon shooting that was available, and enjoying them all immensely (especially the game where only the fastest five hits score points, in descending order), we regrouped back in the truck – now more like a military sauna on wheels – and drove back to our cars.
Lunch break. A sumptuous two course meal at a very fine foodie pub in the village of Duxford.
"Can I just remind those of you flying this afternoon…. you're not supposed to drink any alcohol" piped up Jenny, rather too late, given the number of half-filled pints of bitter that were lined up on the table. It turned out that there is no breathalyser test before flying a vintage plane, so we were OK.
Two hours, some fish and chips and a strawberry bakewell later, it was my turn to clamber into the biplane. Walking out to my ride, I could hear the music from Top Gun in my head….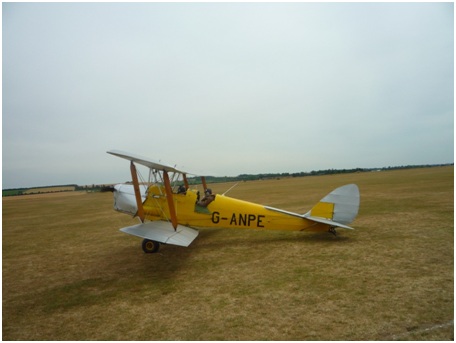 Just like Maverick, I met a lot of my new colleagues that day. And got to know some of the older ones a lot better. There's definitely something about messing about in old planes, and bumping around a dirt track in an army vehicle that brings out the best in people, and encourages them to get along. I finished off the day gawping in boggle-eyed wonder at the Boeing B-52 Stratofortress and Lockheed SR-71 Blackbird in the American hangar of the air museum. Wow, I thought, what an amazing place….
And that's where we're having our Xmas party this year.
Sometimes, I feel a bit guilty working for Red Gate. When my friends all roll their eyes at having to listen to what we get up to, part of me thinks – yeah, I am lucky. And another part thinks – all companies should be like this. Unlike the Polaris missile they have at Duxford, it isn't rocket science.
Post By: Brian Harris