Red Gate attended the Technology Ventures Conference (TVC), held at the Cambridge Student Union on the 8th June, and we had a great day. The TVC is an event to showcase start-ups in the local area and to allow them to pitch for funding in the style of Dragon's Den. Red Gate are one of the event sponsors as we think it's a great idea to do more for start-ups to help them ,and the technology industry in general, to grow and evolve. This year's was the biggest they have ever had, and for an event organised by the students themselves it was really quite impressive!
We got there early in the morning to set up our stand and have some breakfast whilst mingling with the organisers and other attendees (croissants and coffee in a marquee on the lawn – very civilised!). During the day some very interesting talks were given by a range of people, I would recommend having a look at them on the CUTEC website. We spoke to a number of people during the day who were in the process of, or already had, started their own business which was great Red Gate originated in our CEO Neil's bedroom, so start-ups are close to our heart! Neil was on the panel for the Dragon's Den style pitches, for which a prize of £3k had been donated by us for the winning start-up. Here is a picture of our stand – for some reason I was stroking my colleague's nose – is that creepy?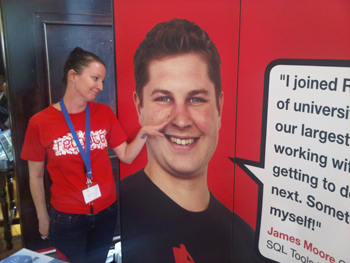 Let us know on our Twitter account – @RedgateCareers.
The day was very informative with some fantastic ideas and participants (Virgin Galactic, you blow my mind) and we got to speak to heaps of people and tell them what we are all about, and even better, why we are an awesome place to work. While I am on the subject, look out for the next blog from @RedgateCareers and I will tell you all about our big work day out! Don't worry if you don't work here yet, though – we have a number of vacancies so have a look at our website and you never know, maybe you could be coming with us to the next fun event…
Post by: Laura O'Sullivan