Microsoft has been very vocal for several years now about the fact that they want to offer various services in the cloud. For anyone who may have doubted Microsoft's sincerity in this matter, the forthcoming release of Office 365 should reassure them.
Although Microsoft has been dabbling with cloud service offerings for some time now, Office 365 (which is currently still in beta testing) will be Microsoft's first major cloud-based application suite. The Office 365 suite consists of four separate applications: Microsoft Office Professional Plus, Microsoft Exchange Online, Microsoft SharePoint Online, and Microsoft Lync Online. Brought together to form one bundled offering, they do make a rather compelling cloud-based service, so we're going to take a quick look at what's on offer.
There's a lot of information available on Office 365, but it's fragmented and occasionally slightly opaque. Microsoft are keeping a pretty tight lid on this information, so I've pulled together what I could find to present an easily-digestible (and hopefully manager-friendly) overview.
Microsoft Office Professional Plus
Let's start with Microsoft Office Professional Plus, which is probably the one component in the Microsoft Office 365 suite that has caused the most confusion among potential subscribers. For example, I have seen posts in Internet message boards from people who assume that the Microsoft Office components which are included in Microsoft Office 365 are the same as the free Office Web Apps that Microsoft currently offers through Microsoft Live.
Thankfully, this is not the case. Even though Microsoft has done a good job on their Office Web Apps, those apps are no substitute for the full blown Office 2010 products in anyone's mind.
When Microsoft first made the Office Web Apps available, one of the computer magazines asked me to spend a week using the apps and write about my experiences. To make a long story short, I didn't even make it through the first day. The Office Web Apps are great for viewing documents and for performing light editing, but they simply aren't suitable for hardcore document creation, because the Apps do not include a lot of the features that are built into Office 2010 (or indeed, any recent desktop version of Microsoft Office). These are features we have come to take for granted, and so working without them feels, at best, cumbersome.
The Office Web Apps
[…] simply aren't
suitable for hardcore
document creation.
I don't want to get too far off track, but check out the screen captures below. Figure A shows the desktop version of Microsoft Word 2010, while Figure B shows Word Web App. A casual glance at the two figures will give you an idea of how many features are missing from the Office Web Apps:
Figure A … this is Microsoft Word 2010.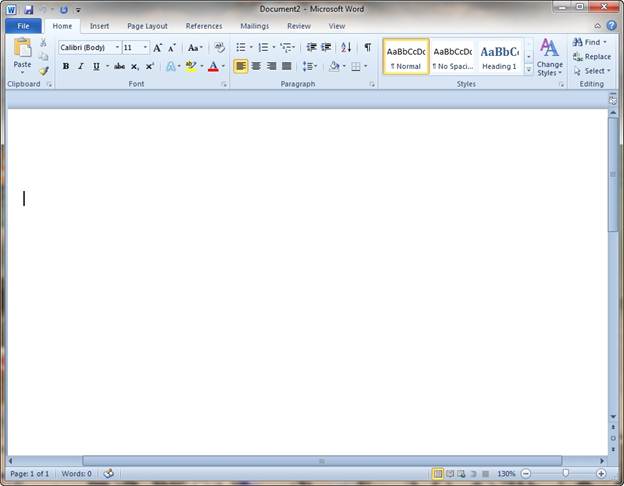 Figure B … and this is what Word Web App looks like.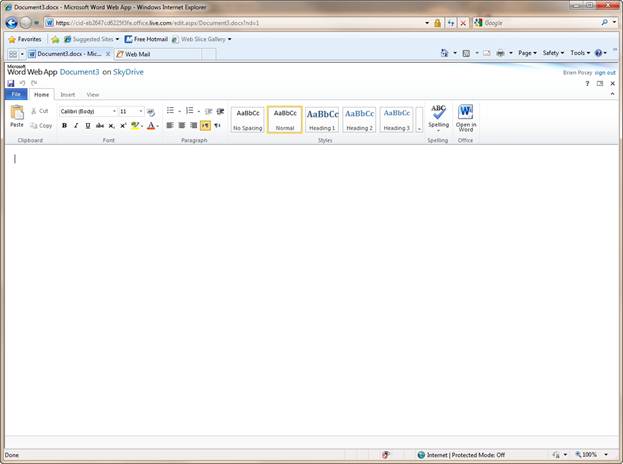 So what version of Microsoft Office do you get with Office 365? According to the Office365 Web site, "you get the latest version of the Office applications seamlessly connected and delivered with cloud services". The same Web page goes on to say "Office professional plus includes the new Office Web Apps, online companions to Word, Excel, PowerPoint, and OneNote". In other words, Office 365 subscribers will receive access to hosted versions of Office, plus access to the Office Web apps.
Microsoft Exchange Online
When Microsoft designed Exchange Server 2010, they designed it to operate in the cloud, or in an on-premise deployment, or both. Companies actually have the option of hosting some Exchange 2010 servers on premise, and hosting other Exchange Servers in the cloud and managing all of those servers through a single tool.
My point is that the Exchange services that are available in the cloud as a part of Office 365 are basically the same as what you would get if you hosted Exchange on premise in your own datacenter. Essentially, there's not a lot to see here, and the details (such as they are) are likely to shift between now and final release.
Microsoft SharePoint Online
Of all of the applications included in the Microsoft Office 365 suite, perhaps none are better suited to operating in the cloud than SharePoint. In case you are not familiar with SharePoint it is, at its core, a product (or rather, a platform) which allows for the development of sophisticated Web sites which can be deeply integrated with a variety of data sources. Although these sites can be Internet facing, SharePoint sites are usually intended for use on an intranet and, with the proper permissions, employees can create team sites that can be used for project planning and collaboration (amongst other things).
The reason why I say that SharePoint is probably the Office 365 application that is best suited to the cloud is because both administrative and user interaction with SharePoint typically takes place through a Web browser, even when SharePoint is installed on premise. On top of that, it is worth noting that Microsoft Outlook can also be connected to SharePoint resources such as lists, libraries, and calendars, making it a very attractive proposition for teams.
Microsoft Lync Online
Although Microsoft Lync may be foreign to some, it has actually been around for a while, albeit under a different name. Prior to the name change, Lync was known as Microsoft Office Communications Server, which you may be more familiar with.
Lync is essentially a communications platform that supports voice over IP, video conferencing, presence information, instant messaging, and live meetings. Although the cloud-based version of Lync does not connect directly to an organization's PBX as an on-premise deployment would (which is required for the platform to integrate into your telephone system), most of Lync's other capabilities seem to be available in the cloud.
Extra Features
Microsoft [Office 365]
includes what might
be considered some
extra features that are
designed to help
organizations operate
more efficiently in the
cloud.
Beyond the suite components, Microsoft includes what might be considered some extra features that are designed to help organizations operate more efficiently in the cloud. For starters, although it isn't a feature as such, Microsoft does include a financially backed Service Level Agreement (SLA) which ensures 99.9% availability. Given the size and financial clout of Microsoft, this agreement presumably carries significant weight. That being said, Microsoft's uptime has suffered from a few embarrassing lapses in the relatively recent past, so if they want to compete with Google in this space (and they do), they'll need to bolster their network. More on this later.
Microsoft also includes free technical support, although the level of technical support that is available varies drastically based on the subscription plan that an organization chooses, which we'll discuss in a moment.
Finally, Office 365 includes an automatically updated antivirus and antispam solution. Although none of Microsoft's marketing materials discuss the specifics of this protection, it is likely based on Microsoft ForeFront.
Pricing and Availability
Although Microsoft Office 365 is still in beta testing, Microsoft has already released pricing information. How concrete these details are remains to be scene, but they surely give us a glimpse into Microsoft's picture of the market.
As is the case with most cloud-based applications, Microsoft will be offering Office 365 on a subscription basis rather than licensing it to organizations outright, and will be offering three separate plans.
Microsoft Office 365 for Small Businesses
As the name implies, the Microsoft Office 365 for Small Businesses plan is geared toward small businesses with minimal IT resources. The subscription provides access to the full suite of platforms, is backed up by Microsoft's SLA & security package, and will be priced at six US dollars per user per month. However, the technical support for Small Businesses is limited to "moderated community-based support", which sounds very much like it could be rephrased as "forums". Microsoft plans to limit subscriptions to Microsoft Office 365 for Small Businesses to organizations with a maximum of 50 employees.
Microsoft Office 365 for Enterprises
Microsoft Office 365 for Enterprises is geared toward organizations with more than fifty employees, and is significantly more expensive than Office 365 for Small Businesses, although, that being said, Microsoft will be providing two different enterprise subscriptions aimed at, as an example, existing BPOS customers, and customers who want Office Desktop software.
Enterprise users will
have access to
significantly more
comprehensive (or,
at any rate, more
responsive) IT support.
In short, pricing for Microsoft Office 365 for Enterprises varies because Microsoft allows enterprises to pick and choose the features that they want. As I mentioned, one such example is an enterprise plan for existing Business Productivity Online Suite customers, which will be priced at ten US dollars per month. Similarly, Microsoft offers a full-blown enterprise suite, which also includes the Office Professional Plus desktop software. This plan is estimated to cost about 24 US dollars per month. Interestingly, Microsoft will also be offering E-mail-only kiosk plans for users who do not have a dedicated computer, with fees starting at two US dollars per user per month.
Unsurprisingly, Enterprise users will have access to significantly more comprehensive (or, at any rate, responsive) IT support. Indeed, the support is specifically described as "IT-Level". In addition, the Enterprise offering appears to also include improved control & management systems, alongside a bevy of other small additions to the core bundle of the Office 365 suite.
Microsoft Office 365 for Education
Microsoft Office 365 for Education is designed for educational institutions who wish to provide cutting-edge Office capabilities to staff and students at a fraction of the up-front cost needed to provide those services through an in-house solution.
The educational suite differs from Microsoft's other offerings in that it includes the various Office 365 components, but omits access to Microsoft Lync (this isn't clearly explained, but presumably the assumption is that Education staff & students don't need access to video-conferencing or telephone integration). It does, however, include access to Microsoft Office Web Apps. Considered in light of Lync's access, Microsoft seems to be assuming that Education users are likely to have relatively light, but highly mobile needs.
Strangely, while it is unsurprising that the Education suite has no mention of the kinds of enhanced features available for Enterprise, it is curious that Microsoft have also not made it clear what kind of support Education users can expect. In addition, Microsoft has also not disclosed pricing for Microsoft Office 365 for Education.
Conclusion
While there is no denying that Microsoft Office 365 had demanded a lot of attention, it will be interesting to see how many organizations adopt it once it is finally released into the wild. The beta program has been up and running for some time and, while it works, there have been a few bumps in the road. I think that Office 365 will likely be popular with small businesses who lack the funds or expertise to deploy the individual Office 365 components on premise, but it seems strange that this same tier of users who won't have access to at least a basic form of the dedicated IT support they need. Similarly, I don't know how many enterprise class organizations will be keen to abandon their existing infrastructure (that has already been paid for) in favor of a cloud-based service.
Of course, the decision
largely boils down to
money, and Microsoft
evidently thinks there's
a lot of it up for grabs.
While Google Apps Premier Edition is still around, presumably demonstrating that there is a market for completely-cloud-based productivity infrastructure, truly conclusive arguments for migrating to the cloud as a large Enterprise have yet to materialize. Microsoft has previously leveled a few pointed questions regarding whether Google (a search and ad-delivery giant) is the right set of hands into which to entrust your essential productivity. Some of these points are actually very well-made, but some are perhaps a bit thin.
Either way, both companies have the technical ability to deliver in this, and while Microsoft might have the pedigree in terms of software, Google has infrastructure which has been built from the ground up to consistently deliver information to (almost) anyone on the planet in a blisteringly short space of time. Of course, the decision largely boils down to money, and Microsoft evidently thinks there's a lot of it up for grabs. They're going to be encroaching on Google's turf, and perhaps they're gearing up to do some serious poaching.