Richard Mitchell, Robert Chipperfield and Marine Barbaroux at Red Gate Software talk about designing, developing and testing Exchange Server Archiver (ESA) to beta, about the copious amounts of user input to the project, and the use of Nerf shotguns in a software development context.
Exchange Server Archiver is a simple, easy-to-use archiving product for Exchange Server.
---
Can you tell me about Red Gate's Exchange Archiving tool?
Richard:

As an Outlook user, I've got messages from when I started work in 1997. Still in my mailbox. I've got my messages there, but I don't want them in a PST file. PST files are large, unreliable, aren't compressed, and can't be backed up centrally. PST files are just awful things. ESA eliminates the need (and temptation!) for PST files.

Rob:

PSTs are only available from the machine they're hosted on. As soon as I go home, I have to use Outlook Web Access, but I've lost all my PST files. Every couple of months, I drag my messages into the PST. That means if I want to find something, I have to search in 2 places at once. In ESA we've been careful to integrate searching Exchange and searching the archive into one search facility, so you don't have to worry about whether something has been archived, you don't have to search in the archive, all you do is search, and wherever your emails are, they'll come back to you. An integrated search will find both archived and non-archived emails in one step.

Richard:

One of our goals is transparency to the end-user. Exchange Admins don't want to deal with people saying "Where's my mail, why can't I access it?" What you want is people accessing their mail exactly as they used to. From the Exchange Admins point of view, the mail is no longer in Exchange, but from the user's point of view, the mail is exactly where they left it, in the right folder, and it looks like it did when they left it. Because of our Outlook add-in, end-users can reply to and forward the archived email exactly as if it were a normal email.
We wanted to solve the day-to-day problems that everybody that uses Exchange faces. Their problems are the Stores getting unmanageably large, and 'PST hell'. This means Sys Admins need lots of Exchange Servers to deal with a very few users and their downtime is huge, because each Store takes so long to defrag and back up.

Marine:

With ESA, the end-user experience is seamless. There is little difference between the appearance of archived and non-archived mailboxes. This will lighten the workload for the Sys Admin.
I understand you have spoken to and listened to lots and lots of users before and during writing ESA. Can you elaborate?
Rob:

One of the things we're good at in Red Gate is being emotionally involved in development, so the arguments we have about features can be incredibly heated at times, with everyone arguing against everyone else.

Richard:

Thank you, Nerf [Richard referring to the use of Nerf shotguns to diffuse the tension in heated debates].

Rob:

It's not just developers trying to be lazy and testers being nasty for the sake of it.

Richard:

They're nasty with good reason. Everybody champions the user, even if it means extra work.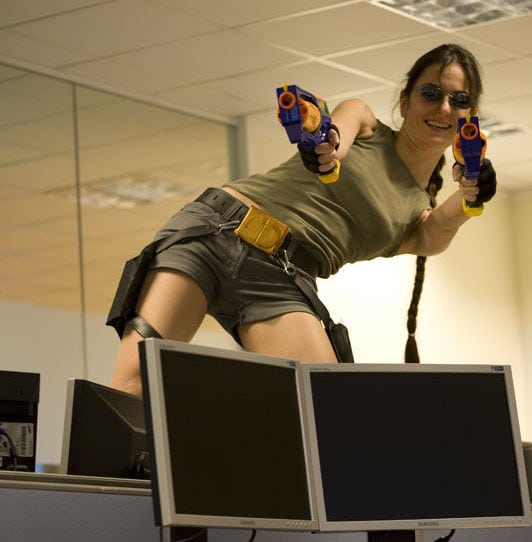 Rob:

We went out and talked to Exchange Sys Admins, asking them how they spent their days, and where their pain was. Archiving was something that came up again and again, and people were not finding solutions they were happy with. Alternative solutions were either prohibitively expensive, didn't work very well, or were difficult to use.

Marine:

We travelled around meeting IT people, understanding what their archiving requirements were and then conducted interviews and observed people working. From this we identified the profile of people who may use the tool.
What happened next after these initial conversations?
Marine:

Once we decided to enter the archiving market we started sketching UIs. We looked at the competition, but found it very hard to evaluate any of the tools because of all the barriers to trying out their tools. Red Gate's philosophy is the extreme opposite – no barriers to trying out our tools and ESA will be no exception with a trial easily downloaded from our website.
We found a competitor's product had a so-called installation wizard with more than 127 steps! At this point we gave up trying to install it. Because of this we have designed a very simple 4 step installation with the option of an advanced installation of 12 steps. Quite different to the 127 steps! Based on usability feedback we decided to go for a simple tabbing system and a dashboard.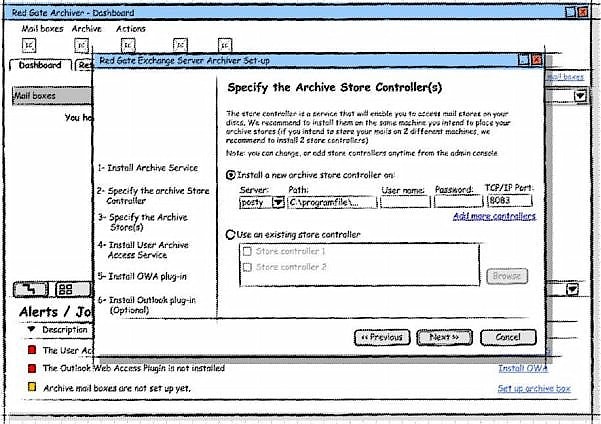 Richard:

You can't get too attached to something. When the user says something you've got to listen to them, you can't just close your ears. You have to pay attention to these people because they're using it on a day to day basis.

Rob:

Plenty of companies are focused on features, and provide a list of tick-box features for IT managers. They'd much rather give someone a whitepaper than a trial of a product. It's also quite telling that many competitors also sell a product with consultancy to install it. It might seem like a good thing that someone will come in and do the hard work but the point is it shouldn't be hard.

Marine:

If everything works fine, the only really thing you need to monitor are what rules are being archived. Almost all the users we spoke to mentioned that they have a maximum of 5 rules. We don't want to create lots of useless rules that make the system too complicated to use.

Richard:

If you don't need consultancy to install Exchange, why do you need consultancy to install an Exchange archiving tool? I just don't get that.

Richard:

Tech Ed in Orlando was nice (see blog post), having discussions with hundreds of Exchange Admins. We took our design screenshots and [technical author] Heather's architecture documents. We asked if people wanted more features, and the amazing thing was, people said no. Exchange Admins just want to manage data, and backup up their servers without duplicating 90% of their material. When we showed them our seamless user interface, the Exchange Admins said "wow, that's amazing", and we were saying to them, "Is it? It seems kind of obvious…" If you want to search your mail, you don't care if it's been archived or not.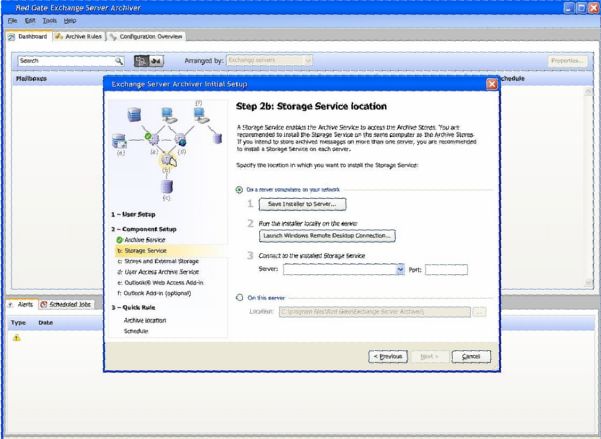 The whole project has taken you almost twice as long as you anticipated – would you care to comment?
Richard:

To start with, there were a lot of unknowns, and lots of things we didn't know that we didn't know. We've found out much more about the Exchange market, about Exchange itself, and the difficulties of talking to the Exchange interface since we started the project. We made some very optimistic estimates when we started the project. Back when we went to Tech Ed, we realized it wouldn't' be ready for the show, and that was when me moved the date of the beta.

Rob:

It's getting more certain as time goes on, and the quality will be much better.

Richard:

It's going to be a version 1, but a very, very good version 1. Our beta quality is basically production quality software, as far as we can tell. We've got more testers on this project than we've got developers, and they've been on it since day 1.
Are you doing anything novel in the way ESA is developed?
Rob:

Features wise, we have the integrated archive / Exchange search that very few, at most, seem to have managed in the past.
Development process wise, we use a lot of post-it notes, but stop short of going full-on Scrum. Instead, we've picked the bits we think work best with the way we like to develop, and ignored the bits we don't like.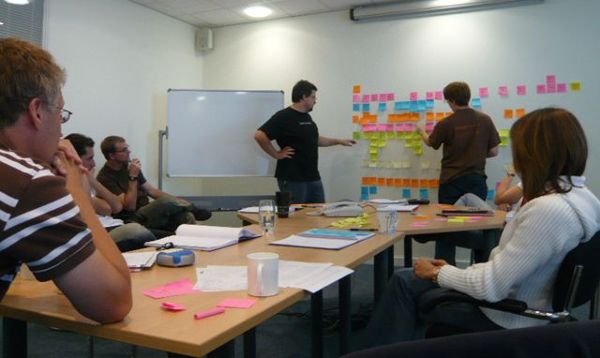 Richard:

We are also using F# as a scripting language to configure and test
the distributed system.
Red Gate's own developer tools were used to write ESA – please explain
Rob:

ANTS Profiler is probably one of the Red Gate tools I've been using most. You get one of the testers complaining it's taking a very long time to open this mailbox, so you run ANTS profiler, and then you realize that he's actually got a folder which is nested 255 levels deep. The fact that Outlook can't open this is beside the point apparently. This is still a cause for concern, but we can very easily identify that was exactly where the performance problem lay, and do something about that. Exception Hunter is another tool – if things have blown up for some reason or another, it's been really valuable to see exactly where that might have come from, and also guard against the same problem emerging in other situations. Not just seeing what has happened, but pre-emptively stop it happening anywhere else.

Richard:

We've already sold one edition of the product, and that's to Red Gate itself. We're not using it yet, because it isn't a release candidate yet, but we were going to look for an archive solution ourselves. We're dealing quite closely with our own IT Admins who have had plenty of experience with Exchange tools in the past, and when you show them the Outlook add-in for Exchange Server Archiver, they are just blown away, because the end-user isn't really aware that their mails aren't in Exchange anymore, whether they are using Outlook Web Access or Outlook 2007.
The beta program is now open. What will Red Gate use the program for?
Richard:

We want really experienced Exchange admins for the beta programme, and the more eyeballs on the software the better. We just want to get that feedback, get people disagreeing with us, because all feedback is good feedback. For example, the initial beta of SQL Response was very positively received; however after running many usability trials we found that many users had the same usability issues with the software. We felt that these issues caused unnecessary product complication. As a result the designers and developers went back to the drawing board in order to solve these issues. This was a painful decision, however as a result the product is in a much stronger position both now and in the future.
People are going to be able to give us a call, email us. We want to talk to these people, we want to understand what kind of archiving product they want, and we want to make it for them. We're not keen on getting a one way system going here. We show them the system, and they make suggestions, but even better is when they say "I get it, I understand it, it makes sense".

Marine:

We're hoping for more comprehensive user interactivity, in particular the install which is hard to test in 'non-real' situations.
And the beta program participants. What will they get out of it?
Rob:

Free t-shirts! Seriously, people will get early access to the software and be able to thoroughly try it out. Plus they can feel proud that they contributed towards the design and development of the product. And we may even throw in a free mug too.