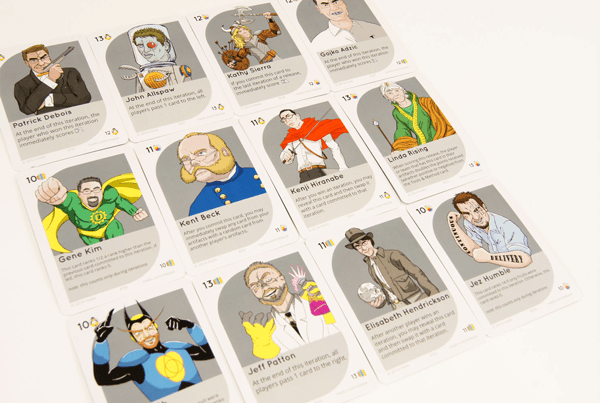 So if you are the right kind of nerd, you might have heard about Release!, a card game that appeared on Kickstarter last summer. If you haven't, the concept is simple – a light card game about software development.
Think it sounds fun? You wouldn't be alone, as over $50,000 was raised by a bevy of backers, the overwhelming majority of whom were (you guessed it) software developers. The game's success came from several camps, but perhaps most interesting was the vocal support from some pretty big bloggers, speakers, and authors in the dev community.
Twelve of these industry voices got on board to not just to talk about the game, but to be part of it as well. Submitting themselves to Inedo's illustration engine, Mark Bowtz, each of them were recreated in strange sci/fi mashups to be the Face Cards of Release!.
You know their names, but we wanted to share a bit more on who they are and why they were chosen for Release! Over the course of putting the game together we got to know them a bit better and wanted to share more about them, and so in this two-part article we'll explore a bit more about their contributions to the field, how they got into it in the first place, and of course their thoughts on games!
Jez Humble – 10 of Fruits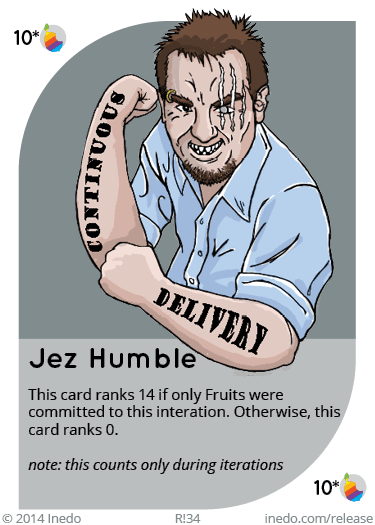 Jez, co-author of Continuous Delivery, was the first to join up with the game. He's been a speaker, consultant and trainer over a pretty broad spectrum in the dev world.
Catching on to 10-year-old Jez's love of his neighbor's ZX Spectrum, his parents surprised him with one for his 11th birthday. Fast forward several years (or rather decades) and Jez is joining the team at ThoughtWorks – his first taste of enterprise software! It was a strange experience,
"Our entire job was just to build the software that several other much bigger teams were writing and deploy it to a production-like environment, although not production — that was a completely different team."
Three months on, that team and Jez had plenty of material for his book. When that hit the stands, it was clear that a lot of people had similar experiences, and liked Jez's solutions.
While Jez generally likes to take his team out for a nice meal in order to socialize, he still makes time for games, mostly with his family. Their current highlight board game activity? Searching for all manner of hidden whatsits in Richard Scarry's Busytown.
Release! depicts Jez as battle scarred, tattooed, and ready to throw down. Is that the real Jez? Well it's getting closer, a few months ago he had a bicycle accident that scarred his face near his eye almost identical to his card picture. Coincidence, maybe…
Kent Beck – 11 of Fruits
Kent wrote the book(s) on agile development – he is literally credited with having named the whole movement.
Kent has been into programing since the sixth grade, when his father brought home an 85 pound calculator. Perhaps it was the unlikely weight of this calculator that lent momentum to his career because, since then, Kent has gone on be at the forefront of industry-changing ideas like software design patterns, test-driven development and, of course, the Agile movement.
Doubtlessly, Kent is a leader in the Agile movement, but what set him on that path? His own words sum it up rather succinctly,
"I got tired of having good technical effort go to waste because the context around software development wasn't right."
When he has a moment for games, Kent is a poker man. But he sees programming as something akin to a game, at least inasmuch as it is something he and his team do that draws them together in a social context as well as a professional one.
Kent's Release! card, the 11 of Fruits, frames Kent as civil war general with an absurdly amazing mutton chop and mustache combo, or friendly chops for the beard aficionados out there. Is this close to the real Kent Beck? According to Kent, there are a lot of real Kents, and this is definitely one of them.
Linda Rising – 13 of Fruits
Linda Rising is an author, lecturer, independent consultant, chief operating officer and all around cool lady. She played a big part in moving the pattern approach from design into corporate change.
While working on her PhD in math, Linda met a famous mathematician at a conference. She asked him what he was currently working on and, to her surprise, it was teaching COBOL. Linda had been resisting a move into computers for some time, but that chance encounter gave her the nudge she needed to change up her degree.
In 1994, Linda was a technical developer pushing her team to use design patterns. Her solo efforts didn't always have the results she was hoping for, but when she began writing "Patterns for Introducing New Ideas", and teamed up with David DeLano and Mary Lynn Manns, their collaborative efforts took off in a big way.
Now retired, Linda fills her time playing, not games, but music. She plays, teaches and directs several recorder groups around Nashville,
"Playing music with others is more than wonderful. I will definitely continue it as long as I live."
Linda's card, the 13 of Fruits, is one of the most influential cards in the game. On it she is depicted as a sage, or wizard of some sort. How close does this hit to home? Linda says you'll have to wait till she decided what she wants to be when she grows up to find out.
John Allspaw – 13 of Birds
John has been involved with operations for an impressive list of sites, including Friendster, Flickr, and Etsy. He also has authored a couple of solidly successful books on Web operations, which you can naturally find on Amazon.
Where he got his start isn't a straight forward story. It could have been the Timex Sinclair that he wrote (self admittedly terrible) BASIC games on. Or it could have been loading data from cassettes into a TRS-80 in junior high school. But it wasn't. It was running finite element analysis simulations on Crays, SGIs, and AIX boxes in the late 90s, because according to John,
"How well the job ran mattered as much to me as the results of the simulation."
That was the first step, or steps, that let do John becoming a prominent thinker in the Operations space, and he credits his success to an attraction to processes that have variation and trade-offs. Majoring in engineering, he soon appreciated the concept that nothing we build is perfect, and that because of that "messiness", operations becomes a serious consideration.
When John gets away from work and finds some time for games, he likes to go bowling with his team, or to play a light game of train dominoes.
The 13 of Birds is nuts. It's decorated with John's cyborg head, floating in a stylish mason jar, controlling a menacing robot body. Is this bizarre assemblage of machine meeting man a good reflection of John? He seems to think so,
"Humans are awesome, and getting computers to help humans is where the future is at."
Jeff Patton – 13 of Doors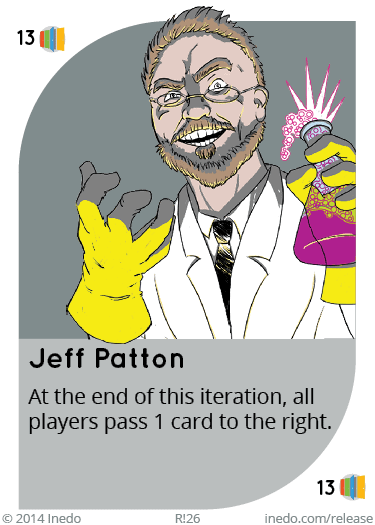 Jeff is an independent consultant, teacher, and Agile coach dedicated to the holistic design and development of successful software products. His success has him known as a leader in software UX and product design.
Starting on a TRS-80, Jeff and a childhood friend mastered the basics of BASIC by creating a piece of software that kept track of all the combat tables for Dungeons and Dragons,
"That way we could both roll dice in the computer, and it would look up the dice roll in the correct table, so we wouldn't need to carry around all those D & D books. I guess it didn't occur to us that that old computer was a lot heavier than all those books put together."
Jeff's formal training actually started in graphic design, but he quickly found his way to computer science. The outcome was a programmer with a keen aesthetic, which naturally led him to working with UIs. As he entered the Agile space, he saw a distinct hole in the philosophy: a lack of user engagement. Under his own direction, Jeff enacted a number of informal user surveys and studies which, unsurprisingly, led to better UIs. It wasn't until a few years later he realized that what he was doing already had a name: UX.
He is no stranger to games, whether its LAN-style Half-Life or Doom, or an adorable father-daughter Minecraft marathon, Jeff knows that,
"Killing zombies together is a strong family-bonding activity."
Cackling crazily and clutching a bubbling flask, Jeff is the mad scientist on the 13 of Doors. How does the real Jeff feel about the lab coated, yellow gloved mad man?
"If a mad scientist is a scientist who breaks the rules, looks for shortcuts, then I guess that's me."
Card Counting
So now you know a bit more than their names, and if you were keeping count you noticed that we are a stopping a bit short of the full twelve Face Cards. Never fear, next week we will be posting the second installment to finish the full list, and give you a glimpse into some of the most influential names in modern software engineering.
Further Reading