The picturesque Swat region of Northern Pakistan was, until a few years ago, was bustling with entrepreneurial activity with over a hundred small IT enterprises. IT worker-turned-Journalist Niaz Ahmad Khan, for example, even had his own private FM radio station, Sabaon Radio Station. Since then, Pakistan has been rocked by persistent terrorism and disorder; yet people have somehow persevered to keep their businesses going despite adversity.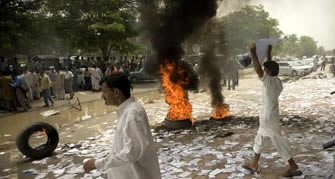 The arrival of Taliban two years ago compounded the misery for Northern Pakistanis. The struggle to maintain normal life became too much, even for youngsters like Niaz. He, like almost all of local industry, had no choice but to temporarily close up shop under the threat of violence. Even throughout this lawless period, there were businesses that manage to keep operating. Now, although the rule of law is slow to return to the region, and the local economy is nevertheless on the upswing, and despite occasional setbacks, there is a remorseless return to normality. Niaz is even planning on restarting his radio station.
The story of Niaz's determination and endurance is being repeated all across the region in many ways, but in other parts of the country, far from the strife, it all seems a world away. Pakistan is large and complex, both physically and politically, and whilst some of the Northern regions have been dodging bullets, it's been business as usual further South. When people see violence in the news, they sometimes assume it's how things are across an entire nation – "Terrorists in Pakistan? I guess the whole country's going up in smoke". Nothing could be further from the truth.
Turbulent Stability
During the last several years, Pakistan has suffered from general political and economic instability: Additionally, many Northern parts of the country have suffered the breakdown in the rule of law that has caused thousands of deaths amongst both civilian populations and armed forces, and thousands more from terrorist ranks.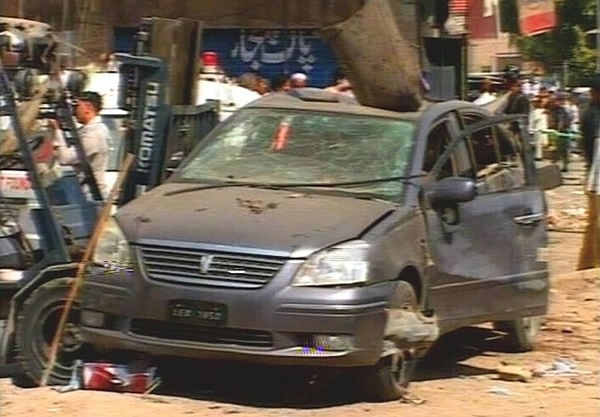 The aftermath of a terrorist car-bombing in Peshawar, Pakistan.
All this has raised questions about the future of the IT industry and foreign investment in Pakistan. However, former Federal IT Minister Awais Ahmad Khan Laghari believes that the risk factors of violence and political unrest are a secondary concern when measured against the 'primary focus' of foreign investors – the cheapest price. Talking to Simple Talk, Awais Laghari agreed that "there is no doubt that Pakistan is facing its toughest time, but there is neither anarchy nor a complete war. life is still going on as people go to their jobs, schools and mosques; and to be honest, the country is in a steady process of rehabilitating towards stability and peace."
Commentators that predicted economic collapse underestimated the tenacity and perseverance of Pakistanis in maintaining the nation's economic strength despite setbacks. Young and old are determined to create a better life. An amazing example is 10 year old Babar, son of Iqbal, who lives in the volatile D.I.Khan city (close to the city of Baitullah Mehsud's South Waziristan) in North Western Pakistan. Though young, Babar Iqbal has already introduced four new pieces of software to the market, is the world's youngest MCTS (amongst other prestigious qualifications) and received the Presidential Award in August this year.
"…it will take time to bring
back all that what we lost",
but at the time that Niaz
spoke, he was planning
to reestablish his FM
radio station, and the
spirit of recovery was
already in the air.
Whilst they don't enjoy the same celebrity as such a startling prodigy as Babar, determined Pakistanis across the nation have gone through exceptional circumstances with their business intact. Mehboob Khan, an IT worker from the Bunir district in Northern Pakistan, said "I established a DIT level institute, 'THE MATRIX ZONE', in 2003. The institute soon got itself fame and a name, and until January 2009 it was popular enough to have 200 to 250 graduates each year. I closed it in January due to regular Taliban threats, but now that peace prevails in the area again I have reopened the institution, and students have been enrolled [again]".
Niaz Khan rightly commented that "it will take time to bring back all that what we lost", but at the time he spoke, he was planning to reestablish his FM radio station, and the spirit of recovery was already in the air. In fact, despite being situated in the most troubled areas of Northern Pakistan, 3 of the 4 radio stations established in the Federally Administered Tribal Area two years ago continue to flourish. The only one that hasn't (The Wana-Waziristan Agency – hideout of late Baitullah Mehsud) was blown up by militants.
The government of Pakistan is well aware of the negative effect that the troubled recent history has had on Pakistan's image abroad, and is striving hard to change it. Given that Information Technology plays such a key role in their growing economy, much is being done to improve the nation's high-tech offerings. These include
Setting up a commission to boost education standards so as to keep the country on the bleeding edge of technology
Giving Tax exemption for IT companies till 2016.
Setting up Information Technology Parks with low rent and fiber optic connectivity.
Establishing a unique DWDM telecommunication infrastructure.
Replacing over 85% of telecommunication networks with fiber optic cables.
Assisting with the ISO-certification of A hundred and twenty five IT companies, with over 25 undergoing CMMI rating.
Industry Insights
It may seem surprising that BearingPoint, NCR Teradata, Mentor Graphics and ZTE, have chosen to locate their development and consultancy centers in Pakistan throughout some of the more difficult periods of its recent history. In fact, despite News reports being broadcast around the world of violence and hampered humanitarian efforts, Pakistan has become the 20th most attractive outsourcing destination in the world. The 2009 Global Services Location Index (opens as a PDF) of the management consultancy firm A. T. Kearney actually reported that Pakistan has climbed 10 places up the index in the last 10 years, despite all the troubles. A.T. Kearney's index ranks the top 50 countries worldwide on 43 different attributes, covering financial considerations and the availability of appropriate business environments and suitably skilled people – not just the cheapest price.
The IT sector has been bustling with activity throughout the 'troubles'; The three-day ITCN Asia Exhibition, for example, has continued to be held in Karachi, uninterrupted, since 2001. As an event where some of the most powerful global brands showcase their state-of-the-art products and services, this is the biggest IT and Telecom extravaganza of Pakistan, and it has barely had a hiccup. The Pakistani IT Industry has not been in suspended animation these past few years, nor has it been entirely reliant on foreign investment and outsourcing.
Constantly Self-Sustaining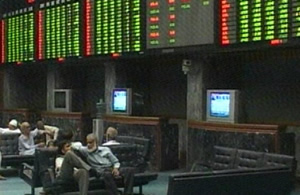 As Northen Pakistan stabilizes, so too does the Karachi Stock Exchange, accelerating Pakistan's economic growth.
Essentially, the Pakistani government is determined to fuel economic growth and broaden their economic base from the former reliance on textiles, which, even today, make up roughly 65% of total exports. To do this , it has nurtured the IT sector. By their resolve to stamp-out 'Talibanization' and terrorism, and revive judiciary and democratic structures the government have created an opportunity for international and domestic investors to take advantage of cost, labor and infrastructure benefits in Pakistan' industries. This has come at an opportune time for Pakistan's IT industry. Since the global economic crisis, companies have been rethinking their labor costs, skill requirements and exposure to risk. As a result, the IT sector, with its attractive and well-resourced technology and skills hub, is now growing fast.
It's true that Pakistan faces some serious challenges, but if, as a nation, it can keep providing a service for outsourcing IT skills internationally even while bullets are flying, that's a good sign for the future.