Designing the new Simple-Talk web site
By the end of May we will have launched a brand new version of the Simple-Talk web site. In this article, I explain my vision for the new site, and talk about the process I went through to get it to the brink of launch.
Simple-Talk Vision
In my opinion, the SQL Server community is the most vibrant of any database community out there and is served by some great sites – from the information density of Microsoft's MSDN to the lively hubbub of sites such as SQLServerCentral and SQL-Server-Performance.
So where does Simple-Talk fit in to this? My vision is for a site that offers a quality of technical journalism that harks back to the hey-day of the best industry magazines, such as Dr Dobb's and SQL Server Magazine, coupled with the intense interactivity that is possible on today's web. Simple-Talk will stand or fall on the quality and reliability of its technical content. I came to Red Gate in January 06 with 7 years experience in book publishing, specializing in databases (see, for example, Pro SQL Server 2005 and Expert Oracle). All technical articles on Simple-Talk will be peer-reviewed and professionally edited to the highest quality. Although sponsored by Red Gate, the site will retain independence and offer impartial, practical technical advice.
The second key element of the new Simple-Talk is the "talk". It always struck me as odd that a site called Simple-Talk offered no real mechanism by which people could discuss the content. No longer. On the new site you can offer your opinion on the content, post questions in the forums, talk directly to Simple-Talk authors in the blogs.
With these two simple elements put together, Simple-Talk can support and augment the expanding SQL Server and .NET communities and bring something unique and valuable to the table.
Simple-Talk Design
Simple-talk represented my first serious foray into online publishing and, although I had contributed to website design before, I had certainly never managed the whole process. The following sections give a broad overview of the way I went about it.
Research
I had a clear, vision of the direction I wanted to take Simple-Talk and, based on my own experiences on various community and news sites, a vague notion of what features would be there and how they should work.
I noted down the sites I visited regularly. I went back to them and tried to express what it was I liked about them. I analyzed sites that were clearly successful in terms of the traffic they generated and the evident passion of their community, and tried to figure out what made them tick. I talked to people about sites they liked and why, the particular site features that they valued, what kept them coming back time and again, and so on. As a result, I took inspiration from sites as diverse as WebmasterWorld and MSDN, Digg and mathworld.
I ended up with a whole host of "I like the blogs feature on splink.com that allows you to…" type notes, for each major section of the site.
PowerPoint wireframes
At this stage I was lucky and grateful to receive the help and intervention of one of our usability experts at Red Gate, Dom Reed. He worked patiently through my expansive feature wish-list, explained some of the major do's and don'ts from a usability perspective and ultimately put together a set of PowerPoint wireframes that encapsulated my major design ideas: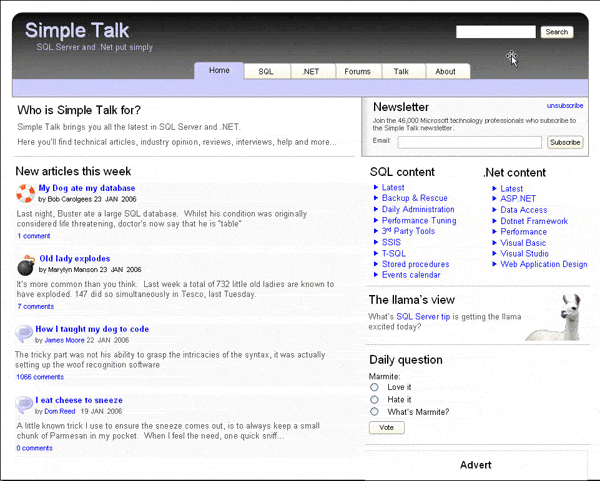 Figure 1: Initial Wireframes
The look-and-feel evolved considerably from this (as you will see shortly) but most of these early design elements made it right through to the final build. Others, sadly, fell by the wayside (Dom's beloved Llamas, for one).
I heartily recommend use of wireframes early in the design process. For me, it was the first point at which my grand designs began to adopt a veneer of reality. More importantly, it made it much, much easier for me to demonstrate the site to people and get their feedback. My early progress reports, characterized mainly by long bullet lists, had rather an eye-glazing effect on the audience. However, a set of PowerPoint slides depicting the various major sections of the site, even when fairly rough, elicited a far more energetic response.
Getting feedback
During the design process I talked and presented to pretty much everyone at Red Gate -from developers to marketing and sales people to the company directors – as well as to numerous external developer friends. Occasionally I sensed a tendency in myself to get quite protective over my vision for the sight and sensitive to criticism, but this is something I tried very hard to avoid – on the whole the feedback I was getting was just too vital. The ideas that I incorporated have made the site better, and I quickly realized that, after a certain point, a fresh pair of eyes on the site for 5 minutes was worth 2 hours of my scrutiny.
Having said this, I found that I needed to control the feedback cycle carefully and resist the urge to try to act on every piece of advice and opinion that arrived on my doorstep. I tried to:
Focus on one issue at a time and be specific about the feedback I wanted – at this stage I was thinking about a huge number of different issues. But I was much closer to this project than anyone else and I found that if I threw 5-6 different ideas into the pot in one go and asked for "feedback" I tended to get confused responses or no response at all.
Control the number of people feeding back on any one issue. It was easy to let relatively trivial details eat up a lot of time. I still wonder how many hours I lost trying to figure out what to call the different forum levels .
Building Simple-Talk
Armed with some finalised wireframes and a 10-page requirements document, I was ready to get the site built. The site was to be developed externally and, in the end, I requested pitches from five companies. Ultimately I chose a company called inpreparation. The company is based in London and is run by Jon Duckett, whose work I knew and trusted from my old Wrox Press days. The Simple-Talk site consists of CMS back-end (powered by SQL Server, of course), written in ASP.NET and customized to integrate with CommunityServer (for the forums and blogs). The front-end is written using C# Master Pages. I liked the fact that inpreparation already had in place, and in use on high-traffic sites, a lot of the components needed by Simple- Talk. It meant that the majority of the work was customization rather than writing-from-scratch.
The experience has been almost entirely positive. After the whirlwind of the design stage, I initially felt a definite sense of lull as "control" passed to inpreparation. However, it gave me an opportunity to turn my full attention back to the content. Also, Jon kept in constant contact, contributed ideas and took the design on a great deal. He was open to the inevitable "new ideas" that cropped up in the earlier stages of the build, but also kept me in check on that front, always asking for prioritization and striving to keep the project timeline in tact.
Testing, tweaking, tuning
In the 2-3 weeks running up to launch, I have spent a sizeable chunk of every day on the site, clicking around, testing out the features, looking for anomalies in the navigation or look-and-feel, ferreting out bugs. It's really brought home the maxim that when it looks like you're 90% done, you're halfway there.
You get really close to a project like this. I want it to be right. I really want people to like it. I've dreamt about the site (seriously) – on one occasion running in to my study in the early hours of the morning to note down the thought that had disturbed my slumber. Some days I feel like I'll just have to delay the launch date – that there is just too much that still needs doing in the time we have. Other days I feel that the launch date cannot come soon enough. I just need to get the site out there and see what people think. I'm sure I'll learn more about what people want from the site, what works and what sucks, in one week of being live than I could in six months of tweaking and tuning.
The new Simple-Talk
And here is how the finished site looks:
…<sound of drum roll>…: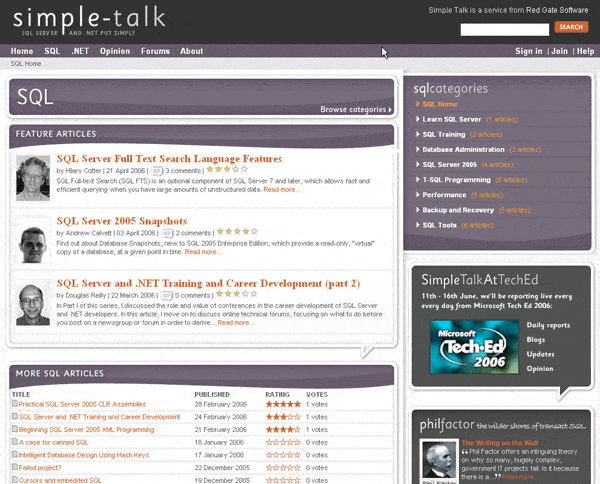 Figure 2: Final Simple-Talk design
Now that the wild applause has died down and those of you who fainted have revived, I wholeheartedly encourage your feedback, both good and bad. I want this to be a site that really adds something unique to the richness and variety of the SQL Server and .NET community. If it falls short, I need to know and I will do my utmost to fix it. Of course, if you really like it, that would be good to hear too!
Either way, please do let me know what you think: mail me at editor@simple-talk.com.
###
Tony Davis is the editor-in-chief of simple-talk.com. A renegade Physical Chemist, he started his editorial career with Wrox Press back in 1999 and has never looked back. He has extensive editorial experience in a range of Microsoft technologies, especially SQL Server and ASP.NET, and has worked with some of the best-known names in the field. If you have some hard-won knowledge that you'd like to share with the Simple-Talk community, you can contact him at:editor@simple-talk.com