In an earlier editorial, I announced the imminent arrival of a new Simple-Talk website. Well, the long wait is finally over! I really hope you'll take some time to get to know the new site and give me whatever feedback you can, be it good, bad or ugly. The content focus is the same: SQL Server and .NET, but with the occasional rant about beer thrown in for good measure, this being a particular interest of mine.
I want this to be a site that provides the content you need and works the way you want it to – if it falls short in any way, please tell me about it and I will respond to all comments.
By way of helping you get to know the new site, I present here a brief overview of the major new features.
Joining the community
If you currently subscribe to the Simple-Talk newsletter, you will continue to receive it and can continue to read articles on the site as usual. However, I obviously hope you'll consider joining the new site (be assured that this won't result in you being registered twice).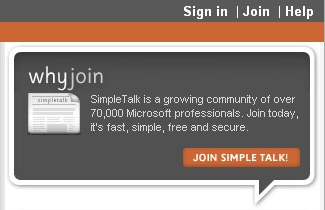 From then on you simply Sign in using your email/password combination. Once you're in you'll see Signed in as Username (edit profile) in place of Sign in and you can go in there and reset your password, add various bits of information about yourself and so on.
Note: The "Remember me" feature is currently not working – this is a known bug in Community Server. We're currently investigating possible fixes.
Once registered, you'll be able to access all of the site functionality, including the ability to:
Ask questions in the forums
Download any free tools that we offer – watch out for Phil Factor's SQL Prettifier tool, coming very soon
Enter competitions
Post comments on blogs where the owner has chosen to disallow anonymous comments
The content
All articles published on Simple-Talk will continue to be peer-reviewed and edited to the highest possible standard. I want the defining feature of ST to be the quality and reliability of its technical content. However, there are two changes that I hope you'll spot quickly.
You can have your say
You can now make your opinion heard. At the bottom of each article, you can rate the content and post your comments and questions.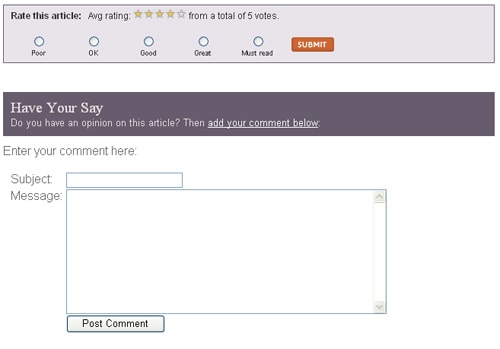 We currently allow anonymous posting of comments so you don't have to be signed in to do this. This was a difficult decision and we're obviously preparing to deal with spam issues, but I wanted to make the barrier to participation as low as I could.
The content is categorized
On the old Simple-Talk site there was no categorization of the content and after a month an article just "disappeared" into the archives. The new site is much more compartmentalized into the major SQL, .NET and Opinion sections (the latter being the areas where the likes of Phil Factor and Doug Reilly spend most of their time).
Furthermore, when the article disappears off the Home page, you can still find it easily in its relevant section. For example, if you want to see all ST articles on T-SQL programming then from the SQL Home page, you simply click on the relevant link in the right hand navigation box: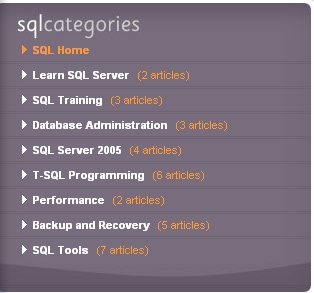 Blogs and Forums
These are two completely new feature of Simple-Talk, the former replacing the previous blogs.red-gate.com site. If you feel like you've got something to blog about, drop me mail at editor@simple-talk.com with a brief bio and a head shot and I'll get you set up.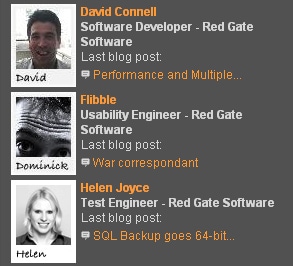 The Simple-Talk forums cover most of the core aspects of SQL Server and. NET development and administration. I tried to keep the number of forums small to start off with, with the goal of making sure the ones we did have were well supported.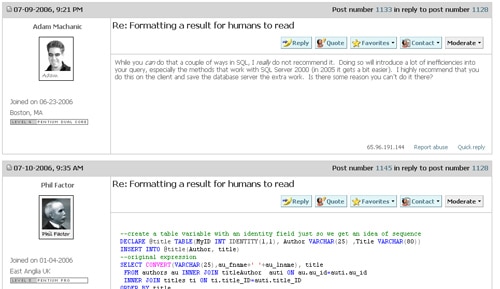 If you've hit a snag and need help, give the forums a try – there are some good people manning them who will do their best to make sure you get a quick and accurate answer. Of course, if you can help out with answering as well as asking, then all the better!
BTW: if you want one of those fancy avatars to appear by your forum posts and article comments, send me a picture and I'll set it up for you (the public "upload avatar" option is currently disabled).
Where next for Simple Talk?
This may seem like a slightly odd question to ask just a few days after the new site has gone live, but the fact is that that we're serious about this and we're prepared to work hard and invest time and money to get it right. We'll be doing roughly bi-monthly upgrades and fixes.
We'll do the first round of changes sometime in August, so if you spot anything on the site that doesn't work quite the way you'd like or the odd (small-ish!) feature that you'd like to see added then send me your suggestions (editor@simple-talk.com).
In the longer term, we're planning out more extensive expansions and upgrades roughly every 6 months. We're considering a number of Web 2.0-style options right – tell me what you'd like to see. It really could make a difference to the way the site develops.