A lot of the buzz around the DBA in Space campaign has centered on the hosts of the snazzy, 60s space-noir webisodes created by Red Gate and The Mill. Simple-Talk sent intrepid reporter Bob Cramblitt to the Roddenberry Launch Center to interview the two hosts, Brad McGehee and the fetching Miss Friday.
Most DBAs know Brad, but just how well? Read on. Miss Friday is an elusive creature who reveals her innermost thoughts here for the first time.
Bob:

Brad, you're likely the first Microsoft MVP to play a leading role in a webisode series. How did you get the DBA in Space role?

Brad:

Ever since I was the still photographer for the movie Goodbye Paradise in 1991, and experienced the lure of the big screen, I have had a burning passion to be in front of the camera. After all, Brad Pitt is from Springfield, Missouri, where I currently live, so if a small-time actor like him can make it big in the movies, then so can I. I knew Brad Pitt was going to be a success, as he grew up next door to my younger cousin, and she told me that he had star quality. In fact, she has a photo of Brad Pitt kissing her when she was a toddler. Odd, but true.

Unlike Brad Pitt, I didn't take the obvious Hollywood route to fame and fortune. That would have been too easy. With the guidance of my personal 1-900 psychic, in 2000, I started a SQL Server website with two main goals in mind.

First, I wanted to become a SQL Server MVP, which I felt would give me the edge in acting gigs I would eventually get. I am a method actor, and I really need to understand the character before I portray him.

Second, I wanted to entice Red Gate Software to become one of my website advertisers, as my psychic said that red was my lucky color, and I figured that meant that Red Gate Software would eventually become a successful software company and start making webisodes that would need a seasoned SQL Server method actor.

The psychic was right, as Red Gate grew into a software powerhouse, hired me as Director of DBA Education, and eventually began making webisodes.

Bob:

Miss Friday, describe your job as Chief Visitor Liaison Officer (CVLO) at Roddenberry Launch Center and how you got it.

Miss Friday:

My job as Chief Visitor Liaison Officer at Roddenberry Launch Center is very important. The weight of my duties sometimes keeps me from eating or sleeping or even breathing. I have installed an oxygen tank in my office.

At the moment, other than conducting tours of the Launch Center, I really am not at liberty to share with you the extent of my duties. But let me reiterate my friend, they are lengthy! Like the height of the stars in the flag, kind of like, if you measured the height of liberty personified, you know, like if liberty was to take a human form, and say "I'm liberty personified" or seeing the secret rooms in the White House. You know, something like that.

I got my job because I looked in the paper. I looked under jobs that elicited a skills set that I excelled at. Some of the skills required were: "crusader," "champion of truth," and also, "Microsoft Office skills."

Bob:

Tell me a bit about your childhoods. What interested you and what did you want to be when you grew up?

Brad:

On May 5, 1961, I watched Alan Shepard become the first American to venture into space. After seeing that, I threw out my Tinker Toys and Silly Puddy and focused the rest of my pre-school and grade-school years on training to become an astronaut. My best friend Tommy and I practiced launching ourselves into space, laying our legs up against the wall, and our backs against the floor, which of course is the correct way to simulate a real space flight at home.

Unfortunately, things took a turn for the worse in high school and college. I found out that in order to become an astronaut I would have to master math. My dreams were shattered, so when I got my college degree, I got it in the "dismal science" of economics. I figured I might as well study a topic that had absolutely no track record of being successful at predicting anything or solving any real-world problems.

But my despair didn't last too long, as shortly after getting out of college, I got my first real job, selling Apple II (did you notice the Apple IIe in the third webisode?) and IBM PC personal computers. In fact, I purchased one of the very first IBM PCs made. It had an 8088 CPU; 48K of RAM; one single-sided, 160K disk drive; and a beautiful green monochrome, character-based monitor. And it only cost me $3,500 in 1981.

This changed my entire life. With computers, at least during the day, I had something positive to think about.

Miss Friday:

When I was just a green tomato waiting for the sun to turn me into a beefsteak, by that I mean when I was waiting for my childhood form to take on the maturity of the amazing adult I now am, I wanted to be a bastion of hope, a light in the darkness.

Look, don't get too concerned. I knew there were dark forces out there, like darkness, pesky query mechanisms and haggis. I wanted to be a hero. And, I must say, I do save lives here, everyday, at the Roddenberry Launch Center. I maintain the water in the water coolers, so that people have water to live. I make sure the temperature remains at 69.8 degrees, so that people don't die of frostbite.

I also make sure that tours happen, so that if there were an invasion of the Launch Center – THERE's NOT, I am just speaking HYPOTHETICALLY – that people would know how to find the exit signs in the case of an emergency. I would show them where the exit signs are! It's a burden, doing the right thing every day, but, and I quote "you should probably do the right thing, everyday."

Bob:

Why do you think a DBA deserves to go to space?

Brad:

Given that DBAs are the masters of an organization's data, and without us, organizations couldn't exist, all DBAs deserve the best. We deserve the highest salaries, the best offices, the latest technology, massages, foot rubs, and trips into space. In fact, I think all DBAs need to negotiate all of these benefits into their next employment contract.

Miss Friday:

I have had a lot of help from a certain DBA, as of late. I am not sure who he is, but he's been finding out some stuff for me, and he sent me a packet of Oreos, so I would have something to eat.

Bob:

Miss Friday, have you ever dated a DBA? Details, please.

Miss Friday:

Miss Friday does not date. She likes her Kindle, and her 17 cats keep her company. Their names are Hero, Miss Friday is Great, I Like Oreos, Neil Gaiman's Cat Zoe, Milk Tears Are Not So Cool Especially From an Android, Data, Ford Prefect, These Aren't the Droids You Are Looking For, Kaaaaaaahhhhhhn!, Ricardo Montalban Was a Hero But He Wore Implants, Cat's Mom, Mr. Frodo Eats Bears, Church Hill, Greebo, Neo's Cat, Ripley, and I Hate Myself.

Bob:

What do you think are the best and worst characteristics of one another?

Brad:

Miss Friday is a real prima donna. She was very demanding on the set. She was asking for caviar, champagne, and especially Oreos the entire time we were shooting the webisodes. My personal 1-900 psychic said that she probably needs therapy.

Miss Friday:

Brad has some serious personal hygiene problems. Have you seen that guy? He literally sweats green. I don't even think there is a figuratively for that. Get off the wheatgrass you weird hippy! You smell like a meteorite dipped in bad wind. Yeah, I said wind, but I also said meteorite. Who gets boils, anyway? Uh, people who don't change their pillowcases. Everyone knows that you should change your pillowcase before the poles of the earth reverse their metallic charge. That's magnetic! Wow! You are such an idiot that you read that wrong! Other than that, Brad's a pretty nice guy. He got me some Oreos once and, he's from Missouri, so he has some serious BBQ recipes.

Bob:

What's the story on Jar-Jar and is she Launch Center trained?

Brad:

Jar-Jar is really just a dog named Poppy. She is not a trained actor, and she is even more of a prima donna than Miss Friday, always making demands to be taken out on a leash for a walk in the grass. She wouldn't want me to say this, but she prefers cat food over dog food. What can you say, actors are oftentimes odd characters.

Miss Friday:

Miss Friday is glad to be free of Jar-Jar. He is an imbecile. He was never cut out for space, unlike my awesome cat, Mr. Frodo Eats Bears. Eats Bears could disintegrate Jar-Jar with a stiff glare from like three inches away. Or, like 50 feet away!

Bob:

What do you do when you're not on the set? What are your hobbies or pastimes?

Brad:

When I was not on the set, I was on the phone with my agent, lining up new acting jobs. Acting just might be my real calling.

Miss Friday:

When I am on set, I save lives. When I am not on set, I save the earth. Even the Belgians.

Bob:

I've heard from inside sources that there were some strange things going on at the set, perhaps hints of sabotage and strange behavior. What do you say to that?

Brad:

One odd thing that I noticed shortly after filming began was that my skin started to turn gray, then green, then I got these odd-looking boils on my skin. Not sure what caused this, but the makeup lady did the best she could to cover them up. I don't think you will be able to see them under my regular makeup. Oh, and after the explosion in the first episode, I began to feel a little bit odd, not able to fully articulate when speaking, and I had a lot of cramps in my legs and arms. You might notice this in a few of the webisodes, but I think the director will use CGI to make me look perfect.

Miss Friday:

I haven't heard anything of the kind. And, if I were you, Bob, I would do some serious thinking about my sources of information. Or, rather, your sources of information. You know, where you came up your information. That's what a source of information is.

Bob:

What will you do when the five-week competition is over?

Brad:

I am still waiting to hear back from my agent about all of the acting offers I am expecting to get after all of the webisodes air. I really want to appear in a film with Angelina Jolie. Take that Brad Pitt. Until that happens, I'll probably stay with Red Gate Software for the time being.

Miss Friday:

Miss Friday will be going back to her super boring real personality Nell Mooney, who is like some actress chick. She does missions too though. Like watching if water will boil if you don't look away, and like discovering what dug up the bulbs in the backyard, and also seeing how fast you can make toast brown.

Bob:

Any parting remarks?

Brad:

Whoever thought that a SQL Server MVP, a DBA no less, could make the transition from turning queries one day to being three times removed from Kevin Bacon the next day? Life can be interesting sometimes.

Miss Friday:

Bob, do you have any Oreos? I like the double-stuffed ones. But also, the ones with mint are very nice.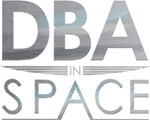 For your chance to win a trip to space, and to watch the webisodes, visit the DBA in Space site now.