For the past several months I've been working on something new. This is a hosted service for maintaining cloud applications cunningly named Red Gate Cloud Services. It's been live since the beginning of the year and it's free to try out too.
Schedule SQL Azure Backups
Simply put, you can schedule backups of your SQL Azure database to be performed really easily, I've been driving to keep the UI as clean and modern as I can and with the help of tools like twitter bootstrap and MVC3 I feel I've achieved something quite special.
Not skimping on the features, this allows you to set a retention policy, get a transactionally consistent backup and recieve e-mail alerts for success and failures.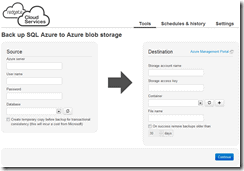 Backup your Azure blobs to Amazon S3
The next full scale tool feature that is available is that you can just as easily schedule a backup of your Azure blobs to Amazon S3. It really is this simple to use. In fact a few customers (yes people really do pay $10 a month for this) have said they'd like the option to synchronise whole storage accounts – so I'll make that happen.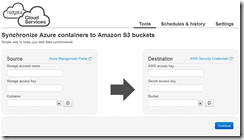 Community
There is an active community forming around the tool to help guide the development, after all in order for this tool to be truly useful I need input of what you'd like to get from it. This is being developed as a lean startup within the fold of Red Gate so I don't have to worry about paying my mortgage while developing it, which is nice. If you're not familiar with the term lean startup you should really read Eric Ries' book
Did I mention it's free to try it out yet? Also, you can check out its development history by looking at the development announcements blog