The public cloud-based Infrastructure as a Service (IaaS) marketplace heated up in June 2012. Microsoft announced new Windows Azure Virtual Machines, Virtual Networks, and Web Sites as a complete IaaS package at a Meet Windows Azure street festival in San Francisco's Mission District on June 7. Derrick Harris outed budget-priced Go Daddy Cloud Servers in a June 16 post to Giga Om's Structure blog. Finally, Google made the expected announcement of its new Compute Engine (GCE) service at its I/O 2012 Conference on June 28. Measured by press coverage, the GCE announcement made the biggest waves. Breathless tech journalists produced articles, such as the Cloud Times' "Google Compute Engine: 5 Reasons Why This Will Change the Industry", asserting GCE would be an IaaS game changer.
Au contraire. GCE is an immature, bare bones contender in a rapidly maturing, crowded commodity market. As of mid-2012, Google Cloud Services consist of a limited GCE preview, Google Big Query (GBQ), Google Cloud Storage (GCS, launched with BigQuery in May 2010) and Google App Engine (GAE, a PaaS offering, which became available as a preview in April 2008.) Market leader Amazon Web Services (AWS), as well as Windows Azure and Go Daddy, offer Linux and Windows Server images; GCE offers only Ubuntu Linux and CentOS images.
GCE Is a Limited Access, Pay-As-You Go Beta Service
Google is taking on board a limited number of hand-picked early adopters who must specify the project they intend to run on GCE in a signup form text box. GCE currently is targeting compute-intensive, big data projects, such as the Institute for System Biology's Genome Explorer featured in I/O 2012's Day 2 Keynote (see Figure 1).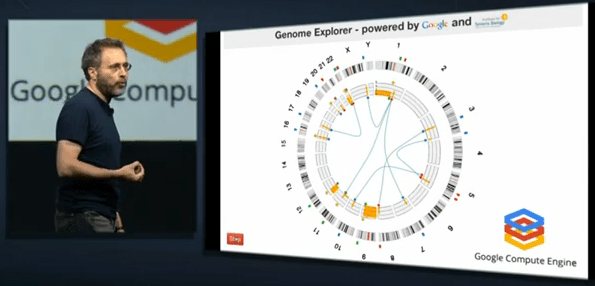 Google Senior Vice President of Engineering (Infrastructure), Urs Hölzle, demonstrated the Institute for System Biology's 10,000-core graphical Genome Explorer during Google I/O 2012's day two keynote at 00:41:11 in the video archive. A transcript of Hölzle's GCE announcement is available here.
Google is famous for lengthy preview periods. According to Wikipedia, Gmail had a five-year incubation as a preview, emerging as a commercial product in July 2009, and App Engine exited an almost three-and-one-half-year preview period in September 2011. Microsoft's new IaaS and related offerings also are paid Community Technical Previews (CTPs), but Windows Azure CTPs most commonly last about six months. AWS is the IaaS price setter because of its dominant market position, and both Windows Azure and GCE prices approximate AWS charges for similarly scaled features (see Table 1.) Go Daddy's Cloud Servers are priced to compete with other Web site hosters, such as Rackspace, and aren't considered by most IT managers to be an enterprise IaaS option.
Table 1. A comparison of prices and features of Google Compute Engine n1-standard-1-d through n-standard-8-d instances, Windows Azure virtual machines, and AWS Elastic Compute Cloud (EC2) instances as of mid-July 2012. Prices shown for AWS are for North American data centers (US East – Virginia and US West – Oregon); prices for US West – Northern California, EU – Ireland, Asia Pacific – Singapore, Asia Pacific – Tokyo, and South America – Sao Paulo are higher. Prices and feature sizes for AWS EC2 are for Standard On-Demand Instances, and for blob storage are for Standard Storage/Reduced Redundancy Storage.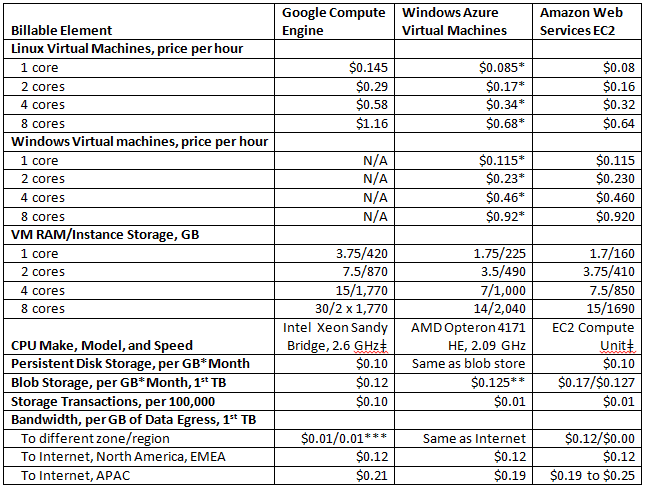 * Windows Azure Virtual Machine prices shown above are at release (general availability); prices are discounted 33% during the preview period.
** For Geo Redundant storage (GRS); Local Redundant Storage (LRS) is $0.093 per GB*Month.
*** Egress to Google data centers in different regions pricing is for the preview only; prices will increase to Internet rates upon general availability.
? AWS states, "One EC2 Compute Unit provides the equivalent CPU capacity of a 1.0-1.2 GHz 2007 Opteron or 2007 Xeon processor." Google claims their standard core delivers 2.75 Google Compute Engine Units (GQs) and implies, without stating, that one GQ equals one EC2 Compute Unit.
AWS provides a free usage tier for new EC2 customers, while Google offers a limited-duration free trial quota for GCS only (see Table 2.) Microsoft offers a three-month free trial of Windows Azure with resource quotas similar to AWS'. Google's reticence to provide a free tier for GCE resources, even if only temporary, might be the result of the brouhaha that erupted when the firm reduced in May and June 2009 the free default limits for Google App Engine developers.
Table 2. A Comparison of Google Free Trial and AWS Free Usage Tier offers.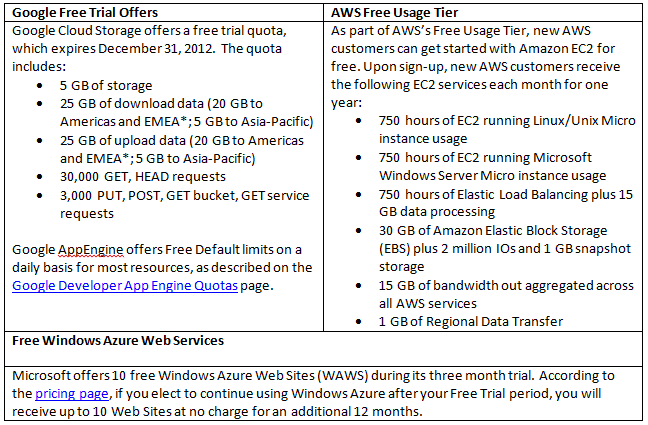 It's also worth noting that GCE is missing many of the customized accouterments that Microsoft offers for Windows Azure, such as the easy-to-use Apache Hadoop on Windows Azure CTP with its interactive JavaScript and Hive console, virtual private networks, enterprise-level relational database management systems like SQL Server and Windows Azure SQL Database (neé SQL Azure), content delivery networks, Active Directory services, Windows Azure Active Directory (WAAD), and a Service Bus.
Factors Differentiating Google's IaaS Offering
What Google has going for its IaaS entrant is demonstrated capability for acceptably reliable networked operations at scale. According to slides displayed at Google I/O 2012, the firm had 1 million apps running in GAE, 100 million GB in its search index as of 2010, 425 million current users of the Gmail service, and was handling 60 hours of video uploaded to YouTube every minute in 2012. Urs Hölzle remarked in his keynote (at 00:36:15) that GAE is supporting "… 7.5 billion hits per day, every day, and 2 trillion data store operations per month. That easily makes it the largest public, NoSQL data store infrastructure in the world." Google owns six data centers in the US, two in Europe and three in Asia; it also operates a large scale private network between them. Google is one of the few cloud service providers to identify the precise geographical location of each owned data center.
Hölzle also emphasized the performance and security of Google's private network between its data centers, in contrast to conventional Internet connections between zones or regions. He also claimed (at 00:44:17) that GCE delivers "up to 50% more computer per dollar than other cloud providers, so you don't have to choose between getting the best performance and getting the best price." Adding to data security is GCE's at-rest encryption for all storage, whether local or networked. GCE takes advantage of the hardware encryption features of the new Intel Xeon processors to minimize its performance hit.
Another GCE ace in the hole is the remarkable speed with which users can scale out a project by adding instances. Hölzle started his Genome Explorer demo with 10,000 instances (at 00:41:11) with 10,000 cores and ended (at 00:45:18) with an on-screen core counter registering 771,886 (see Figure 2, which was captured at 600,000 cores).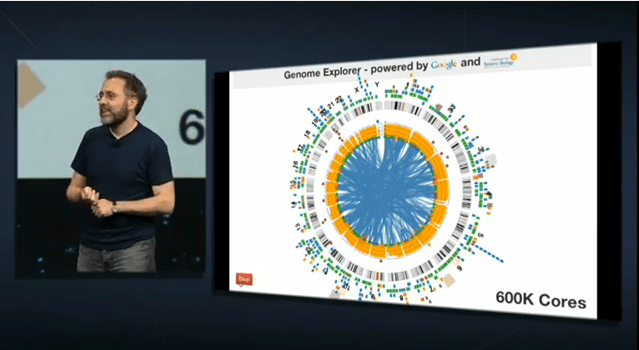 Figure 2 shows Urs Hölzle's demonstration of the Genome Explorer running with 600,000 GCE cores. The blue lines in the center of the circle represent "… associations between genes, mutations, and other factors. And each of these associations is shown with a blue line like that."
That's 761,886 cores in 00:04:07, which corresponds to 3,085 cores added per second. It currently takes me about 15 minutes in the Management Portal to stand up one large, 2-core Windows Azure virtual machine. Of course running 600K cores isn't appropriate for impoverished individuals or institutions; it costs about $2 million per day.