Simple-Talk is renowned for providing high quality, practical and accessible technical content for IT professionals who work with Microsoft technologies. With that in mind, we've been working with Exchange MVP Jaap Wesselius to bring you a quick and easy Practical Approach to the new Exchange Server 2010 platform.
Jaap's Practical Approach draws upon 14 years of Exchange Server experience to deliver an easy-to-use, slim and distilled guide to 2010, full of useful examples and top tips for SysAdmins, both new and experienced.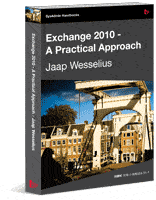 We've teamed up with Jaap to offer you a free digital copy of his new book, "Exchange 2010 – A Practical Approach", comprised of 5 chapters (180 pages) of carefully chosen Exchange knowledge. An excellent way to get yourself up-to-speed on the latest incarnation of Exchange Server, complete with how-to walkthroughs for installation and co-existence.
Exchange 2010 – A Practical Approach By Jaap Wesselius
Table of Contents
Chapter 01: Introduction to Exchange Server 2010
Chapter 02: Installing Exchange Server 2010
Chapter 03: Exchange Server 2010 Coexistence
Chapter 04: Managing Exchange Server 2010
Chapter 05: High Availability in Exchange Server 2010
Why read this book?
"I honestly think this
is a really
good technical guide
on Exchange 2010…
it's concise nature
is what makes
it fundamentally usable."
Steven LJ Johnson.
As the backbone to so many commercial communications infrastructures, Microsoft's Exchange Server technology has become a critical component in many an IT department. With the latest incarnation of Exchange Server on the horizon, and indeed almost upon us, it is becoming increasingly urgent that SysAdmins get to grips with this latest-and-greatest technology. What's new? What's gone? What's easier or harder? Jaap touches upon all these essentials.
As a practical field-guide to Exchange Server 2010, this book will tell you exactly what you need to know to get started with upgrading, installing, configuring and managing your new Exchange Server. If you need to get to grips with Exchange Server 2010 fast, or want a short, to-the-point, practical guide to Microsoft's latest offering, then you should read this book.