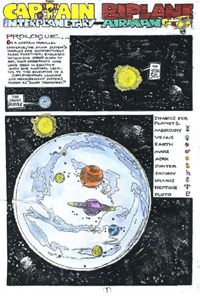 Captain Biplane is an intrepid airman from a parallel universe, where Technology has developed in a very different way. In the Solar Bubble, the solar systems' worlds are comparatively close together, within one great globe of air. Aircraft fly within the vast common atmosphere between the worlds. Space travel developed much earlier, and wasn't much of a step for mankind at all. Back in the Solar Bubble, it is just homes that had architectures, gates, windows and net curtains.
Since the Captain Biplane series was first created in the 1960s, the Steampunk classic Science-fiction adventure has become a cult with geeks. The wildly inventive comic strip was exhibited but never officially published, and was distributed as monochrome copies redrawn by the artist from the original colour artwork. It was the creation of Bib Edwards, who went on to illustrate the 'Dodo' children's books. Bib worked on the project for twelve years, from 1965 to 1977, using a style inspired by 1950s comics such as the Dandy, Beano and, above all, Captain 3D. However, Bib himself gives Dan Dare as his inspiration and Edgar Rice Burroughs as his chief influence.
It was finally exhibited in art galleriesin England, once being described by a reviewer as 'A cross between Roy Lichtenstein and The Beano'. The plot is a meandering battle between a First-World-War flying ace, improbably battling a range of fantastic alien creatures flying spaceships easily identifiable as household objects such as Vacuum cleaners, soap bottles, and mowing machines. It is in full colour and breathtaking in its imagination and scope.
Bib tried for years to get the canon of work published in its original form, but the colour printing process of the time could not economically reproduce the work and eventually much of it was sold off individually as works of art and is now held in many private collections around the world.
Bib redrew most of the original series in monochrome A3 portrait format and distributed it to friends, and at comic-book conventions in an A4 photocopied form, and this is the form of Captain Biplane that is currently best known. However, he was persuaded by Simple-Talk to colour this A3 form in order to distribute it as an eBook, and has spent the past year working on the project.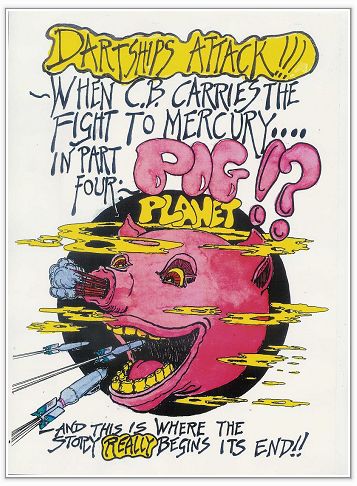 About the Author
Bib Edwards: Bib worked as a professional artist for many years, and then taught Art at Old Buckenham School. Bib's most renowned work was in the East Anglian Landscape school based on the work of the artist John Nash, John Addyman, Cedric Morris and the Benton End school. He became well-known as an illustrator of children's books, including the Dodo series. Bib is now retired and living quietly in a Suffolk village.
The PDF eBooks can be downloaded from the bottom of the article or from here: