Microsoft SharePoint 2010 Business Intelligence Unleashed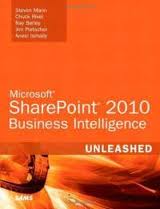 by Steven Mann, Chuck Rivel, Ray Barley, Jim Pletscher, and Aneel Ismaily
Microsoft business intelligence. Microsoft BI. What that means depends on whom you ask. It can refer to features in SQL Server. Or SharePoint Server. Or Excel. It can refer to some of them. It can refer to all of them. Head to the Microsoft BI home page for an answer and you have to maneuver through a maze of marketing hype and jargon-juggling hijinks-empower, insight, interactive, business critical, integrative experience. Ugh.
That's not to say Microsoft doesn't have a lot to offer in the area of BI. They just have a difficult time talking about it. And all those moving parts that keep their BI machine running can make it even more difficult to come up with a comprehensive understanding of what they're trying to sell. No wonder it's so tough to figure out how all the parts fit together, especially when so many of them seem to be flying in different directions.
Fortunately, the authors of Microsoft SharePoint 2010 Business Intelligence Unleashed address this issue head-on by providing a comprehensive look at how two of the most important pieces of the Microsoft BI puzzle-SQL Server and SharePoint Server-fit into one neat little package. The book reflects the tight integration between the two products and how they've become inextricably tied in the ever-unfolding Microsoft BI drama.
Written specifically to SQL Server 2008 R2 and SharePoint Server 2010, the book focuses on how Excel Services, Reporting Services, PerformancePoint Services, Visio Services, and PowerPivot are implemented in SharePoint Server to deliver BI data via the SharePoint web interface. And the authors waste no time getting to the topics at hand, soaring effortlessly past all the Microsoft marketing lingo to deliver concrete and useful information in simple and practical terms so you can deliver BI services as quickly and painlessly as possible.
But readers beware. The authors assume you already have some basic knowledge about SQL Server and SharePoint Server. They don't waste time lingering too long on background or theoretical details but instead cut right to the chase of BI integration. From one chapter to the next, they provide careful explanations and instructions on how to perform the tasks necessary to make BI happen. The absolute beginner might find this book a challenge, but most other readers-those who have at least some familiarity with the BI tools-should be fine. The book provides carefully laid-out instructions that explain each step and support those instructions with clean, direct explanations that are relevant and to the point. When the authors discuss the Excel Services configuration or the Reporting Services installation modes, you can be sure you're getting a good look at the landscape.
At times, it might be nice to have a bit more information to help flesh out a topic, such as when and why we should use one tool over the other. For instance, what are the advantages of using Visio Services to present data? Why not Excel Services or Reporting Services, both of which are much better equipped to display BI information? Even a few additional details about such topics as the unattended service account in PerformancePoint Services would be helpful. In these cases, a little more information would go a long way in providing a better context for understanding the topic at hand and how it fits into the broader spectrum of the BI environment. Still, I'm willing to concede that, given the breadth of these services, the authors no doubt had to make difficult choices about what to include and what not to include, and more often than not, they made the right decisions.
So it's not surprising that some topics should receive only a cursory treatment, when you consider the complexity of the various BI components. So if you get this book, know that in some cases you'll need to seek out additional resources to augment the information here. But overall, the authors show good instincts in deciding what to keep, while pulling together nicely Microsoft's seemingly hodgepodge approach to BI. The book is well organized, easy to follow, and best of all, makes a lot of sense. And if after putting the book to use you still feel a need for a bit of the Microsoft product rah-rah-rah, go to their website (https://www.microsoft.com/en-us/sql-server/business-intelligence) and luxuriate in the full gamut of scintillating marketing lingo. There's plenty to keep you busy from now until the cows come home-or until the next release of SQL Server.
Delivering Business Intelligence with Microsoft SQL Server 2012, Third Edition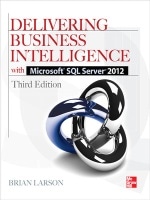 by Brian Larson
Microsoft BI is a behemoth. A creeping crawling colossal behemoth. And at its core is a gargantuan titan in its own right: the SQL Server suite of tools. So when I see a book with the title Delivering Business Intelligence with Microsoft SQL Server 2012, I expect one that pulls together the wild and unwieldy appendages into a single, comprehensive bundle, with SQL Server holding the reins. But that's not quite what I found. What I found is an exceptional book about SQL Server Analysis Services (SSAS) and an okay book about most everything else: SQL Server Integration Services (SSIS), SQL Server Reporting Services (SSRS), SharePoint Server, Excel.
But first a step back. When I reference Microsoft BI's behemoth nature, and by extension that of SQL Server's, I mean, in part, it comprises a number of components that each easily merit their own books. In fact, many of them do. Countless publications are devoted specifically to SSAS or SSIS or SSRS, along with other Microsoft BI technologies, each book representing an important piece of that ever-growing BI pie. So the likelihood that an author can pull together Microsoft BI's extended reach into a single volume is slim at best, if not outright impossible, at least if that author hopes to have a book worth the paper-or electronic file-it's written on. So that's what Brian Larson, the book's author, was up against when he set out to write about Microsoft BI. And given these circumstances, and the ever-changing nature of Microsoft BI in general, I'd say he's done a remarkable job making the best of an untenable situation.
And there's good reason he should focus on SSAS. A comprehensive BI solution with SQL Server in the backend will undoubtedly require the processing, aggregating, and mining capabilities that SSAS offers. And Larson leaves few stones unturned when digging into the intricacies of an SSAS setup, covering both the multidimensional and semantic models, as well as the extensive data mining capabilities. He explains what each component is, how it works, and what steps to take to implement it. Throw into that mix a bit of multidimensional expressions (MDX), and you have a darn good picture of SSAS.
Some readers might balk at the way much of the information is presented (for both SSAS as well as other topics). Larson frontloads each chapter with of the concepts and background information necessary to understand each topic, and then follows with a "Learn by Doing" section that walks readers through the process of carrying out each task related to that topic. Such a learning method could prove a challenge for some readers because it requires them to absorb the theoretical and foundational underpinnings upfront and maintain that information in their heads when they perform the actual steps, which include little in the way of explanations or figures. On the other hand, others might appreciate this methodology, focusing on the concepts first and then being able walk through the steps unencumbered. I think this is as much about individual preference as anything. Personally, I'd rather a balance between the two. But for some, Larson's method might be golden.
However, to focus solely on this learning structure misses the point of the publication. When it comes to SSAS coverage, Larson's book rocks. And so do many of the extras, such as the details about SQL Server Data Tools and SQL Server Management Studio, two tools integral to BI development in SQL Server 2012. And tying BI to decision-making early in the book provides yet another perspective important to understanding the big BI picture (although I think the first chapter could have been edited down to make room for other concepts specific to Microsoft BI). Plus, including information and figures on such topics as the BI delivery chain offer more enticing bonuses. There's even a handy chapter at the end of the book that provides an overview of how to integrate BI into your apps-a topic in itself that could take many volumes to cover completely.
So with all this great information squeezed into the book, it's not surprising that SSIS, SSRS, and other BI components take a back seat. The SSIS chapters serve more as a reference than a how-to manual, and the SSRS material barely amounts to a full chapter. Data warehouses and data marts also receive a light touch and are discussed only in terms of OLTP data sources, rather than the myriad of sources that often drive a BI solution. So you need to be aware of what the book does include before you buy it. But if you decide this is what you want, you'll find that Larson does a fine job explaining how the pieces fit together, particularly with regard to SSAS, while offering an excellent starting point for launching your BI career. Just know you'll need to seek out other sources to augment your BI education. But that's to be expected. What book can possibly do it all?
Data Analysis and Data Mining using Microsoft Business Intelligence Tools: Excel, Access, and Report Builder with SQL Server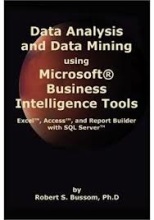 by Robert S. Bussom, Ph.D.
When I open a book on technology for the first time, I try to do so without jumping too quickly to conclusions about the book's quality or usefulness, preferring instead to wait until I've worked through a number of chapters before throwing it against the wall or setting it upon a pedestal, neither of which works particularly well in this age of e-books and e-readers and tablets.
But I couldn't stop myself with Robert S. Bussom's book on data analysis and data mining. For whatever reason, Bussom had me hooked right from the start, not in that compelling, what-happens-next, streaming narrative sort of way, but rather in the recognition that this is someone who writes from his own experiences and hard knocks in the BI trenches. Unlike many technology authors, who've spent their time sequestered in the isolated worlds of database and application development, Bussom has stood at the front lines, using the tools that were designed for people like him to do the types of things they do: trying to make sense of the confusing, conflicting, conflated data that the rest of us would rather avoid.
So it was with this sense of expectation and confidence that I delved headlong into his book. And I was not disappointed. Bussom fills a niche that has been left, for the most part, unfilled, while providing a useful and trustworthy guide into the enigmatic world of statistical analysis, seen through the eyes of the Excel and Access power user.
Yet this book is not for the faint of heart. With its focus on data analysis and data mining in Excel and Access, the book reaches far beyond a mere treatise on pivot tables and pivot charts and instead dives headlong into the fundamental components that make data analysis possible in these environments. Not only should readers be versed in the principles of data analysis itself, but they should also have a moderate level of expertise in both Excel 2010 and Access 2010, at least well enough to follow along as Bussom leads them through his intricate maze of data analytics. Even a bit of knowledge about the SQL Server suite of BI tools might be helpful. Although the author provides an overview of these tools, readers should at least have some idea of what connecting to a SQL Server data source is all about. Still, this is not a book about SQL Server. As Bussom explains in the introductory chapter, the book focuses on Microsoft BI data analysis from the outside of SQL Server looking in, rather than the other way around, so outside is where the emphasis lies.
Indeed, the focus of this book is first and foremost analytics, and it is that focus that drive's its organization and content. From beginning to end, the book follows a comprehensive flow that first provides an overview of data analysis and the SQL Server tools, and then describes how those tools apply to data analysis within the Excel and Access environments and how to use those environments to perform that analysis. Bussom is careful to explain why he includes the information he does and why he leaves out other information, and what he does include is thorough and full of practical, useful advice. Even if you don't agree with the choices he made on what to include, you understand why he made them and why they might be important.
By the time you get to the details of time series forecasting, prediction queries, and data mining cell functions, you have the foundation you need to better understand the variables that go into comprehensive data analysis and what it takes to put these analytical concepts to use. Bussom stays true every step of the way, going so far as to provide such details as how to use Excel tools to check for bad data and transform that data. Best of all, the information is presented in a way that follows the logical progression of how you would perform these tasks, explaining concepts often glossed over or completely missed in other publications.
The author also provides plenty of examples to illustrate those concepts and to explain how to carry out specific tasks. But this is not a simple how-to book with consecutive steps that run through a couple of make-believe scenarios that might be threaded throughout the book. Instead, each section stands on its own merit. The examples might tie into earlier ones, but the details provided are specific to the task at hand and are more about illustrating concepts and learning how something is done than they are about simply walking you through specific procedures. What this leaves you with is a sense that you're participating in real-world problem solving, not just playing with an arbitrary set of data that has no relevance to actual analysis. When Bussom discusses the Excel data modeling tools, for instance, and the data mining algorithms they support, you get a mix of details, explanations, and examples that are informative and complete. It's up to you to take that information into the field to use as you see fit.
The one issue I have with this book is that it needs a more thorough edit to make transitions from one topic to the next clearer and to address a number of copyediting issues. Yet these issues are minor when considered in context to the book as a whole. Not only does the book carefully walk readers through the process of analyzing and mining data in Excel and Access, but it also includes an extensive set of indexes that cover everything from acronyms to data analysis concepts to generating queries. Anyone who has a working knowledge of Excel and Access and is not scared away by such terms as Markov chains and Bayes Theorem will have much to gain from this book. Bussom provides the specifics that have been missing elsewhere and does it from a perspective of experience and knowledge, without wasting time on inconsequential details or unrelated information. Indeed, Bussom remains true to his purpose from beginning to end. The book touts itself as a resource for the analyst who wants to use Microsoft's BI tools to analyze and mine data. And that's exactly what the book delivers.