The first week in August at Red Gate was certainly an odd one. While Red Gate are known in Cambridge for being a relaxed and friendly place to work, it doesn't typically involve a group of nine 11 to 18-year-olds taking over a meeting room and drinking plenty of (the free) coffee!
During the first full week of August, the philanthropic organisation Rewired State arranges for Young Rewired State (YRS) Centres to be created up and down the country from Aberdeen to Brighton. In each of these centres young coders cram into offices, schools, universities and libraries. Anywhere with wi-fi and power. Coffee helps too.
The idea of these gatherings is for the young people to get out of their bedrooms where they hack away at code – either their own or someone else's. They're doing it for fun, to try and improve the world or to learn something new. They gather in groups and on a typical Monday they'll all "storm" their ideas and decide who wants to do what for the rest of the week.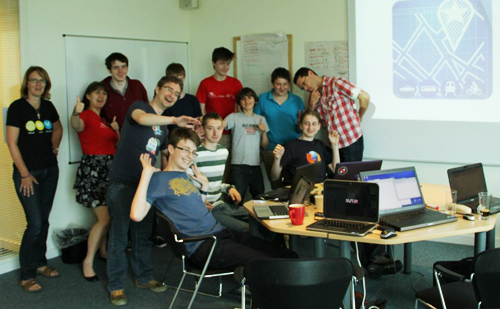 With nine participants in Cambridge, we were fairly average in size. It was a shame that we didn't have space for all 14 that applied. This is something we hope can be addressed for next year.
The nine participants all decided they wanted to work on a project they called 'A2B' – a social route planner allowing people to comment on why they should choose one route over another; whether that's because the coffee is better going via a particular train station or waiting 15 minutes for a less busy train. A solid idea and one that would give the participants a fair challenge.
The groups split quickly into a 'Back end' & 'Front end' team, with Python, JavaScript, HTML, SQL, Java and Objective C all in the mix. It really is fascinating to watch how quickly a group of uninhibited and modest people can organise themselves.
The team built a website, Android app & iPhone app during the week. It was humbling to watch the youngest in our group (aged 11) not only learn and use jQuery for the first time, but also teach the two older developers in the web team and make sure the work was distributed so that everyone had something to get on with. They certainly didn't teach that in my primary school.
At the end of the week the participants all pile into buses, trains and cars for a meet in Birmingham for the 'Festival of Code'. Here they present to their peers and a panel of judges in the heats in the hope they can progress to the Finals where this year they presented to Conrad Wolfram and other famous geeks from the tech sector. Winners are then chosen from one of five categories (Code a Better Country, Best Example of Design, Best Example of Coding, Should Exist and Best in Show).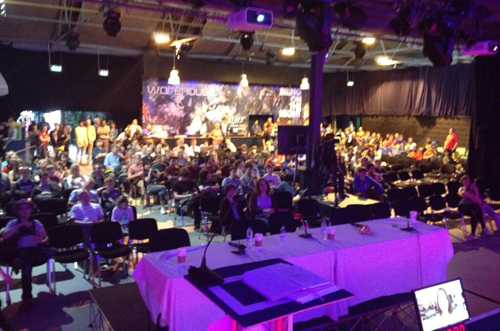 The overall winner this year was a project called 'PiCycle' which used a Raspberry Pi to control a set of five LEDs and a GPS receiver to give directions to a cyclist. Easy. Simple. Safe. This was truly an inspired idea!
The Cambridge team won their heat in the 'Code a Better Country' category, but were defeated in the final by a Kickstarter-type website called "Establish.me" (while I still believe the best project in that category was the Carbon Diary – but who am I to question the judges?)
YRS has been going since 2009 and it would seem that on average a centre doubles in size each year. Last year, in Cambridge we were five. We had fourteen apply this year and space for eleven. There were two no-shows. Next year is going to be bigger.
There are many reasons to get involved with YRS, some commercial and some personal. I got involved because I felt it was important to provide the next generation of coders the chance to build world-beating skills to help with the ongoing IT Skills and youth unemployment crisis we have in the UK today. But if you enjoyed coding when you were young, feel you could've benefited from this type of event then you really should help. A half day, a week, a weekend or some office space. These are all useful.
If you're looking for a commercial reason, and your company is in the tech industry, it's great to see how these people work. If you don't see how these young people work, how they build code and their demands around open APIs and open data you will fall behind. A code and interface-driven open platform with integrated and connected systems and a completely revolutionary way of getting things working is come our way and it's coming fast. These young people probably understand the how's why's and what's way better than your current coders do.
Alan Smith – Centre lead for Cambridge and owner of Two-Cats Software, a small Microsoft Consultancy based in Cambridge. I can be reached via Twitter @TheAlanSmith.