Wednesday 18th May 2011 – That's a date that will stay in my memory for a long time.
I need to go back a little to put this in context. Brent Ozar (Twitter|Blog) was working for Quest and he mentioned on his blog or tweeted that he was going to be at SQLBits 5 in November 2009. This was in Newport, near Cardiff. That is about 130 miles from where I live so I figured that if he was travelling half way around the world I could invest a day of my time getting there too. I had never been to a SQL Community event before and was attending on my own, paying all costs myself and not knowing anyone there. I had a great time.
For a long time during 2010 I was looking at getting involved in the SQL Server community closer to home but found there were no user groups near by. The nearest were Bristol and Cardiff. Now a 260 mile round trip for a day long conference is one thing but for a couple of hours in an evening in the middle of a week it was too far. I attended the next SQL Bits which was a 1 day event in London in April 2010 and then the one after that in York in September but could not justify the cost to get to a 'local' event. Whilst in York I was talking with several people about this situation and they all had the same thing to say. "Why don't you start your own?"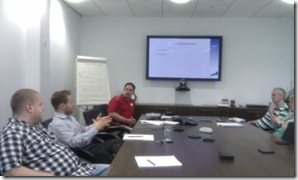 Well, why didn't I?
Since last September I have been emailing local companies, tweeting about it, phoning local companies, actually walking into offices and asking "Do you have an IT department, could I speak with someone from there please?". Way back in January and February I met with 2 developers who had responded to one of my enquiries. It wasn't a meeting for 3 people though. I met them one at a time, over the space of a few weeks and about 60 miles apart. Not really a user group, yet.
This was hard work. Not like cutting wood is hard work but like trimming your front lawn with a pair of nail scissors is hard work. Seemingly ineffective with little signs of progress.
I attended SQLBits in April this year and met a lot more people, they were all very encouraging and supportive and I had many of them saying (and to be honest mis-quoting) "If you build it, they will come". On the Friday there was a lightning talks session that I got talked into participating in. I had just previously been asked by RedGate to talk at their SQL in the City event so I had the great big kick in the backside to stop being an attendee and become a speaker. I scrambled a talk together in 15 minutes and stood on the stage and spoke for 10 minutes about something that I hoped would interest the audience.
Things were beginning to come together, I had had an offer of a meeting place and was in semi-regular contact with about 10 people who had said they would be interested in a user group based in Exeter. Last week I went to Southampton to speak at their meeting. Mark Pryce-Maher (Twitter|Blog) has done a great job of starting that group in the last 6 months. And last night, the 18th May 2011 SQL South West had it's first meeting.
I was one of the speakers and I was supported by Thomas Rushton (Twitter|Blog) and Mike Cassey as the other 'entertainment'. My wife was there as a fantastic secretary/organiser and First Data Bank Europe offered us their boardroom for the evening. We had their fantastic plasma screen for the presentation and comfy leather chairs for all!! In the end I had a couple of people sadly unable to attend due to other commitments but we had 9 people at the meeting. To my mind, that's just about right for the first time.
My sincere thanks to the speakers, attendees, hosts and everyone that I have met since November 2009 who has encouraged me to get to this point. Hopefully the group will go from strength to strength. I am certainly looking to get some top speakers booked in now that I know there will be an audience eager to hear what they have to tell us.