Well, it's 10 days until SQLBits 7 starts in York, UK. In order to celebrate the countdown of these few days I have gathered together a list of facts(*) you might not know about the SQLBits Conferences.
Ten things you may not know about SQLBits: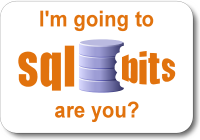 SQLBits is organised by a group of 9 fabulously talented and good-looking SQL professionals that organise the conference in their spare time on a not-for-profit basis.
SQLBits moves from venue to venue around the UK because no-one will have them back twice in order to make it possible for as many SQL professionals to attend as possible.
There was a choice of 60 sessions that were voted for by attendees to make up the sessions being presented during the conference. They range from '100' sessions as a beginners guide to a topic to '400' sessions where deeper audience knowledge is expected and issues discussed are more in-depth.
The first day of the conference is a dedicated training day where attendees attend an all-day session, in one of 7 tracks. Taking a subject in detail and learning from these presenters: Brent Ozar (Web|Twitter), Buck Woody(Web|Twitter), Chris Testa-O'Neill (Web|Twitter), Chris Webb, Klaus Aschenbrenner(Web|Twitter), Maciej Pilecki and Rob Farley (Web|Twitter).
There are 5 Gold, 7 Silver and 5 Bronze sponsors for the SQLBits 7 conference.
Gold:- RedGate, SQL Sentry, Attunity, Quest and Idera.
Silver: Fusion-IO
Bronze: Coeo, Simpsons Associates, SQL Workshop, DB Sophic and Adatis
The conference has a Twitter account (here : http://twitter.com/sqlbits) that will keep you up to date with conference specific updates.
The people that run the conference, the sponsors reps on the stands and the attendees are really nice people that don't bite or have a scary elitist attitude so it's really a great place to go and make some new friends, who happen to work with SQL Server. Don't worry about feeling out of place or out of your depth, come to the conference and get in the right place to learn loads and do your job better when you get back.
SQLBits 7 is NOT happening at York University but, it is IS happening at The University of York, something you should be sure about before you book any travel arrangements or accommodation. UK readers may be interested to know that Harry Enfield and Adam Hart-Davis are both University of York alumni, if you are not from the UK this may or may not mean anything to you.
The conference is expecting to welcome over 500 attendees from all over the world over the course of the event.
I have been saving the best thing about SQLBits for the last item. The final day, the Saturday, is a totally free to attend day of training. I'll repeat that in case you didn't hear it clearly. The Saturday is totally free to attend. There are 25 sessions spread over 5 tracks in 3 categories (Dev, DBA and BI) plus 5 lunch-time sessions from sponsors where you eat and listen to how their tools may help you. If you get there in time there are bacon/sausage and egg butties for breakfast and traditionally there are cakes/croissants/biscuits with the tea and coffee at each break. This is all down to the generosity of the sponsors mentioned above, please speak to them at their stands or visit their websites to see what their products may have to offer you and your systems.
Well, I haven't started packing quite yet but it won't be long. If you see me there don't be shy, come and say hello.
* – Some of the details here may not be exactly facts and some detail has been added for the readers amusement. Other information has been gathered from the best sources I can find but may not be totally accurate. If you find something is incorrect then I apologise for any problems that might cause. Please forward any corrections via the blog comments.