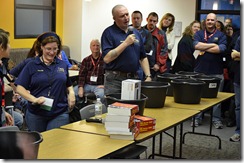 Red Gate sent me out to SQL Saturday 67 where I was able to present a session (more on that here) and promote Red Gate. The picture to the right here was taken when I drew the prizes at the end of the day.
One of the biggest things about a SQL Saturday event are the people you meet. One of the greatest things about working for Red Gate is what an amazingly fun company it is. SQL Saturday is like the perfect place to be a Red Gate employee. I get to communicate just a bit of the fun of the organization while meeting great people. Take this bunch for example. They were attending my session and were happy enough to say hello to everyone back at the office.
My goal at each of the events I attend will be to post a few videos of the event so that you can get some idea of what went on there. We can't all go to all the events, but you can see what you're missing, get an idea of the excellent networking opportunity present with SQL Saturday and the other events, and generally share in the fun while learning useful things for your job and career.
Here's some of what went on at SQL Saturday #67:
Here's what it looks like at registration.
I'm introducing the day to you here and I get an alert on the phone. You can see the people in the background getting a bit of java juice and some free t-shirts before they get their learn on.
Tim Ford (blog|twitter) talking about SQL Saturday. Tim had an excellent presentation on Saturday that I was lucky enough to attend. I'm looking forward to spending more time with Tim on the upcoming SQL Cruise to Alaska.
This is Craig Purnell (linkedin) with his thoughts on SQL Saturday. Craig spoke at his second large community event at SQL Saturday #67. He's going to be in Boston with us next week for SQL Saturday #71.
David Stein (blog|twitter) brings his wit, knowledge and wisdom to bear in his presentations. Too bad we didn't get much in this video. Kidding. Really kidding. Dave is a great guy and I appreciate that he took some time out to talk at my phone for a minute.
And finally, for those who don't know, Karaoke has become a staple at many, most, SQL Server community events. Don't ask me why. I can't carry a tune in a bucket (although I am willing to butcher a show tune or an old punk rock tune given the opportunity). This guy can though. I'm sure if you dug around for the hash tag #sqlkaraoke you can find more examples.
We had an excellent photographer taking pictures all day long. Go here to see the results. As you can see, these things really are a blast AND you learn stuff.
That's it for SQL Saturday #67 in Chicago. I hope I see a lot of you this week at SQL Saturday #71 here in Massachusetts.